Lamar Jackson Tests Positive for COVID-19, Missing First Practice of Training Camp
Baltimore Ravens' starting quarterback Lamar Jackson has tested positive for COVID-19, the team's head coach John Harbaugh announced on Wednesday.
The team held its first practice of training camp on Wednesday as well, but it did so without Jackson. Harbaugh said the team received the positive test result Tuesday. He also noted Jackson had tested negative multiple times in recent days before being flagged for the positive result.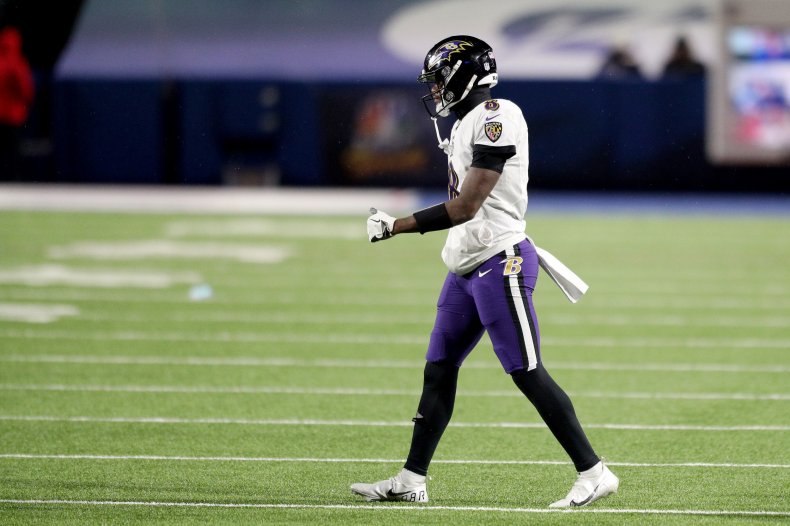 While speaking with reporters, Harbaugh also confirmed that running back Gus Edwards had tested positive for COVID-19 and will miss the start of training camp.
This is Jackson's fourth season with Baltimore. He led the team to the playoffs in each of his first three NFL seasons with a 30-7 regular-season record as the starting quarterback.
Jackson also tested positive for COVID-19 last season. His positive test caused him to miss Baltimore's Week 12 game against the Pittsburgh Steelers. He was reactivated on December 7 and played the remainder of the season, which included two playoff games.
When asked by reporters in June if he was vaccinated, Jackson declined to answer.
"Just like everyone in society, it's their decision, keeping that to themselves," Jackson said at the time. "But I feel we do a great job here of taking the vaccine, staying away from COVID, following the right preparation and stuff like that, staying away from the outside to the people that are attracting it."
Jackson appeared on an episode of the Ravens' official podcast The Lounge on Tuesday. During the interview, the quarterback said his goal entering the upcoming season was to win a Super Bowl and then change his jersey number.
"If we win the Super Bowl, I'm going to Number 1," Jackson, who currently wears Number 8, said. "I want the Number 1. That's my first number ever. My dad told me, 'Get Number 1, because that's the best. You're the best.' And it always stuck with me."
Later that day, the NFL flagged a test from Jackson for review. Now that Harbaugh has confirmed the positive test, the team will be handing the ball over to backup quarterbacks Trace McSorley and Tyler Huntley during the preseason.
It is not currently known how much time Jackson will miss, but the team will reportedly require him to produce multiple negative tests before he's allowed to be present on a practice field.
ESPN Ravens reporter and WBAL Radio contributor Jamison Hensley reported the Ravens' vaccination rate is in the 90 percent range.
Update 07/28/21 11:55 a.m. EDT: This story has been updated to include more background information.