Lamb Acts Just Like Pet Dog, Snuggles up on Couch in Adorable Video
The internet is the perfect place to find animals doing all sorts of adorable things, but this lamb with 2 million views may just top it all.
Tammyy White of @the_gucigang_ lives in Australia where she looks after farm animals as pets, like Paxton—the lamb who acts like a dog. White's family also have a farm, where they breed their own lines of sheep, some who end up in the care of White.
In the video shared to White's TikTok on Sunday, Paxton leaped up onto the couch, before perching at the end of the cover, just like a four-legged friend would. At one point, Paxton can even be seen adorably yawning while cozying up.
"How do I tell him he's not a dog? But seriously, how cute is the yawn?" she captioned the video.
"Paxton is a Border Leicester stud ram lamb. My brother passed from suicide and he started a small Border Leicester and Dorset stud line. So Paxton is extremely important to myself and my family," White told Newsweek.
"Paxton was born a triplet and extremely tiny and rejected by his mother. My parents gifted him to me as I had one last year named Denzel who sadly had to be put down from a urine infection. So my parents knew I desperately wanted another as I want to start my own stud line in my brother's honor."
Although he's tiny right now, he will grow to be large, with ewes weighing around 80-100kg (about 175 to 220lbs) and rams weighing 120-145kg (about 265 to 320lbs).
The video can also be seen in full here.
According to White, the pair "have cuddles and Netflix for a few hours before bed," every night but Paxton doesn't sleep in "his spot." Instead, the lamb catches his Zs in a large box, and spends most of the day outside with the other sheep.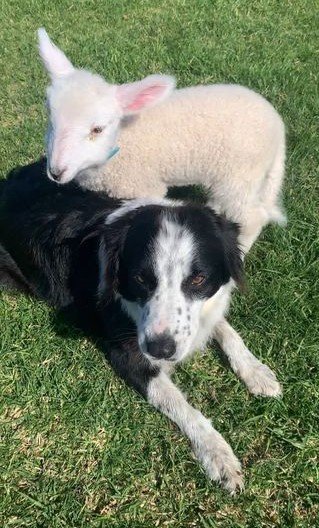 Paxton and White's dog.
Tammyy White
"Paxton started jumping on the couch and sleeping there about five days ago. He is 3.5 weeks old," said White. "Paxton is a mummy's boy and certainly my sheep when it comes to myself and my partner. Paxton sleeps inside in a crate. And spends all day outside with his siblings, all 12 of them. So I have 12 in total."
Although he doesn't generally sleep on the couch, a video shared by White showed the lamb getting some rest there and even "baa"ing in his sleep. Viewers jokingly pondered as to whether sheep count dogs while they sleep. "Oh my heart," wrote one TikTok user.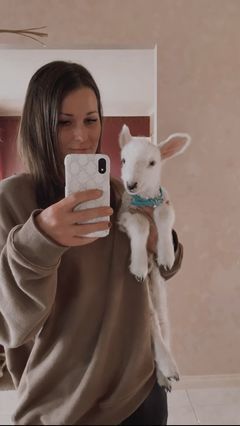 White and Paxton.
Tammyy White
White's other videos even document her rescuing abandoned lambs, including finding one alone curled up by a nearby tree. "Once they birth and feed bubs they move back to their flock for safety," she detailed in a comment.
Her newer group of animals, or "Gucci gangs" as White refers to them, are the second of hers to gain popularity online. "My first Gucci gang started last spring with 19 lambs and a poddy calf called Liam. They were extremely popular On TikTok during the tough times of Covid," she told Newsweek.
"The Gucci gang 2.0 as I call them are not the same breed as Paxton, but they're all family nonetheless. I am not a sanctuary as I do run my own small beauty business, which makes it perfect to raise and care for children. I live on 50 acres with a beachside view, with two horses, two cats, two miniature goats and two border collies."
Update 9/08/21, 8:38 a.m. ET: This article was updated to include comments from Tammyy White.
Correction 9/09/21, 3:00 a.m. ET: This article was corrected to reflect that the animals are White's pets.