Conor Lamb's 'Cuteness' Won Him Pennsylvania's Special Election, Fox & Friends Says
"Cuteness" played a significant role in Democrat Conor Lamb's apparent narrow victory over Republican Rick Saccone in Tuesday's special election for Pennsylvania's 18th congressional district, according to hosts on Fox & Friends.
Though the race remains too close to officially call, the 33-year-old Lamb, a former Marine and federal prosecutor, may have managed to defeat Saccone despite Donald Trump winning the district in 2016 by almost 20 percentage points.
Fox & Friends host Steve Doocy said President Trump's visit to the district on March 10 may have helped Saccone close a pre-election gap with Lamb. He also mentioned that Fox News political analyst Brit Hume had noted the Democrat was "cute" before.
"He is very handsome," co-host Ainsley Earhardt said. "He's young, he's a Marine."
"I go to Brit Hume to find out what policies matter and sometimes who's the cuter one," co-host Brian Kilmeade added. "Absolutely, cuteness counts."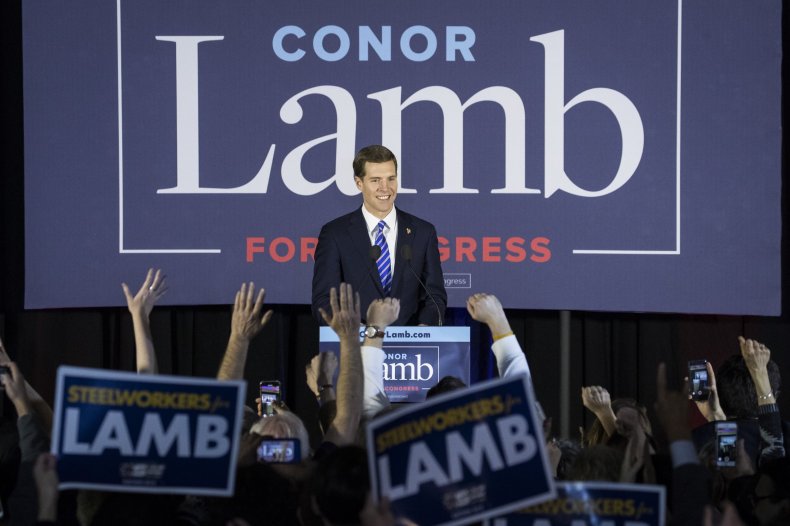 With 99 percent of voting precincts reporting in late Tuesday night, Lamb held a slim 641-vote lead over Saccone. Lamb had declared victory Wednesday morning, but Saccone has yet to concede the race. Even without an official result, CNN reported that Republicans were contemplating a legal challenge for a recount.
The focus on Fox & Friends on Lamb's looks may have been an attempt to downplay the implications of his victory. President Trump has stated that he watches the show, and the hosts's banter could have been meant to ease Trump's fears of Democratic victories throughout 2018 and the fall's midterm elections.
But despite his "cuteness," Lamb's apparent victory could be credited more to smart campaigning. He seized on a cry for top congressional leaders like House Minority Leader Nancy Pelosi of California and Speaker of the House Paul Ryan to move aside, and he was seen as a more conservative Democrat with support on issues like gun rights.
Lamb reiterated his challenge to Pelosi and Ryan Wednesday morning on MSNBC.
"I would like to see someone other than Nancy Pelosi run—and that person I would support—and I would definitely like to see a different leader other than Paul Ryan on the other side," Lamb said. "It's nothing personal, I just think the leadership of both parties has presided over a time when we've had more and more gridlock and fewer and fewer important things getting done and I always learned that leadership starts at the top."