Coconut Wine Poisoning in Philippines Kills at Least 11, Including Christmas Party Revelers
A popular alcoholic beverage made from coconut sap has killed at least 11 people and hospitalized more than 300 in the Philippines.
Made from coconut sap, lambanog is much in demand over the Christmas period and its clear color has earned it the nickname of "coconut wine" or "coconut vodka."
If distilled twice, it can have as much as 80 percent alcohol content, according to the Filipino food website Pepper.ph.
However the production of the drink is often unregulated and it can be made with dangerous additives such as methanol.
Among the dead were some who had been celebrating at a Christmas party. Those who were treated had drunk the beverage in Laguna and Quezon, Reuters reported, with victims complaining of stomach cramps and dizziness.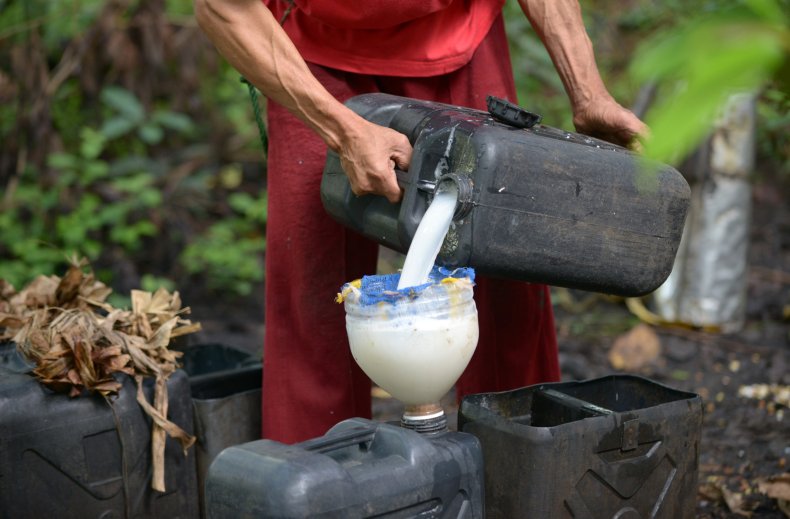 The governor of Laguna province, Ramil Hernandez, said in a Facebook post on Sunday that an investigation would be launched, amid reports that the distillery operation where the drink was bought was illegal. Its owner has given himself up to police.
In a further post on Monday, Hernandez said that the country's food and drug administration has "repeatedly released warnings" to the coconut brewers about the high content of methanol, and the public has been advised to be careful with the consumption of such drinks"
"Let's continue to pray that the patients in hospital get better," he added.
Newsweek has contacted Hernandez for comment.
The country's department of health said it would look at blood tests and samples for further analysis, adding that those poisoned "all had a sad history of lambanog ingestion.
"Some bought for leisure drinking and birthday party, while others were donated by local officials during their Christmas party," it added, according to Reuters.
Jonas Del Rosario, a spokesperson from Philippine General Hospital, told AFP the lambanog being sold had too much methanol content."
"We asked many of our doctors on holiday leave to report to work just to attend to the patients," he said.
Last year, 21 people died from the drink, prompting the country's Food and Drug Administration to prohibit methanol being used as an additive in home brews and has threatened to prosecute unregistered sellers, Reuters reported.
The menace of the methanol content is part of a problem that bootleg alcohol poses in parts of South Asia.
Knut Erik Hovda, a global expert in methanol outbreaks from Oslo University, told the BBC in October: "If you ask people if they've seen methanol poisoning they would say no.
"If you ask the same person whether he or she has seen someone becoming blind or dying from drinking, they would say of course, this is happening all the time. And that is highly specific for methanol."