The Lambda variant's potential to evade coronavirus vaccines is worrisome to health officials, but the World Health Organization (WHO) hasn't labeled it a variant of concern, in part because it isn't spreading rapidly.
A Japanese study, yet to be peer reviewed, found that mutations of the variant, which has been reported in more than 40 countries, may resist vaccines. Experts have been warning for months about the potential for a new mutation that can evade vaccines. If that worst-case scenario plays out, drug companies will have to come up with new vaccines and revaccinate everyone.
Maria Van Kerkhove, the WHO's COVID-19 technical lead, acknowledged on Wednesday that the mutations in Lambda's spike protein are concerning because any time the virus changes, there's the threat that it will not be neutralized by a vaccine. However, she said the WHO isn't adding Lambda to its list of variants of concern at this time.
When the WHO is deciding if a variant warrants being labeled one of a "concern" and not just one of "interest," one factor is how well it circulates and how much it spreads in an area, Van Kerkhove said.
At this time, she said, Lambda doesn't seem to "take off once it's reported in a country."
The Lambda variant was first reported in Peru in December 2020, but Van Kerkhove said the Gamma variant is posing more of a threat to the country, according to the Pan American Health Organization. More than 40 countries have reported cases of the Lambda variant to the WHO, including the United States.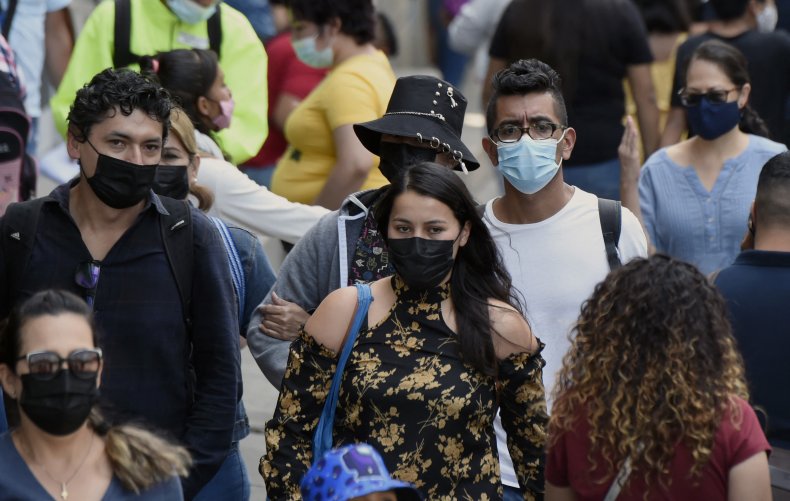 The U.S. Centers for Disease Control and Prevention (CDC) told Newsweek the earliest sample collection of the Lambda variant in the United States happened on January 20. More than 600 sequences were recorded in the six months since, and cases have been detected in at least 30 states. It accounts for less than 1 percent of the overall number of variants in the U.S.
So far, the SARS-CoV-2 Interagency Group, which consists of the CDC, the National Institutes of Health and other federal agencies, has not designated Lambda as a variant of concern or a variant of interest, but it is "actively monitoring" the variant.
In a paper published in bioRxiv, Japanese researchers said they found the spread of the Lambda variant throughout South America was "closely associated" with a mutation of the virus that they believe may be resistant to the vaccines. Part of why they believe it may be vaccine resistant is because of an outbreak occurring in Chile.
More than 70 percent of Chile's eligible population has been vaccinated against COVID-19, according to a Brown University tracker. However, Japanese researchers noted that a large coronavirus surge occurred in the spring, suggesting that "the Lambda variant is proficient in escaping" the immunity the vaccines create.
Along with possible vaccine evasion, researchers said they found the virus has an increased transmission ability, two features that are "pivotal" to spread throughout human populations.
It has yet to be seen whether Lambda presents a bigger threat to the world than Delta, the variant that is spreading rapidly among unvaccinated people and causing breakthrough cases among those who have been inoculated. But researchers expressed concerns to Reuters that people won't take the Lambda variant seriously because it's being labeled as only a "variant of interest" by the WHO.
Although Lambda isn't a variant of concern right now, Van Kerkhove noted that the pandemic has been a dynamic situation from the start and that the classification of the variant could change.
"It doesn't mean it's any less important by any means," she said.