Lamborghini Countach Returns for a Limited Edition Run With Sian's V12 Engine
This year marks the 50th anniversary of the introduction of the Lamborghini Countach. To celebrate, the company is bringing back the heralded model in modern form, launching the Countach LPI 800-4 at The Quail: A Motorsports Gathering today.
The original Countach was a mid-engined sports car produced by Lamborghini from 1974 to 1990.
Lamborghini promotes the new version of the vehicle as having the looks and power of the classic vehicle. A large part of that equation is the extensive use of carbon fiber, which includes the monocoque and full exterior and interior trims (rear panels, door panels, tunnel and luggage compartment). This gives the car exceptional torsional stiffness.
The front splitter, front window surrounds, wing mirror housings, engine cover air intakes, and rocker panel are all carbon fiber as well.
The dry version of the Countach LPI 800-4 weighs in at a little over 3,500 pounds giving it a better power-to-weight ratio than the Sián FKP 37.
There's some neat new tech in the car as well. Moveable air vents have been produced using 3D printing technology and a photocromatic roof that changes from solid to transparent at the push of a button has been installed.
The car's engine is straight out of the Sián. The 6.5-liter V12 is combined with Lamborghini's hybrid super capacitor technology. The car's e-motor is powered by the super capacitor and provides three times more power than a lithium-ion battery of the same weight. The result is just over 800 horsepower combined, which helps give the car its 800-4 name.
Lamborghini is first showing the model that wears a Bianco Siderale paint job. The color has a hint of blue to it and is designed to be reminiscent of Ferruccio Lamborghini's own Countach LP 400 S. The interior is outfitted with black and red leather.
Stopping power for the Countach LPI 800-4 is provided by carbon ceramic brakes. The whole rig rides on 20-inch front and 21-inch rear wheels designed to follow the 'telephone' style of the 1980s that are wrapped in Pirelli P Zero Corsa tires.
The car has an 8.4-inch infotainment screen that allows for Apple CarPlay connectivity. There's also a 'Stile' button that allows owners to discover the design story fo their vehicle.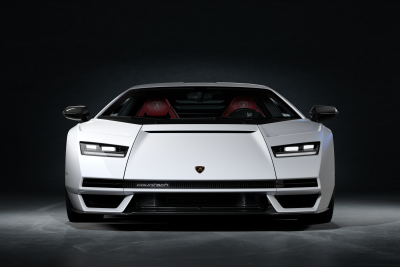 Lamborghini will produce just 112 examples the Countach LPI 800-4, which will be delivered to their owners in the first quarter of 2022.