Lamborghini 'Rear-ending' Woman May Be Exonerated by New TikTok Video
The woman who went viral on TikTok for allegedly rear-ending a $500,000 Lamborghini Aventador posted new footage of the incident that she believes will exonerate her.
In the initial footage posted by Matt Heller, which has been viewed almost 40 million times, a woman is seen approaching him in his car and begins yelling that Heller hit the front of her vehicle while stopped at a red light. Heller's clip also shows a woman showing surveillance footage from a gas station that appears to show the girl's black Audi slamming into the back of Heller's Lamborghini.
But the woman, named Maddy according to her TikTok account @maddygilsoul1, released two videos of her own that tell a different story.
The more recent TikTok shows an individual filming inside a gas station with a voiceover saying, "Matt Heller went into oncoming traffic on a red light because I didn't turn left on yellow. And then almost hit a person. My lawyers will be serving him with slander."
The video then transitions to another snippet of surveillance footage that begins in reverse with the Lamborghini going backward between a black Audi and a cyclist. When played normally, the shot shows the Lamborghini driving closely past the Audi and comes close to hitting a cyclist in a crosswalk.
The Lamborghini continues to drive forward as the Audi stops and the cyclist continues. The black Audi then begins driving again. The footage ends with a photo of the Lamborghini with scratches on the side that passed the black vehicle with "and yes he 'hit me from the front'" and "trending OK TikTok wait till this lawyer get me my bread" pasted over the photo as well as a screenshot of Heller's own TikTok account.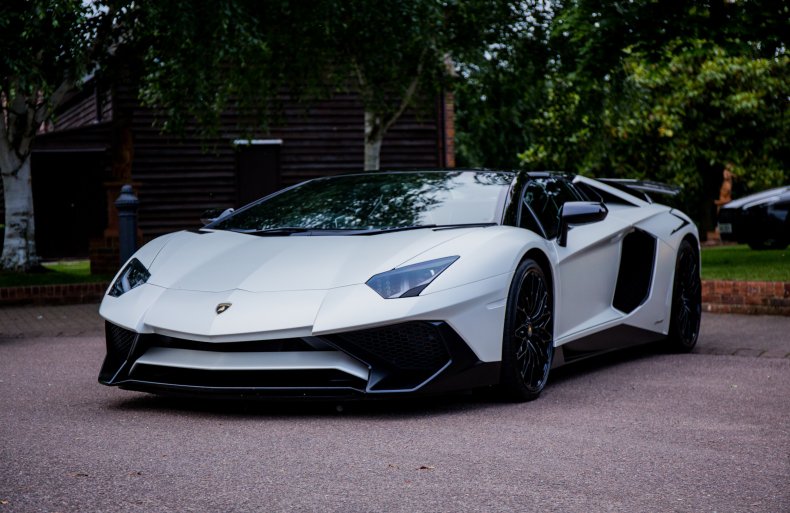 Maddy's first clip was captioned, "goodbye to your reputation Matt I will be suing for defamation and slander," and has received more than 340,000 views.
Another, shorter video posted to Maddy's TikTok also shows images of the Lamborghini with scratches on the side of the vehicle from different angles. The clip includes a voice-over of text included in the photos that said, "Hit me from the front. Side swiped me while I was at a red light... guess he didn't want to tell the whole story."
Heller is tagged in the video, which is captioned, "why does your insurance say you drive a Volkswagen sweetheart?"
With the new footage, it appears to shed light on when Maddy initially blamed Heller for the accident in his video. From her clip, viewers can see Heller first hit Maddy's car before driving away.
Based on the clip from Heller, it appears that Maddy then followed him and struck the back of his vehicle while he was stopped—causing another accident. It's unclear if Maddy intentionally struck his vehicle or if she was unable to brake.
While some social media users remained torn that one party is primarily responsible, others began discussing how both Maddy and Heller are at fault.
"So.. Who's the villain? The Lambo or the Audi?" wrote @Gummyball44 in the Reddit PublicFreakout sub. User @jawjanole, who originally posted Maddy's version of events, replied "Lambo the villain, Audi the idiot?"
Another Reddit user, @Tildengolfer wrote, "He clipped her (assuming) cyclist was in the wrong. But it appears he might have attempted a hit and run. Strike against him. She crossed a solid white lane and changed lanes in an intersection (assuming) and then rear ended him. Insurance companies are gonna have a field day paying neither of them out."
Other users commented that if anyone learns something, it's that they should invest in a dashcam for their vehicle.
Mitchell Jackson, a publicist retained by HornBlasters, provided Newsweek with doorbell footage that he said showed the woman turning into Heller as he goes around her for sitting at a green light. However, it is unclear if the vehicles made contact in the clip.
Updated 11/17/2021, 4:30 p.m. ET: This story has been updated with additional information from publicist Mitchell Jackson.