Lamborghini has announced its first NFT (non-fungible token) project. The automaker has partnered with Swiss artist Fabian Oefner to create five pairs of physical and digital art to be auctioned.
NFTs are unique identifiers recorded on a distributed ledger called Blockchain and are tied to a digital asset such as pictures, videos, music or other records. Each token is unique, which allows their owners to guarantee asset authenticity and traceability across the internet.
"We strongly believe that our customers are very innovation and technology driven," Stephan Winkelmann, chairman and CEO of Automobili Lamborghini, told Newsweek. "In my opinion our vision is to show the technology and also the speed of innovation we have as a company.
Leading up to the project's unveiling, the supercar company had been teasing this announcement on social media with "To the Moon" themed posts leading up to the reveal of the Lamborghini Space Key today.
The physical element of the project is the Space Key, five thumbnail-sized pieces of carbon fiber that have spent seven months in outer space on board the International Space Station (ISS) as part of a research project of Lamborghini.
After returning to earth and following numerous scientific tests, Oefner engraved the carbon fiber pieces with a unique QR code that links the physical with a digital component.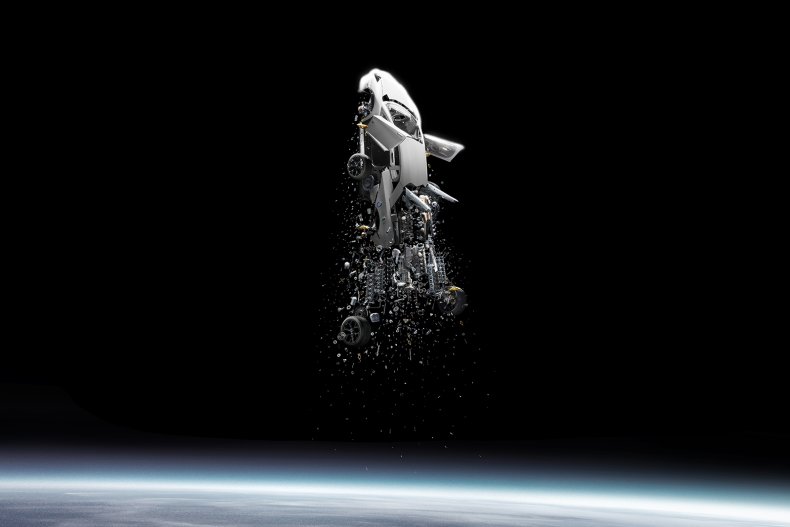 Oefner's work explores the boundaries between time, space and reality.
"What I was interested in by creating this project is the intersection between the digital and the physical world," Oefner said in a press release.
"This fascination can be seen in two facets of the project: The car and its components, something physical and real gets transformed into something digital, a photograph of a moment in time that never existed. And the carbon fiber piece, something physical and tangible, that serves as a key to access the digital experience of the art piece. In both cases, there is a metamorphosis from the physical to the digital world."
Each NFT is inscribed with the title and is individually numbered. By scanning the code on the carbon fiber accessing the NFT, the physical and digital world come together.
Lamborghini will release more details regarding the auction in the near future.