Lana and Bobby Lashley's Wedding Officiant Accidentally Tackled By Security at WWE Monday Night RAW
The January 6 episode of WWE's Monday Night RAW had a mini-follow up to the Lana and Bobby Lashley wedding, but it's what happened during the commercial break that has the wrestling community talking.
After the AJ Styles and Akira Tozawa singles match, the cameras panned to the right when someone in a gray suit began to roll into the ring. Two security officers quickly surrounded the gentleman as the camera awkwardly panned to the crowd.
An overzealous fan jumping the barricade during a wrestling show isn't anything new, but this was no fan. He was actually part of the show.
Get your unlimited Newsweek trial >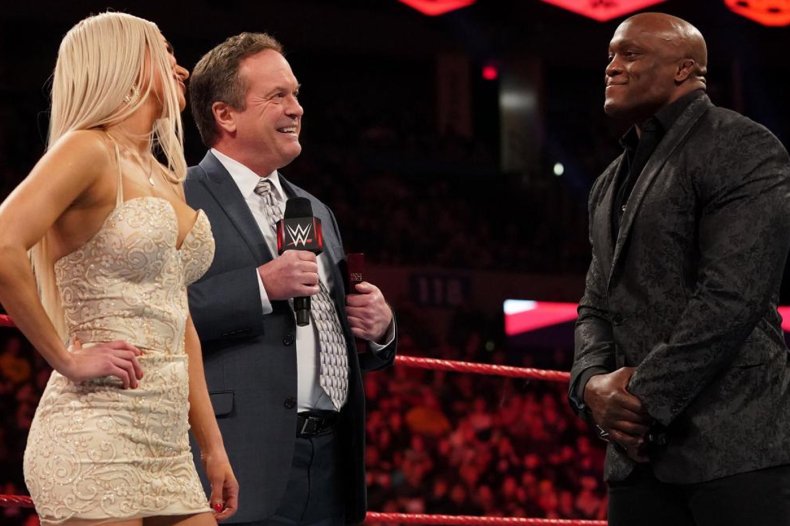 Those who watched the Lana and Lashley wedding from last week may recognize the well-dressed man as the wedding officiant. Actor Rick Malone reprised his role as the priest to complete the marriage ceremony that was interrupted.
However, it seems security staff during the event taking place at Chesapeake Energy Arena in Oklahoma City wasn't privy to Malone's role in the show. In fact, more audience footage from the show reveals that a production assistant (holding Malone's bible) had to run up to security and explain who he was.
Malone took to Facebook to give his brief account of what happened on Monday.
Get your unlimited Newsweek trial >
"This is what happened tonight at WWE/RAW: I needed to get into the ring in order to consummate the 'Bobby Lashley and Lana Wedding' (which was totally disrupted last Monday night in Hartford CT), but security prevented me, so I had no other choice but to dive into the ring headfirst. Security was not pleased! But the married couple was very happy!"
When the misunderstanding was cleared up and the cameras rolled, Malone would proceed to finally officially marry Lashley and Lana. However, the new bride would call Malone "boring" before he left the ring - and presumably without interruption from security.
Check out the complete Bobby Lashley and Lana segment from Monday Night RAW below.
Did you think Malone was a fan at first? What are your thoughts on the entire Lashley/Lana/Rusev storyline? Let us know in the comments section.
Lana and Bobby Lashley's Wedding Officiant Accidentally Tackled By Security at WWE Monday Night RAW | Sports