Liv Morgan Returns as Lana and Bobby Lashley's Wedding is Crashed on Monday Night RAW
The final segment of WWE Monday Night RAW in 2019 was the wedding of Lana and Bobby Lashley and it was something.
Not only did it not see Lana and Lashley tie the knot thanks to multiple interruptions, it saw the return of Liv Morgan and the introduction of a lesbian storyline. Oh and someone went through the cake.
After weeks of build, Lana and Lashley stood before an officiant to tie the knot. While the first part of the wedding saw Lana's usual antics to get heat from the crowd, it wouldn't be until the officiant asks for objections that things go sideways.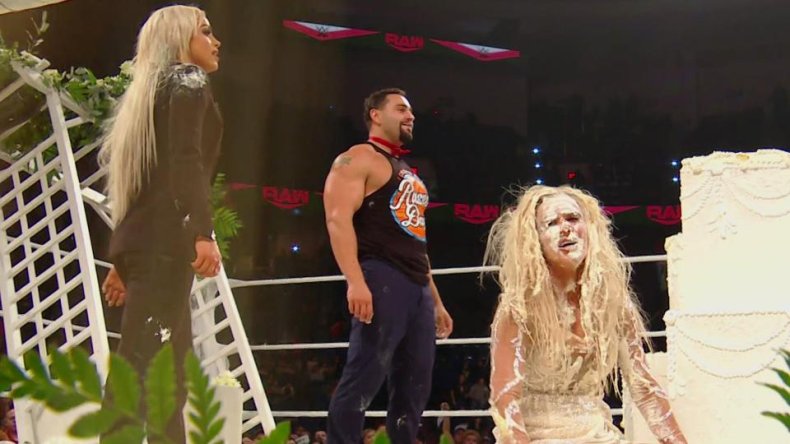 Get your unlimited Newsweek trial >
First, a man objects and claims to be Lana's first husband. He says that Lana married him when she was 18 and then left him for Rusev. And now she left Rusev for Lashley because she wants bigger and better. Lashley slams the man down so the wedding can continue.
Next a woman claiming to be Lashley's first wife arrives, but Lana slaps her out of the ring. That's when a returning Liv Morgan appears in a half suit saying how someone in the ring was the person she loved when she first got to the WWE. Lashley assumed she was talking about him and denied ever having a relationship with Morgan. Liv says she was referring to Lana.
Lana and Liv than begin to fight as security break up the two. Finally, just as the two were about to put rings on each other, Rusev comes out of the massive cake in the ring and fights Lashley as Morgan returns to the ring. Morgan and Rusev end RAW in the ring.
Get your unlimited Newsweek trial >
The Lashley, Rusev and Lana storyline began in early October a week after Rusev was in a storyline featuring Mike and Maria Kannellis. While that story fizzled out quickly, Rusev found himself in another scandalous angle on Monday Night RAW when Lana made her first on-screen WWE appearance in months in the arms of Bobby Lashley.
In the weeks following, Lashley was seen taking Lana out to restaurants, spas and on dates all while Rusev tries to win back his wife.
This storyline would get weird fast when Lana accused Rusev of having a sex addiction and pretended to be pregnant with his child. Lana even filed a restraining order on her husband. Rusev, who was driven mad by his wife's infidelity, would attack Lashley for weeks even meeting in the Crown Jewel pay-per-view as part of Team Flair and Hogan.
Rusev would grant Lana a divorce after he and Lashley had a Tables match at the TLC pay-per-view in December. Although Lashley would win that match, Rusev has a new lease on life and enjoying his new single status.
What did you think of Lashley and Lana's wedding? What's your thoughts on the storyline as a whole? Let us know in the comments section.
Liv Morgan Returns as Lana and Bobby Lashley's Wedding is Crashed on Monday Night RAW | Sports