Lana Condor Talks Training For 'Deadly Class' Character Saya: 'The Women on the Show Are So Badass'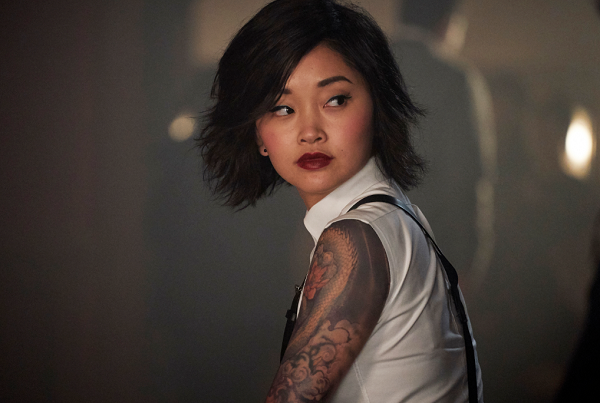 Lana Condor stole viewers's hearts with her exceptional portrayal of the humbled and hopelessly romantic teen Lara Jean on Netflix's hit movie, To All the Boys I Loved Before. It was a role that was hard not to love, and the relatability and depth Condor brought to the character made her place as one of Hollywood's young, up-and-coming darlings undeniable.
Now, 21-year-old Condor is showing of the stretch of her range as an actor with her latest assignment—a teen assassin in SYFY's newest series, Deadly Class, based off Rick Remender and Wes Craig's 2014 comic of the same name, which follows students as they learn the assassin trade.
As Saya, Condor delivers the mystery and allure one would expect a child of the Yakuza to possess. Although the character is as much of a misfit and loner as all the other assassins-in-training, Saya is particularly tactful and precise in her ability to not only follow orders but deliver them, making her one of the elite killers at Kings Dominion, otherwise known as the School of Deadly Arts. As a valedictorian of sorts, she is hell-bent on being at the top of the food chain, no matter the cost.
Newsweek subscription offers >
"Saya wants to be here and she wants to be the best. Does she like to kill? No. She doesn't like to kill, but she will if she has to," Condor told Newsweek during a set visit.
Of course, making the transition to Saya's killer headspace didn't come without some intense training. "I focused the most on training for it because I knew how much Saya was gonna have to physically fight," she said. "I did a lot of physical training for this show, and the pain that my body went through in that physical training, I brought that into my character because she has so much pain in her past."
Abliet grueling in physicality—Condor said she worked with a personal trainer to prep for the role long before the pilot episode was even filmed—the actor noted a new sense of control role of an assassin seemed to derive. "One of the coolest parts [about playing an assassin] is learning how to defend yourself," she said.
"Being now able to have the tools and training to know how to defend myself if ever I get into a situation—God forbid—that is one of the greatest parts. I think the women on the show are so badass, and the show has given all the women a sense of power maybe they didn't have prior to going into this. So I quite liked going to a school for assassins," Condor continued.
Newsweek subscription offers >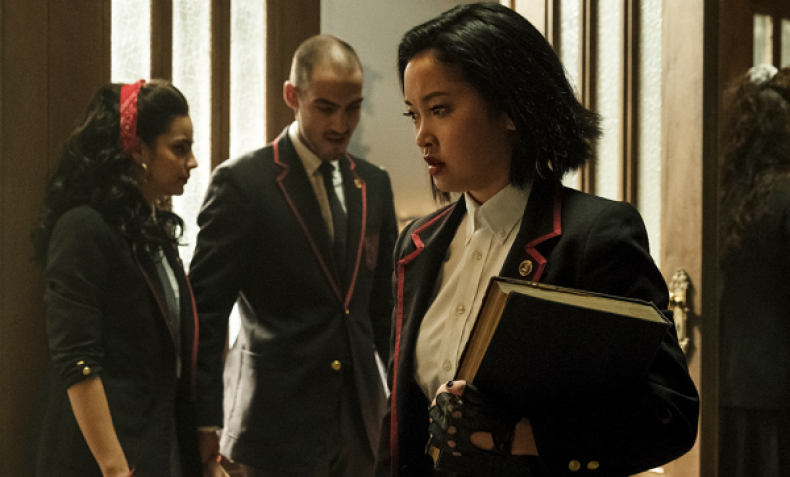 While Saya is mostly focused on being the shining star assassin of Kings Dominion, similar to most high school students, she'll be subject to all the same dramas typical teens face during adolescence, like being entangled in love triangles with her friend Maria, played by Maria Gabriela de Faria, and the new boy at the school, Benjamin Wadsworth's lead character Marcus.
"The difference that kind of offsets what you usually see on television is that Maria and Saya are actually well aware of both of their relationships with Marcus, and yet they still have a good relationship at this point," Condor said. "I think it's rare to see women that are fighting over the same guy be on the same team. You usually see women in a love triangle being super catty, or like, 'No, he's my man!' But in this show, it offsets that. It shows Saya and Maria are still together and they're still supportive [of each other]."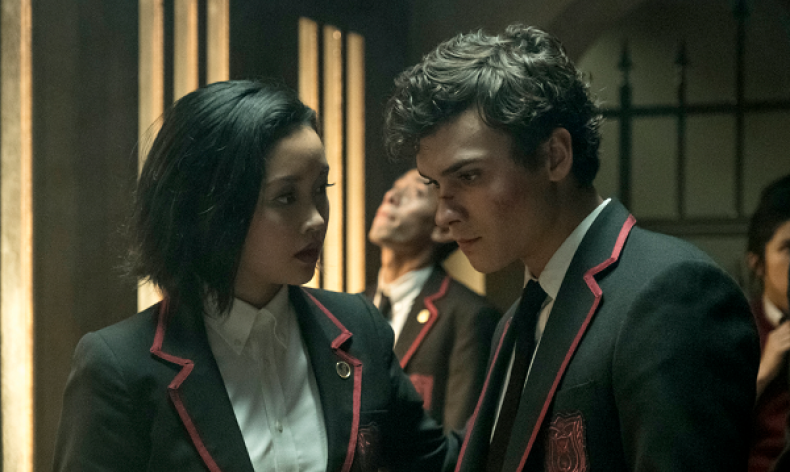 Whether or not that friendly support between the ladies will last is another story. Gabriela de Faria told Newsweek during the same set visit that students at Kings Dominion "cannot have family, cannot have friends, cannot have personal relationships, because it will get in your way. You will develop feelings and an assassin cannot have feelings."
Nonetheless, the fallout should make for an entertaining and climatic side-piece to the students' development into primal killers on Deadly Class, according to Condor, while feeding into the show's main idea of creating togetherness in the midst of being alone.
"I think it's the perfect show to watch right now because a lot of people can relate to feeling misunderstood or isolated," Condor said. "With all the craziness that is going on in the world, this show will provide the support for your isolation that you're not alone."
Deadly Class premieres on SYFY at 10 p.m. ET on Wednesday.
Lana Condor Talks Training For 'Deadly Class' Character Saya: 'The Women on the Show Are So Badass' | Culture