Lana Condor Talks Noah Centineo's Napping Photo and 'To All the Boys I've Loved Before' Sequel Possibilities
To All the Boys I've Loved Before's Lana Condor spoke about the lock screen photo everyone's talking about in an interview with People Wednesday.
Condor stars in the Netflix film based on Jenny Han's 2014 novel of the same name. Her character, Lara Jean, pretends to date Peter Kavinsky (Noah Centineo) after love letters she wrote are accidentally mailed—including one to her sister's boyfriend, Josh (Israel Broussard). By the end of the movie, their relationship becomes real.
At one point, the photo on Lara Jean's lock screen on her phone shows her and Peter cuddling, and Condor told People that photo is really her and Centineo. "He was napping and he took over the couch. And I was like, well I want to nap too. And there was only one couch. We've had chemistry since day one and we were just connecting and that just felt really natural to us," she said. "It was a great cuddle." The "friggin' cute" photo was taken by a crew member, director Susan Johnson told ET on August 23.
People have noticed Condor and Centineo's chemistry, which Johnson described as "immediate sparks" to the publication. "I've heard [Lana's] story about them sitting outside the casting session before they came in; I think it's very, very funny that she turned him down to read [their lines]," she said. "They were magical in the room." Condor detailed that story for People. "He asked me if I wanted to read lines with him and I said no because I was trying to focus on myself," she said. "I was like, 'I've gotta get this job!'"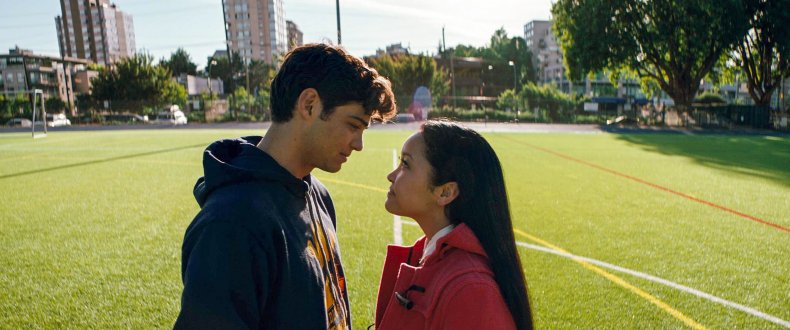 Getting the role means Condor could potentially play Lara Jean again. Han's To All the Boys I've Loved Before is the first in a trilogy. If Netflix orders a sequel, Johnson thinks it would likely follow the events of the second novel, P.S. I Still Love You and could include some events from the third, Always and Forever, Lara Jean, according to ET Friday. "Netflix said their general timeframe is 28 days; they watch how well the movie does over the period of a month and once that's over, they can make a decision about a sequel," she said.
The end of the Netflix movie set up a potential sequel, with one of the boys Lara Jean wrote a letter to showing up at her door with flowers. Johnson teased what a film sequel could look like to ET. "Relationships are hard to navigate and they'll find themselves in one," she said of Lara Jean and Peter. "They'll discover what the next person might bring in John Ambrose McClaren."
"I know I can speak for the whole cast, we all want a sequel very badly," Condor told People. "I think it would be crazy to not have a sequel." The actor expressed her wish for a sequel on Instagram August 19. "I propose we break the internet with this as to ensure we get a sequel… feel me?" She wrote in the caption of a photo of her and Centineo's Peter in a hot tub from the movie.
To All the Boys I've Loved Before is now streaming on Netflix.