Lancaster Protesters' Bail Set to $1 Million Each, Prompts Pennsylvania Lt Gov To Call Amount 'Blatantly Unconstitutional'
A Lancaster County judge set bail at $1 million for at least six of eight protesters who were arrested early Monday morning, the same amount the officer who was charged with killing George Floyd was set to.
Magisterial District Judge Bruce Roth set bail that night, charging protesters with felony arson, riot and vandalism charges, among other protest-related charges, according to court documents. One protester was not granted bail, while another's bail status is still pending.
Protesters took to the streets following the death of 27-year-old Ricardo Munoz, who was fatally shot by police on Sunday after an officer responded to a domestic disturbance call. Body camera footage shows Munoz charging at the officer with a knife.
Pennsylvania Lieutenant Governor John Fetterman immediately criticized the judge's ruling calling it "blatantly unconstitutional" and noting Derek Chauvin had been held on bail for the same amount.
In June, Chauvin, the ex-Minneapolis officer who knelt on Floyd's neck for nearly nine minutes, was given a bail of $1 million after being charged with second-degree manslaughter and second-degree murder.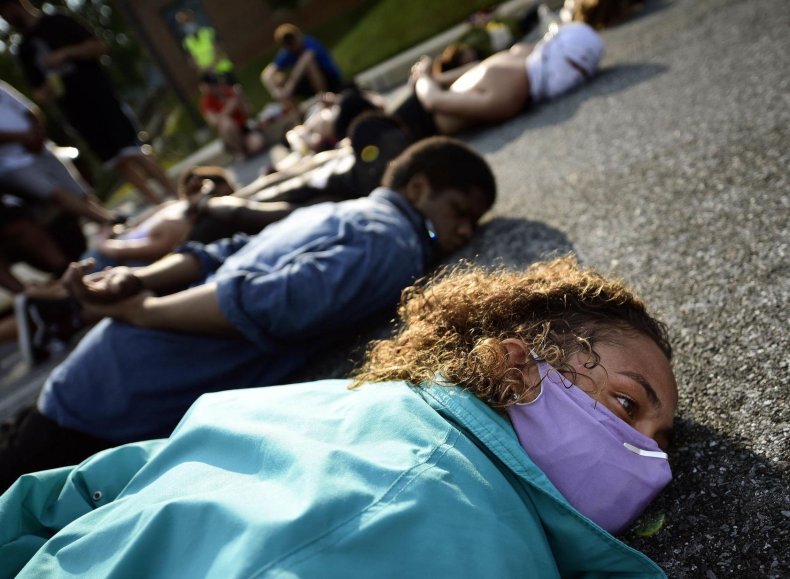 Fetterman also said in a tweet that the price tag was an infringement on the protesters' Eighth Amendment right against excessive bail.
The protesters' situation was brought to Fetterman's attention after advocacy group Lancaster Stand Up called on the lieutenant governor alongside Lancaster Mayor Danene Sorace, Attorney General Josh Shapiro and Governor Tom Wolf to defend the protesters.
"The absurdly high bail amounts indicate that what we're seeing is not a measured pursuit of justice, but a politically motivated attack on the movement for police reform and accountability," the social justice group tweeted.
Several protesters have faced significantly high bail amounts in the past few months, including an Ohio man, whose bail was set to $750,000 after he was accused of pepper-spraying police officers during a protest in San Diego.
Last week, his bail was lowered to $150,000 as demonstrators rallied behind him, gathering outside the jail to protest the high amount.
Pilar Weiss, director of the non-profit The Community Justice Exchange, told Newsweek that sizable numbers have been handed out by judges to send a message to protesters exercising their First Amendment right.
"The premise of bail is supposed to be to ensure return to court (we believe it should not exist altogether) and high bails like this are clearly punitive and an attempt to suppress protest," Weiss said in an emailed statement.
"We have indeed seen other DAs and judges across the country set outrageously high bails - earlier in the summer, we saw multiple protesters in Oklahoma City given $1 million bail. This is clearly an attack on the protesters and local organizing for racial justice," she added.
The Community Justice Exchange is the host of the National Bail Fund Network, an organization that is supporting protesters in Lancaster from remote, working with local organizers "to ensure folks are not held in pretrial detention because of bail being wielded as punishment."
Newsweek reached out to the Lancaster County Bail Administration for comment but did not hear back before publication.
Update (9/15/2020 8:34 p.m. ET): This story was updated to clarify the National Bail Fund Network is not physically in Lancaster but providing support from remote.