June marks the beginning of Pride Month, a time where members and allies of the LGBTQ community join together to honor the 1969 Stonewall riots. In celebrating the occasion, *NSYNC alum Lance Bass teamed up with film producer Nikki Levy to create The Path To Pride, an audio special, for Audible.
Bass, 39, came out in a 2006 interview with People magazine. The reveal followed rumors regarding his sexuality that had begun to affect his personal life. Although he's opened up about his journey to acceptance before, The Path To Pride proves there's still more to learn about Bass.
"It's special that we're using comedy in a way to tell these coming out stories," Bass said of the Audible special to Newsweek. "More people will be open to listening to it that aren't gay. I hope people, especially [those] that have not come out yet, feel encouraged to be themselves. I'm sure everyone can relate to at least one of these stories. That's really what it takes to get the courage to come out, finding someone that you relate to."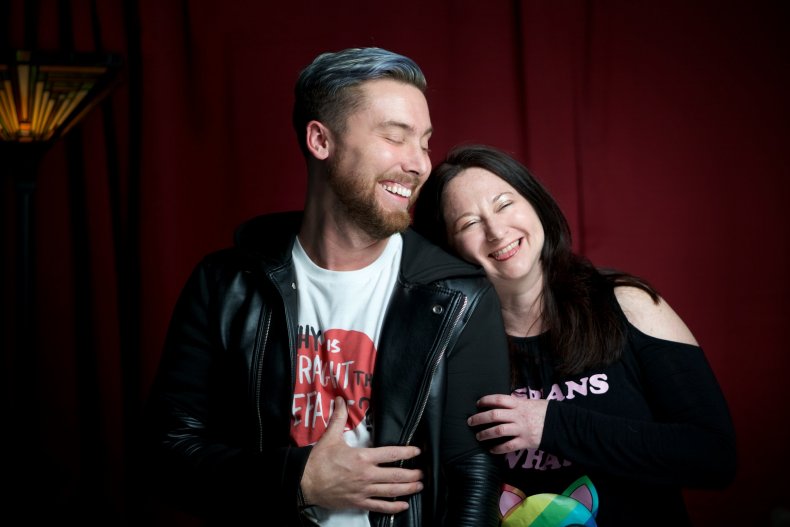 Bass has known he was gay since he was 5 years old. At the time, he had the "biggest crush" on his classmate, Chad. In coming out, he said there were several factors that affected him.
"The hardest part for me, and I think a lot of people, is those friends and family members that you love [who] can never accept it," Bass explained. "Your friendships definitely change, most for the better, of course...The other thing that really affected me was people that were OK with me being gay, but they didn't like the fact that I was lying to them."
By the time he announced he was gay, the then 27-year-old was on to his third boyfriend. He was reserved in sharing the news prior because he didn't want to affect the careers of his former band members, but he was openly gay in his personal life once *NSYNC went on hiatus.
Bass was in Provincetown, Massachusetts, with his boyfriend at the time when a person in line near him asked if he was gay. He said he was, and the person turned out to be a reporter from The Washington Post. From there, media speculation circulated and he said some remarks proved to be "degrading." He then chose to share his story with People, but he said: "It wasn't my idea to really do that."
"I knew I was going to have to say something or everyone was going to make up their own things," Bass explained. "The magazines called me and said, 'Look, we have to write the story with or without you. So, do you want to do it with us or without us?' Within 24 hours, I chose People to tell the story. I did the interview, and the next day it was out on stands. I wasn't ready for that at all."
Once Bass came out, his planned projects were pulled, including an upcoming pilot for The CW. He didn't let the setbacks define him, ultimately pivoting his career in a new direction. He was able to go after other passion projects, including television and the restaurant industry. He is currently working toward opening a restaurant in West Hollywood, preparing to create a talk show, launching a dating app and producing a couple of movies.
Fans will likely be thrilled to hear he's planning a documentary about *NSYNC.
"It's based on a true story about what happened on the road with us," Bass said. "We just started developing it now. I would say [it would take] like a year and a half, or two years, for things to actually get shot."
Bass will co-host The Path to Pride live in New York at the Minetta Lane Theater with Levy June 25. Ticket proceeds from this event will go toward The Trevor Project. In the meantime, The Path To Pride with Nikki and Lance is free to download until July 31 on Audible's website.