Video: Lance Stephenson Makes Jeff Green Stumble with Insane Crossover, Lakers Bench Goes Crazy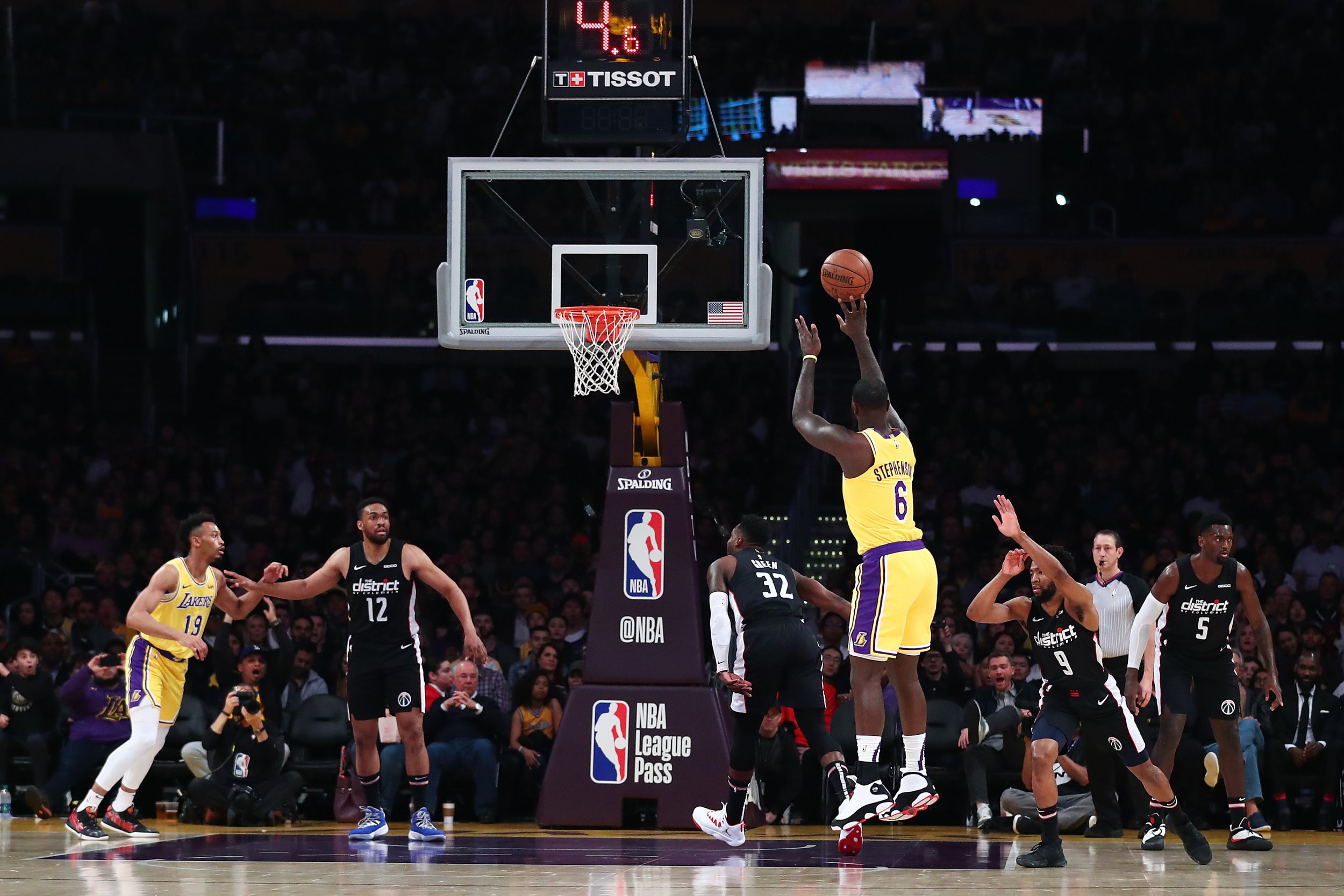 In a season during which positive moments have been few and far between, Lance Stephenson gave the Los Angeles Lakers fans and players something to celebrate on Tuesday night in a 124-106 win over Washington.
With the Lakers up by three points against the Washington Wizards and just nine seconds left in the first quarter, the 28-year-old pulled off an incredible crossover that sent Jeff Green stumbling backward.
The Wizards forward lost his footing after Stephenson step on his foot and took a few steps before eventually slumping to the floor. Not content with sending Green to a different postcode, Stephenson then completed the move with a perfectly executed jumper to put the Lakers up 34-29.
The Lakers bench erupted as one, with players sprinting in every direction and leaping above each other to be the first to congratulate Stephenson, who finished with seven points, 10 rebounds and five assists.
If it was surprising to see a crossover greeted by the kind of celebration the Staples Center normally reserves for buzzer-beaters in a playoff game, it's worth remembering the Lakers have had precious little to cheer this season.
True to form, Stephenson celebrated the play with his trademark dance, which first earned him the moniker "Make 'em Dance Lance" earlier this season.
"I told Lance [to] make 'em dance early in the season, and he did that tonight," LeBron James told NBA on TNT "I guess only Lance would make a play like that on our team. It was great [that] it went in and obviously you guys saw the bench's reaction to it."
Unsurprisingly, the clip of Green stumbling back and Stephenson draining the jumper immediately went viral and will feature prominently in the Lakers' highlight reel for this season.
The win against the Wizards was Los Angeles' second in a row and improved their record to 33-41 for the season. The Lakers, however, have already been eliminated from the race to the playoffs and will finish the current campaign with a worse record than last year.
That, however, hasn't changed LeBron's approach. The four-time MVP finished with 23 points, 14 assists and seven rebounds.
"It's been difficult knowing that mathematically we're not going to be in the postseason," he was quoted as saying by the Associated Press. "That's like March Madness for college kids for me. But when I suit up, it's all business. I never change my approach, and I try to go out and make every play."
Next up for the Lakers is a trip to Salt Lake City to face the Utah Jazz on Wednesday night, while the Wizards travel to Phoenix.