Land Mines Are a Tool of Terror That Must Be Stopped | Opinion
Land mines are profoundly inhumane. These weapons serve virtually no military purpose. They primarily injure the innocent, especially the young. They kill indiscriminately, long after violent conflicts end. They impede economic development and leave scars for generations to come. They are, in short, a tool of terror.
In 1997, the Republic of Yemen signed the international Mine Ban Treaty in Ottawa, now joined by more than 160 nations. But the Houthi militias currently fighting against the legitimate government in Yemen do not respect this international agreement. They have littered the country with hidden minefields and unexploded ordinances—and claimed over 1,000 lives.
Land mines remain a global threat. Whether it's Iran helping the Houthis as they plant land mines in Yemen, any other government helping plant mines somewhere else or a leftover minefield from a decades-old conflict, we should all stand opposed. We believe the use of land mines in any conflict today is against international laws and norms.
These weapons do not discriminate between soldiers or children. They threaten everyone. Nearly 80 percent of land mine deaths and injuries are civilians. The cost of surviving a land mine is high too. Casualties sustained from land mines often cause severe economic difficulties for victims and their families. A mine itself may cost $3 to $30, while medical care and rehabilitation for those injured in developing nations cost well over $3,000. Their negative impact on women and girls in society, given stigma toward people with a disability, is another consequence of these cruel weapons.
Houthi militias have planted land mines at "an astonishingly high rate," according to Elana DeLozier of the Washington Institute for Near East Policy. Human Rights Watch has documented the use of land mines in farmlands, villages, wells and roads, with a recklessness that can only be described as brazen disregard for the lives of Yemeni civilians. These mines, scattered in areas far from the conflict zone, threaten innocent men, women and children.
Since the onset of conflict, Yemen's National Center for Removal of Land Mines has cleared away more than 300,000 land mines planted by these militias, and yet hundreds of thousands must still be cleared. This massive number represents just a fraction of the nearly tens of millions of land mines buried in over 80 countries. The United Nations states around 2,000 people per month are killed or injured by buried mines, but exorbitant costs extend beyond lives to national economies. Since 1993, the United States has contributed more than $3.4 billion to more than 100 countries around the world to reduce the harmful effects of illicitly proliferated and indiscriminately used conventional weapons of war, and has invested more $37.5 million in the destruction of conventional weapons in Yemen.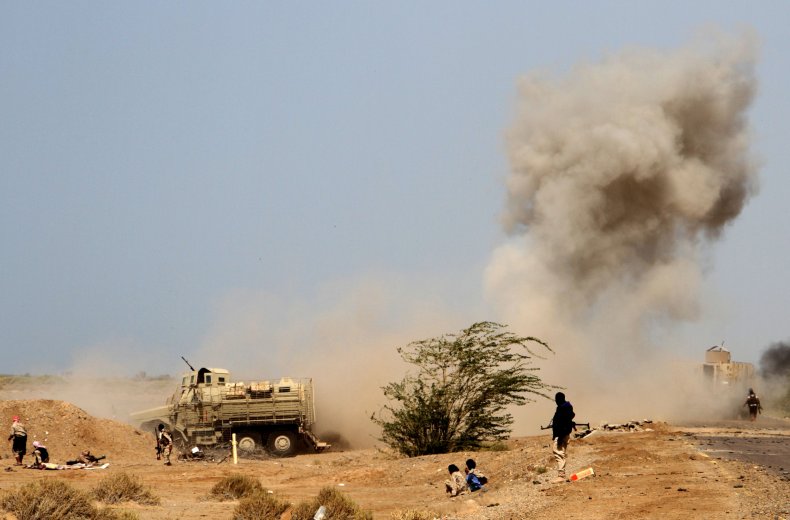 Princess Diana, whose bravery and determination to fight the scourge of land mines inspired so many to join the anti–land mine cause, put it best following her visit to an Angolan minefield. She said: "For the mine is a stealthy killer, long after conflict is ended its innocent victims die or are wounded singly in countries of which we hear little." Thankfully, her son Prince Harry has pledged to take up what he calls his late mother's "unfinished business," including the goal of achieving a mine-free world.
For years after the conflict in Yemen has ended, land mines will continue to maim and kill. It is a tragic reality of the conflict. Land mines have already caused more than 9,000 deaths and injuries in Yemen. Every single additional person killed or wounded by a land mine is an unnecessary casualty. Unnecessary because by now everyone understands land mines are wrong. As Princess Diana showed, however, we are not powerless.
We must stand unified in opposition to the production, use and trade of anti-personnel mines under any circumstances. We must call out those who are responsible for the horrifying casualties "in countries of which we hear little." We must exert every lever of pressure available to us to get all parties to the conflict in Yemen, or any other conflict, to refrain from any use of this indiscriminate killer.
Demining Yemen may take generations. But every day we do nothing, the challenge only grows. We ask you to join us in doing all you can to stop the maiming of innocent children in mine-polluted countries. They deserve a future free from this horrific—and costly—hidden threat.
Ahmed Awad bin Mubarak is the ambassador of Yemen to the United States.
Jerry White is a professor at the University of Virginia. He lost his leg to a land mine in 1984 and shares in the 1997 Nobel Peace Prize awarded to the International Campaign to Ban Landmines.
The views expressed in this article are the writers' own.