The Land of the Tasmanian Devil Turns Glam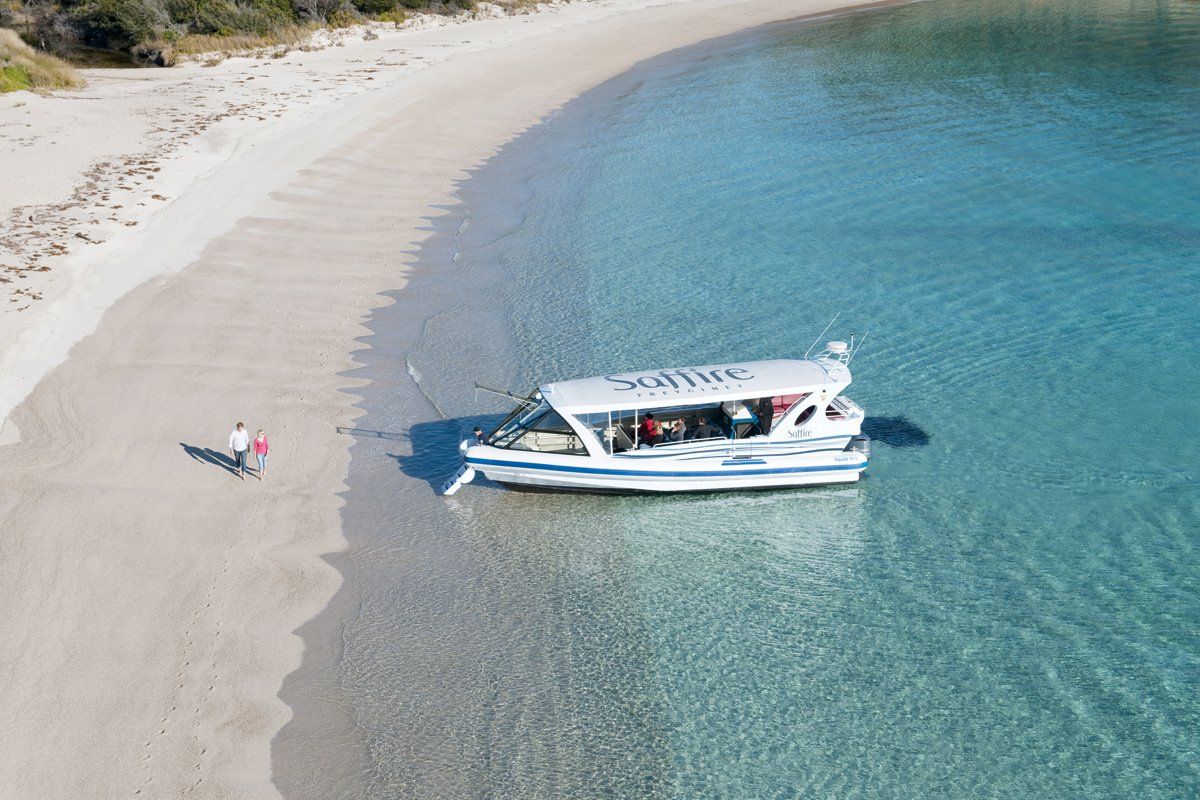 Just around the corner from Antarctica, nestled between the Indian and Pacific oceans, is a faraway land best known for its namesake Looney Tunes character, Taz the Tasmanian Devil. For most people, knowledge of this exotic Australian island begins and ends with his animated antics, which isn't surprising considering that the journey to Tasmania from America or Europe can take more than 24 hours. Even within Australia, mainlanders often treat Tasmania as a kind of hillbilly backwater. Until recently, there wasn't much to find beyond an awe-inspiring coastal landscape; if you were in the market for Frette sheets and oversize soaking tubs, you had come to the wrong place. But over the past year, this former site of infamous penal colonies has evolved into a shining port of call for jet-setters in search of the next luxury frontier. And the new Tasmania is more than just another set of five-star hotels; it's the perfect blend of luxury and down-to-earth practicality—sophistication without the snootiness.
On the southeastern end of the island sits Hobart, Tasmania's biggest city, home to just over 200,000 people. With its quaint mix of Georgian architecture, the Salamanca district is the main attraction, buzzing with nouvelle Australian bistros and minimalist bars. Tasmania's emphasis on the organic is on display at the weekly Saturday market, which showcases carefully cultivated produce and gourmet foods, such as local oysters, abalone, and salmon, boutique cheeses, and pinot noir varietals.
Hobart is beginning to garner international attention as the island's cultural center, thanks largely to the efforts of local eccentric David Walsh, a professional gambler and arts patron who has invested hundreds of millions in unconventional projects. Fifteen years ago he bought a prime piece of land on the Derwent River and took over its storied vineyard, Moorilla, which specializes in cool-climate wines like pinot noir and chardonnay. Since then he has added a set of luxury waterfront pavilions designed by notable regional architects, which rent from US$440 to $900 per night, as well as a brewery and a fine-dining restaurant. He's also established an ambitious annual music and arts festival that has featured such luminaries as John Cale, formerly of the Velvet Underground. Walsh's most recent project, the Museum of Old and New Art, will open in January featuring works from his extensive private collection, which includes pieces by Christian Boltanski, Jenny Holzer, and Damien Hirst. Its explicit curatorial themes of sex and death have set local tongues wagging; rumor has it that an exhibition of taxidermied female genitalia will greet visitors. Walsh is clever enough not to settle the speculation, aware that the budding controversy will only help attract more attention to MONA.
The arresting architecture of Tasmania's newest hotels capitalizes on its stunning scenery. Saffire Freycinet, a high-end, 20-suite retreat on the Freycinet Peninsula that opened in June, is a two-and-a-half-hour drive from Hobart. Consciously integrated into the environment, the resort's construction incorporates local materials such as celery-top pine and Tasmanian oak, while minimizing light pollution and its carbon footprint. The main building's dramatic roof resembles a bird in flight. Each suite offers a floor-to-ceiling view of Coles Bay, but with the push of a button curtains retract and lights dim to create an intimate sanctuary. The resort also features a luxury restaurant with daily degustation menus and an innovative spa program that incorporates precious-stone treatments.
Those looking to commune with nature a bit closer to town can book Harmony Hill, a wellness and organic spa retreat set on 17 mountaintop hectares about 25 minutes outside Hobart. Open since May, the retreat has architecture inspired by Indian temples, high-minded but not austere; duplex guest cottages feature such amenities as glass-enclosed spa baths with panoramic views and private decks. Guests can participate in a rigorous wellness program that includes ayurvedic and traditional Chinese treatments, and a culinary program that eschews sugar, dairy, and oil and incorporates local organic produce, fish, and free-range eggs. In Hobart, the offbeat Henry Jones Art Hotel, located in a former jam factory, offers a Tasmanian take on city living. The brick building preserves its historic structure while housing a gallery's worth of contemporary Tasmanian art, guest rooms with oversize Jacuzzis, and a farm-fresh fine-dining restaurant.
Unlike other recent hotspots such as Dubai, which tried to seduce visitors with a "bigger is better" approach, Tasmania keeps its ambition to a human scale. Here, chic boutique hotels aren't the manufactured result of a tired trend; they're the logical solution to a high-end tourism industry still in its infancy. By defining luxury on its own terms, as an expression of both heritage and innovation, Tasmania has managed to stand out among competing tourist destinations. It's impressive enough to almost make you forget the long flight.
The Land of the Tasmanian Devil Turns Glam | World