Landscaper Killed by Swarm of Bees While Suspended in Harness
A man met a grim accidental death on Thursday after disturbing a beehive while attempting to do landscaping work in a yard.
Franco Galvan Martinez, 53, of Seguin, Texas, was up on a ladder and hooked into a harness connected to a tree in a customer's backyard. What precisely he was doing at the time is not clear based on available reports, however Martinez worked as a professional landscape lighting technician.
Things took a frightening turn, according to one witness, Joe Maldonado, when he accidentally disturbed a beehive of considerable size. The insects immediately began to swarm around and attack Martinez, and in the ensuing chaos, the landscaper became trapped in midair due to the harness. Co-workers, who were with him at the time, attempted to pull him down, but only ended up getting stung themselves.
"I guess in [a] panic trying to swat away the bees from himself, he kicked away the ladder," Maldonado, a family friend and pastor, told KXAN News. "The hive was so ginormous that it literally covered Franco instantly."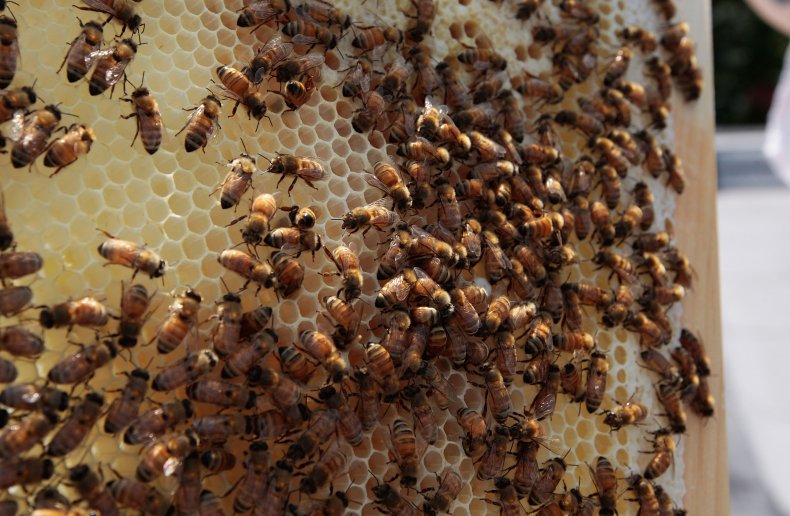 First responders with the Austin-Travis County EMS were called to the scene at approximately 5 p.m. Firefighters reportedly had to use their hose to clear away the bees that were still swarming around Martinez.
A neighbor, who spoke anonymously to KXAN, described the frightening scene and estimated that the man might have been covered by thousands of bees.
"They were very distraught," the neighbor said. "It was horrible. For over 10 minutes, all they could do was endure hearing [Martinez's] anguish."
The man's family and friends confirmed to KXAN that an autopsy is pending. According to Maldonado, Martinez was married with two grandchildren.
Other neighbors confirmed that the residents of the home Martinez was working on had been aware of the hive prior to Thursday's incident, but they had never had any problems with it in the past.
Martinez was employed by Bill Biggadike & Associates, which confirmed to KXAN on Friday that one of its workers had died, but did not give any further details.
The Austin Code Department, which regulates things like the handling of beehives in the city, has officially assigned an inspector to investigate the case. The residents at the home have declined requests for comment from the media.
Newsweek reached out to the Austin Code Department for comment.