Lanora Vasquez Sues Portland, Oregon, Says Tear Gas Caused Damage to Her Menstrual Health
An Oregon woman is suing the city Portland, Oregon, saying tear gas severely damaged her menstrual health.
Lanora Vasquez and her lawyer, Michael Fuller, filed a civil rights complaint against the city that requests a jury trial and an acknowledgment that the city negligently used tear gas during demonstrations in the summer of 2020. She hopes to receive up to $10,000 in compensation.
Vasquez did not participate in any of the demonstrations held throughout the city, but tear gas deployed during that period affected the neighborhood she lived in. She said that the tear gas entered her home through windows that she opened to get fresh air. She then experienced severe cramping and an irregular menstrual cycle.
"Halfway around the block I would be almost doubled over with cramps," she said in an interview. "The only factor that was different was tear gas, a poison that's known to cause issues with menstruation."
The pain was so debilitating that she had to move out of her home of 10 years in August of 2020, she said. Although some of the pain has subsided and she is now able to go on her daily walks, she is still experiencing heavy and irregular cycles.
"When it does come, it's heavy and the cramps are like nothing I've ever experienced in my life, it's so painful," she said. "I'm getting cancer screenings, and we don't know what will happen long term. It's nerve-wracking."
Fuller said that the city's disbursement of tear gas was irresponsible and dangerous due to the chemicals' side effects.
"Deploying tear gas is by its very nature a very dangerous activity," he said. "The city knew or should have known that it was a harmful, toxic chemical."
The city has one month to respond to the filing. The Portland attorney's office declined to comment.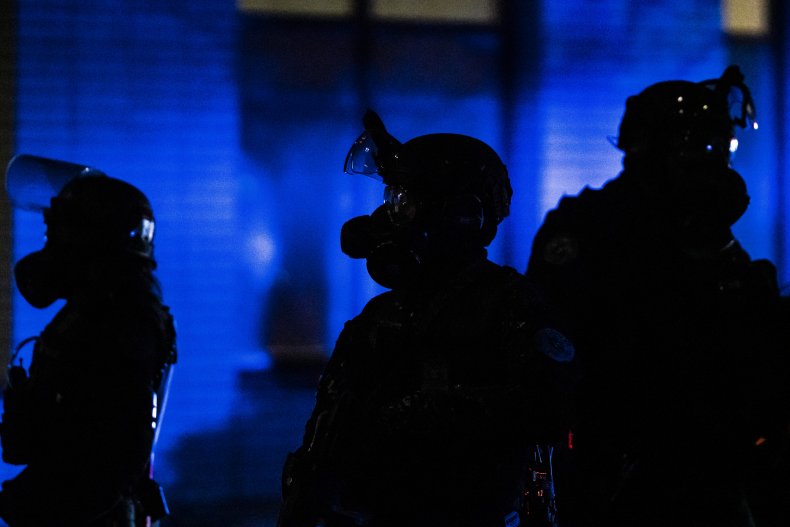 Mayor Ted Wheeler barred the Portland Police Bureau from using CS gas, one kind of the toxic gas, in September of 2020 after being criticized by residents about tear gas seeping into their homes.
Researchers continue to study the effect of tear gas.
Vasquez said that about two weeks after Portland police began using tear gas to disperse protesters downtown, going outside caused Vasquez debilitating pain, she said.
Vasquez said she hopes her lawsuit will help those who are experiencing a similar "health puzzle" find the cause of their symptoms and get treatment.
The Associated Press contributed to this report.