Lanzavecchia Wai's Lightmate Pillow Acts as Companion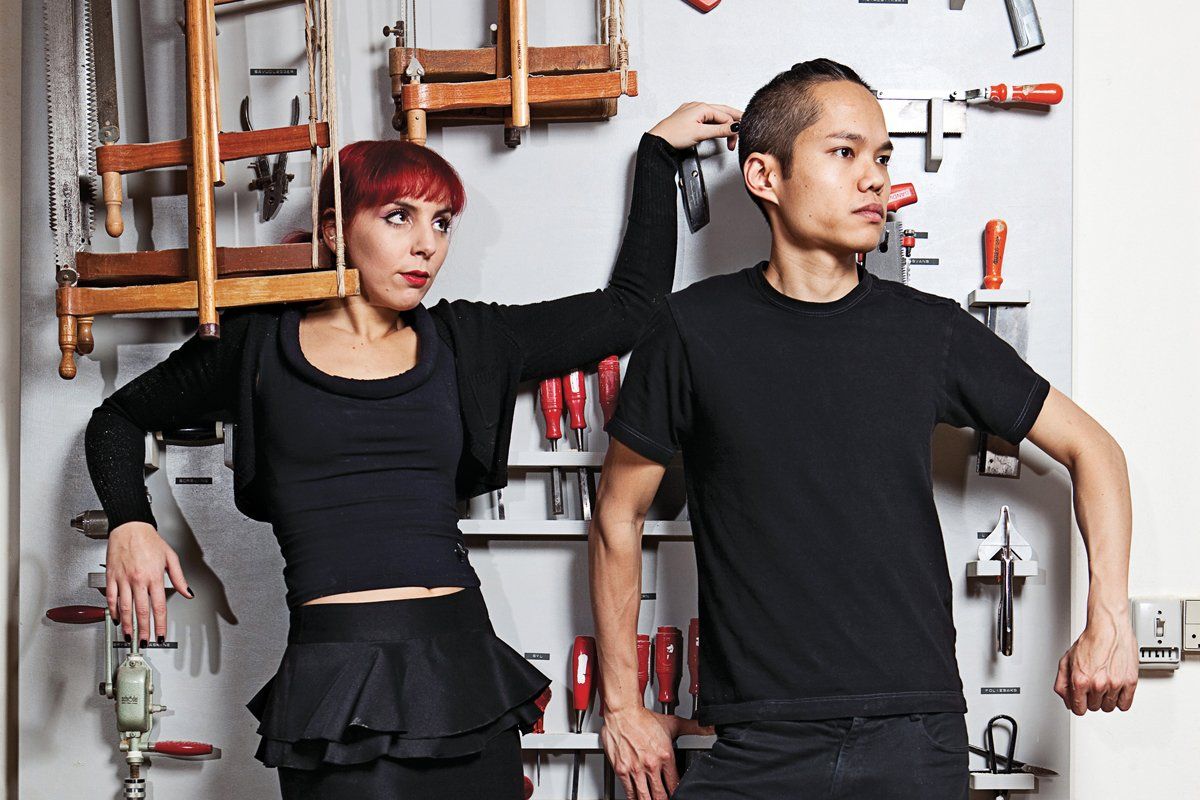 Francesca Lanzavecchia, a doctor's daughter from Italy, and Hunn Wai, the son of a Malaysian engineer, fell in love while they were grad students at the rigorous Design Academy in Eindhoven in the Netherlands. Could that be why some of the best objects produced by their firm still have a romantic side that's rare in cutting-edge design? Lanzavecchia+Wai's Lightmate is a body-size pillow, shaped like a cloud, or maybe a puddle, that emits a gentle glow and delicate heat as you hug it. It was born as a student project by Lanzavecchia, when the new arrival in Holland "still felt very little and tiny and lonely" and wanted to make "a project to alleviate loneliness—filling the gap left by another's absence."
After graduating, the two designers replaced their romance with a creative collaboration, but they still aim to make objects that are "intimate to the human body and mind," as Lanzavecchia puts it, Skyping from their studio in Pavia, near Milan. Wai, on the line from their office in Singapore—this boutique firm spans the globe—holds up an iPhone as an example of the kind of "cold" object he was first trained to make, in industrial design at the University of Singapore. It's basically a box for electronic components that you sex up with a gloss of design, he says. "The thing that is the furthest possible from me is this perfection, this chrome," says Lanzavecchia, who is 29. "We can have an empathic relationship only with things that resemble us—and we are far from perfect."
Lanzavecchia says that, after finishing her master's degree in 2008, she and Wai agreed to work toward designs that could fulfill the "human need to communicate through objects," but only if the objects they brought into the world were clearly better—maybe more heartfelt—than what was already out there. "We both said that we didn't want to be landfill designers, and fill the world with more trash." Wai, 32, says that they don't care how much or how little they sell, "so long as we get the point across." (The Lightmate pillows are still only available on special order, priced in the neighborhood of $3,500, and the pair will be showing a very different one-off—a "space quilt" that's closer to art—at Basel's design fair. But they have also designed several pieces for mass production.)
One recent project had them making wheeled canes for the elderly, designed so that they double as stylish baskets, tea trays, and iPad cradles. The goal, Wai says, is "to reconcile the gap between the medical and the domestic" while addressing the ageism that pervades both design and society. Wai insists that the duo's ultimate aim is to "embed a message" in each new piece they make.