Man Who Chanted 'White Power' At Black Lives Matter Protesters Arrested For Impersonating LAPD Officer
A man seen chanting "white power" at Black Lives Matter protestors last month was arrested by Los Angeles Sheriff's deputies for impersonating an LAPD officer.
The L.A. County Sheriff's Office issued a statement saying Daniel Sohn, 36, was wearing a long-sleeved shirt with an "LAPD" logo and adorned with several police patches as they found him sleeping outside a West Hollywood business that doesn't allow 24-hour parking. As deputies checked on the man early Friday morning, they noticed he was wearing publicly available, non-department-issued LAPD clothing and later identifed him as the man who appeared in a racist January viral video chanting "white power" at BLM protestors. Arrest records described Sohn as an Asian man in his mid-30s.
L.A. County Sheriff's Deputy Joanna Warren told KTLA-TV Sohn admitted he consistently pretends to be a police officer in order to gain respect and attention. Los Angeles officials are asking for more victims or those with additional information to step forward after arresting him for impersonating a police officer.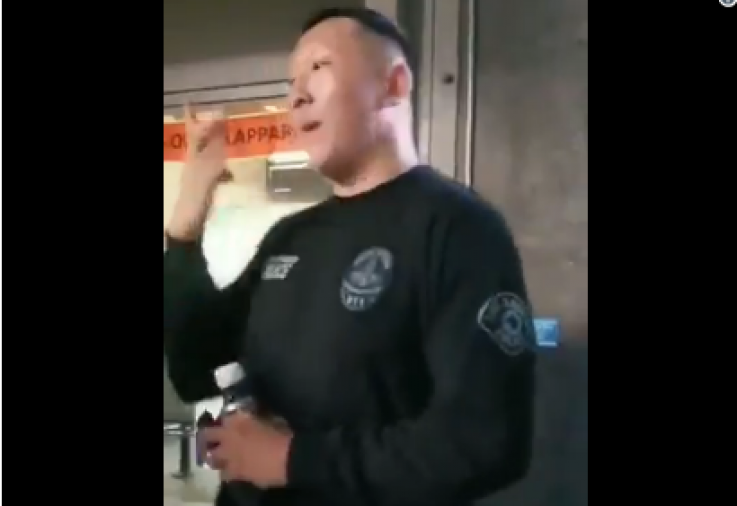 Deputies recognized Sohn during his Friday arrest from the viral video last month, in which he harassed Black Lives Matter protesters during a demonstration outside a 24-Hour Fitness in Hollywood. The BLM protest responded to LAPD officers fatally shooting unarmed 30-year-old Albert Ramon Dorsey in a shower last October after gym staff said he assaulted a parking lot security guard before allegedly trespassing into the locker room.
Body camera footage showed officers attempting to restrain and unsuccessfully taser Dorsey during the struggle that ultimately led to him being shot and killed.
Sohn could be seen laughing and gesturing at BLM protesters while replying "white power" to several inquiries about whether he was truly a police officer. He was wearing a black "LAPD" long-sleeved shirt with several police patches.
Melina Abdullah, a co-founder of Los Angeles' Black Lives Matter chapter, confirmed to KTLA-TV Sohn had antagonized protesters and pretended to be a member of the LAPD outside of the gym.
The Los Angeles Police Department's official administrative Twitter account responded to Sohn's Friday morning arrest.
"We have identified the individual in question related to a video involving the use of racially insensitive remarks. As first suggested by some, this individual is not, and has never been, an LAPD officer or employee. The apparel worn by the individual, specifically the T-shirt with LAPD insignia, is not Department issued and is accessible to the public. We will be working with our Entertainment Trademark Unit to ensure violations of our trademark on apparel are addressed."
Man Who Chanted 'White Power' At Black Lives Matter Protesters Arrested For Impersonating LAPD Officer | U.S.