LAPD Shoot, Kill Man Wearing Body Armor and 'Counting Down' in Hollywood—Police
LAPD shot dead a man wearing body armor in Hollywood after he backed his vehicle into a police car and then failed to comply with officers' orders, police have said.
The officers were responding to a radio call with their siren and lights on when a vehicle cut in front of them on Sunset Boulevard near Fairfax Avenue around 2.30 p.m. on Saturday, the Los Angeles Police Department (LAPD) said on Twitter.
The vehicle "pulled in front of them, stopped suddenly & reversed into the police car," the LAPD said in the tweet.
"The driver of the car exited, was wearing body armor, & had his right hand concealed behind him," the department added.
"He moved toward the [officers] who had exited their patrol car. He counted '3, 2, 1' & began to move his arm to the front of his body, at which time there was an [officer-involved shooting]."
The man was struck by gunfire and pronounced dead at the scene, police said.
Pictures from the scene showed a black vehicle with several stickers on it had its back bumper making contact with a LAPD vehicle. The police vehicle had damage to its front driver's side window.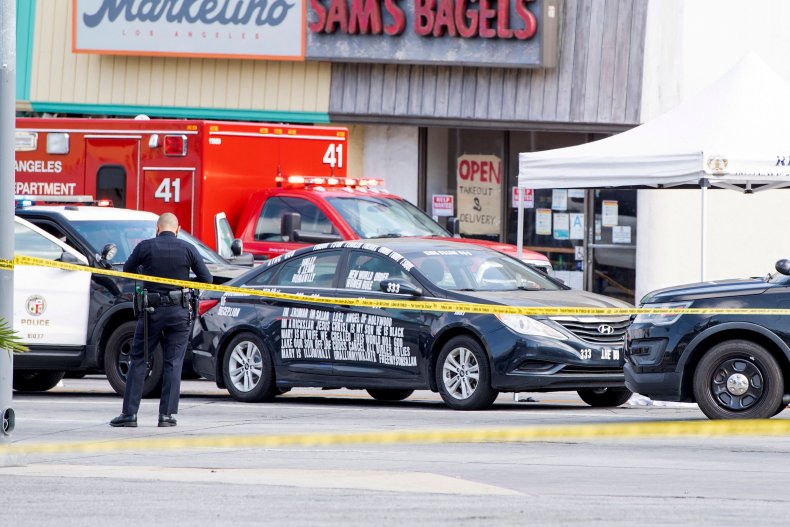 Detective Meghan Aguilar told reporters: "The officers gave him commands which he did not follow, and he started counting down, saying 3... 2... 1... as he started to pull his hand from his back to the front."
The police department said detectives are on the scene conducting interviews and gathering evidence.
Police did not say if a weapon was found at the scene and no other details were immediately provided about the shooting.
Aguilar said the information provided by police was gathered from body camera footage of the incident, according to NBC Los Angeles. She said a 45-day critical video incident briefing will be held, where police will hopefully provide more details about the shooting.
There was blood on Sunset Boulevard as the body was being covered up with a white sheet shortly after the shooting, the station reported.
Sunset Boulevard was shut in both directions for several hours after the shooting.
According to Twitter account @FilmThePoliceLA, the deceased man's body remained in the street for more than six hours.
"Seeing a dead body lay on the ground for SIX hours is low key painful," the account tweeted. "Watching cops step over/around him takes it to another level."
The Los Angeles Police Department has been contacted for additional comment.