A Los Angeles police officer has been blinded in one eye by a laser amid fears the devices are being increasingly used to attack officers on patrol.
Kyle Rice was assaulted by someone targeting him with a green laser as he attended a call out in the downtown area of the city.
Now the father-of-two said he has been left with severe headaches, poor balance and can no longer drive and fear his sight will never return following the incident on July 16.
In a TV interview with NBC Los Angeles, Rice said: "I consider myself a pretty strong person, but these migraines have been bringing me to tears.
"I have to lay down all the time and then I got to figure out, you know, I can't stop being a dad to my two girls and a husband to my wife."
His horrifying ordeal began when he responded to a call near Second and San Pedro streets in the little Tokyo Area.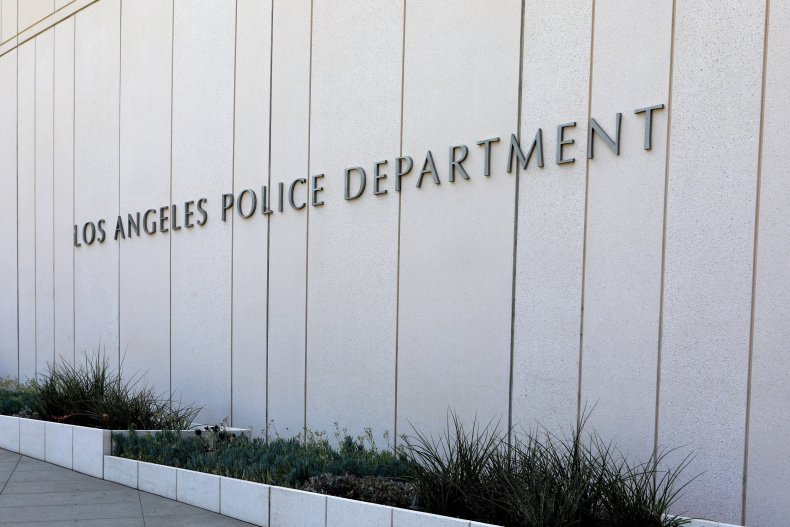 The call was to resolve an ongoing dispute between a business owner and a homeless person seeking shelter in his doorway.
Suddenly, someone with no connection to the call out, aimed a laser at Rice from a balcony.
Rice said: "I just felt my right eye was on fire.
"I love our department, I love our city.
"I just hope that we can drop this and really see that instead of hurting each other maybe we should just start talking to each other a little more."
A 45-year-old man was arrested on suspicion of shining the laser at rice but was later released without charge.
The Los Angeles County District Attorney's Office said it had not yet received information about the case from the LAPD so to date no criminal charges have been filed.
Experts say that lasers can cause permanent damage to the retina and are as hazardous to vision as staring at the sun.
LAPD says it is becoming increasingly concerned about laser attacks on officers prompting Chief Michael Moore to issue a memorandum urging police to adjust their vision away from the beam if one is seen.
He also encourages his officers to try and diffuse situations without using force and said staff will be given new eye protection.
And last month the Deputy Director of Homeland Security, Ken Cuccinelli, said federal officers in Portland, Oregon, suffered 113 eye injuries while safeguarding a courthouse from activists, some of whom were armed with powerful lasers.
The White House issued a statement saying that three federal agents were likely to have been left permanently blinded during the Portland protests.