Laquan McDonald: Chicago Police Officers Acquitted of Trying to Cover Up Shooting of Black Teenager
More than five years after the fatal shooting of 17-year-old Laquan McDonald, three Chicago police officers were acquitted of charges that they conspired to cover up details of what happened.
On Thursday, Cook County Judge Domenica Stephenson found former Detective David March, former officer Joseph Walsh and suspended officer Thomas Gaffney not guilty of committing conspiracy, obstruction of justice and official misconduct.
Read more: America is having a 'naked lunch' moment on violence towards black people, ACLU deputy legal director says
Stephenson said prosecutors had failed to meet the burden of proof to demonstrate a coordinated conspiracy to cover up the fatal shooting. The prosecution had argued that March, Walsh and Gaffney had filed paperwork that wrongly portrayed McDonald as an aggressor in the October 20, 2014, incident that saw the teenager fatally shot by their fellow officer, Jason Van Dyke.
Prosecutors said that the fact that all three officers seemed to tell the same story suggested that the three officers had conspired to weave together an account that might justify the 17-year-old's death and spare Van Dyke, who was white, from facing the scrutiny of a criminal investigation.
On the night McDonald was killed, police had received reports of a young black man trying to break into vehicles. When officers arrived at the scene, they encountered McDonald, who they said had a folding knife in his hand.
Arriving at the scene, Van Dyke got out of his vehicle and within a 15-second span, fired 16 shots at McDonald. Van Dyke claimed that McDonald had been swinging the folding knife in an "aggressive exaggerated manner," a claim that his fellow officers supported.
But dashcam video released in November 2015, more than one year after the incident, brought the four officers' accounts into question, appearing to show a different scene than the one police had described.
In the video, McDonald can be seen running down the street, with his back to the camera, as police arrive in vehicles from behind and beside him.
As officers, including Van Dyke, exited their vehicles, the 17-year-old slowed to a walk before taking several steps away from officers. That is when Van Dyke shot him, firing 16 shots at the teenager, according to the coroner's report.
On the day the footage was released, Van Dyke was arrested and charged with first-degree murder, and other firearm offenses, as protests broke out across Chicago, with many demanding to know why the dashcam video had been withheld for more than a year and accusing police of lying about McDonald's death.
Following his trial in October, Van Dyke was found guilty of second-degree murder as well as 16 counts for aggravated battery, with the former officer receiving one count for every shot he fired. He is scheduled to be sentenced on Friday.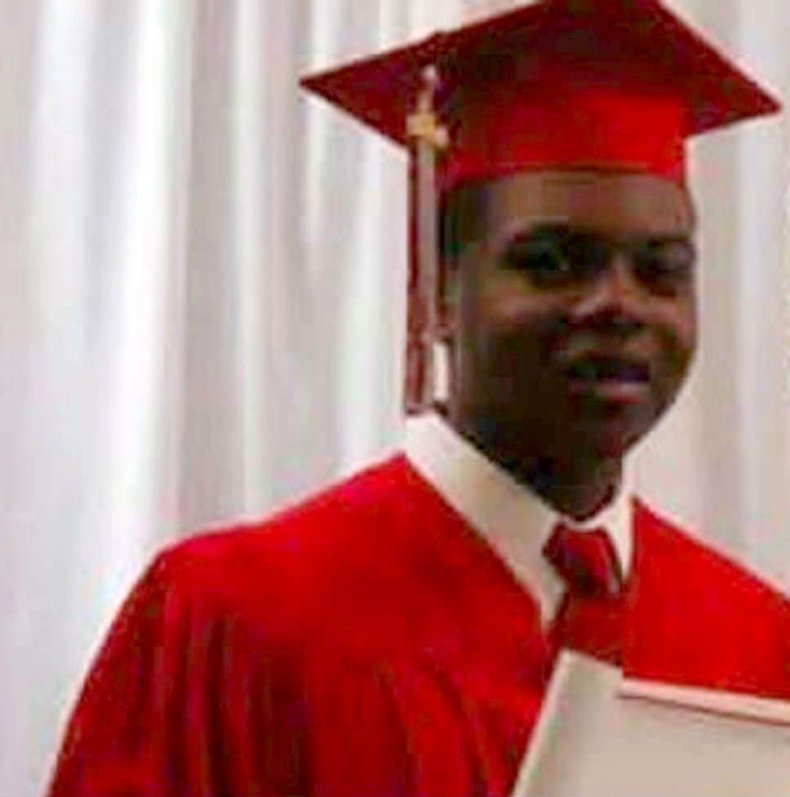 Before announcing her decision on Van Dyke's former colleagues on Thursday, Judge Stephenson told the court that it would be unfair to compare the three officers' reports to the dashcam video of McDonald's final moments, according to the BBC.
"We cannot now view the actions of the officers with the benefit of hindsight as to what they should have believed," she said. "McDonald was an armed offender who ignored commands to drop the knife."
Upon hearing the ruling, McDonald's family expressed outrage and grief, with the slain teenager's great-uncle, Reverend Marvin Hunter, condemning the criminal justice system as "corrupt."
"This is not justice," he said outside the court, according to the BBC. "I am surprised…that this judge would take it upon herself to make the entire country know what I've known all the time, that justice is justice for everybody but African Americans in this county."