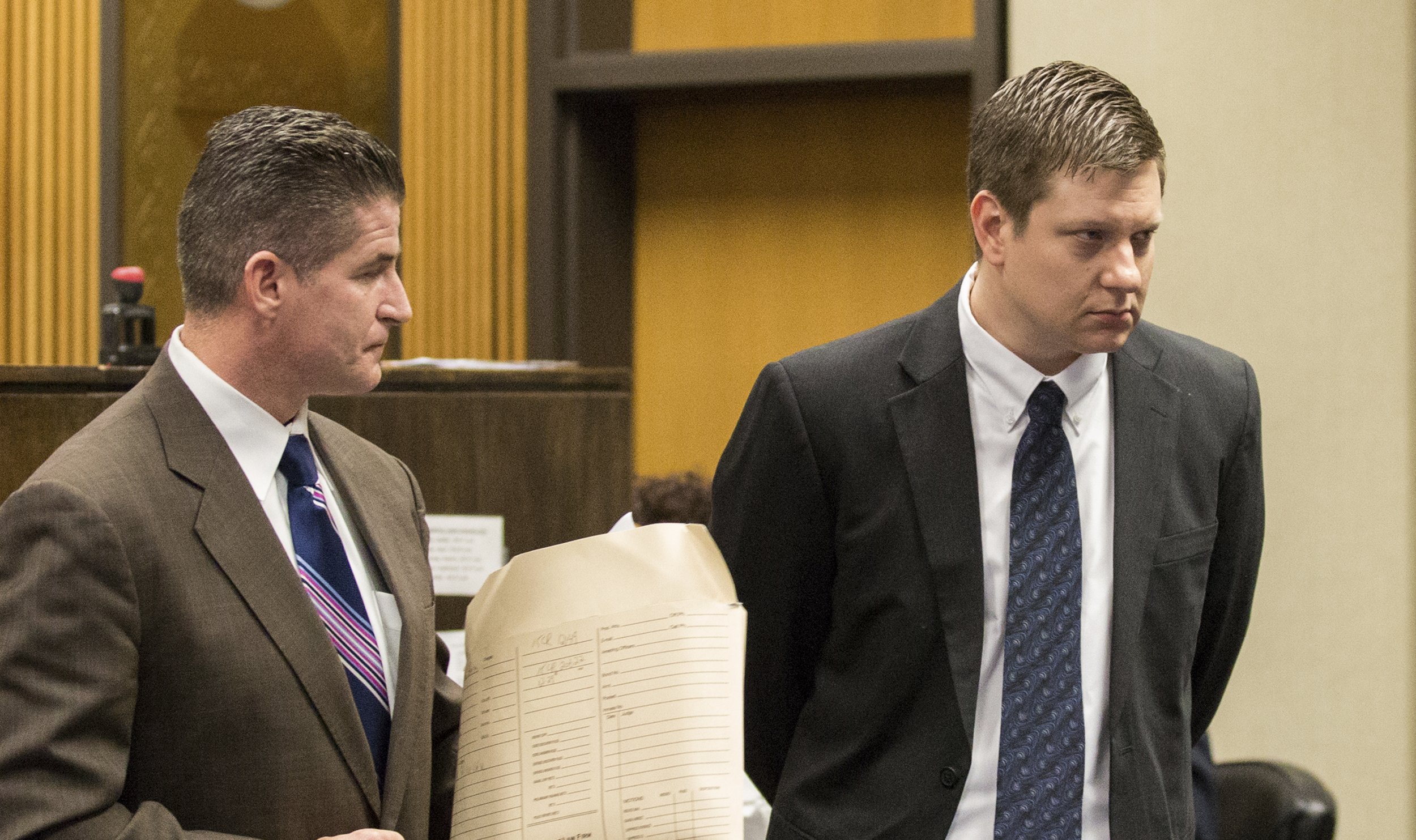 Updated | The white Chicago police officer accused in the 2014 shooting death of black teenager Laquan McDonald entered a plea of not guilty on Tuesday morning on charges of first-degree murder.
Jason Van Dyke, 37, encountered McDonald on October 20, 2014 after a police dispatcher indicated to responding officers that a teenager with a knife was breaking into truck in the area. Van Dyke found the 17-year-old nearby and was on the scene for less than 30 seconds before he started shooting, according to court documents released by the Cook County State's Attorney's Office. Van Dyke had been outside of his vehicle for about six seconds before opening fire.
Prior to being fired at, McDonald was asked to drop the knife he was carrying, the attorney's office determined. He did not respond to the order and was described as having a "blank stare and a glazed look in his eyes." It was later determined he had PCP in his system when he was killed.
An investigation by the Illinois State Police Department determined Van Dyke shot at McDonald 16 times. A video of the shooting made public last month led to public outcry.
"None of the officers observed McDonald attempt to throw his knife at defendant, jump or lunge toward Van Dyke, raise his knife as if to stab defendant, or did anything that was obviously threatening toward defendant beyond what was depicted in the video and not responding to commands while carrying a knife," the state's attorney's office said. As a result, the 14-year veteran officer faces murder charges and a charge of official misconduct.
In late November, Van Dyke posted bond after a judge set bail at $1.5 million.
Van Dyke's plea comes during a particularly tense time between the Chicago Police Department and local residents, as on December 26 police killed Quintonio LeGrier, an honor student, and Bettie Jones, a mother of five, while responding to a domestic disturbance call.
LeGrier was wielding a bat inside his father's apartment and Jones, their neighbor, was looking out for police. The teenage boy had a history of mental health issues, relatives said.
Authorities have declined to release the circumstances under which the 19-year-old and 55-year-old were killed, but did say Jones's death was "accidental."
LeGrier's father, Antonio, has filed a wrongful death lawsuit against the city of Chicago. The lawsuit indicates a partial video recording of the incident exists, but it has not been made public.
Shortly after the video of Van Dyke shooting McDonald was released, the city announced it would expand the body camera program for police, which records officers in the line of duty.
Van Dyke will appear in court again on January 29.
This story has been updated with new information about Van Dyke's plea.