Lara Trump Blames MAGA Crowd For Racist 'Send Her Back' Chant After Cuing It Up For Them
Before President Donald Trump stepped on stage for a rally in North Carolina on Wednesday, his senior adviser and daughter in law Lara Trump personally warmed up the crowd for the racist "send her back" chant. Now, she's trying to distance the president from incident.
"He wasn't the one that was chanting it," Lara Trump said during an appearance on Fox News on Friday morning. "He started talking about the 'Squad' and some of his issues with them and things he thought were very anti-American."
Lara Trump went on to blame the crowd for starting the chant, which was aimed at Democratic Representative Ilhan Omar. Omar, an American citizen, came to the United States as a child as a refugee from Somalia. She and other progressive lawmakers have been the targets of a series of racist tweets by President Trump.
"The crowd themselves started chanting this. And it wasn't the whole crowd, it was a couple of people right there in the front. But he didn't say it," she told Fox News host Stuart Varney.
But Lara Trump did set up the chant in her address to the audience before the rally began, saying: "If you don't love our country — the president said it." The crowd responded in unison, screaming: "Leave!"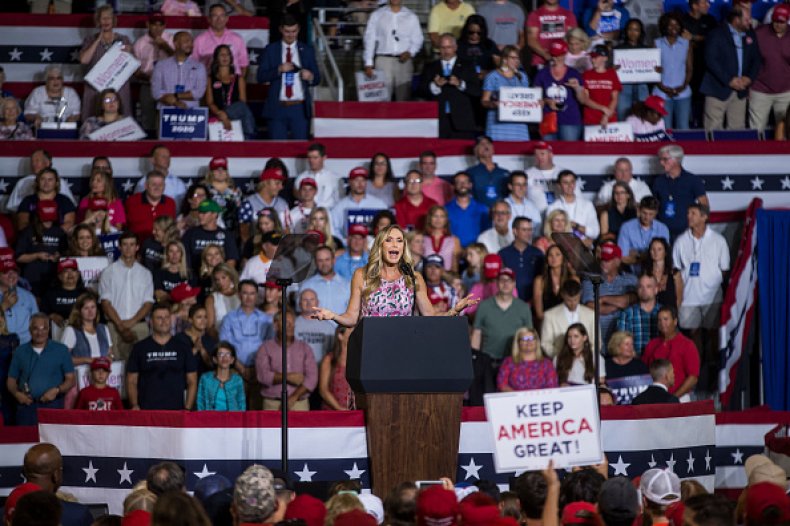 President Trump has also tried to distance himself from the chant. The day after the rally he told reporters he was "not happy" with the incident and that he would "certainly try" to stop any similar outbursts in the future.
"It was quite a chant, and I felt a little bit badly about it. But I will say this, I did — and I started speaking very quickly. But it started up rather fast," the president added. Video footage shows that the president stopped speaking for 13 seconds while the chant was happening.
Republican lawmakers have also shifted blame to the rally audience as they refuse to condemn President Trump for his tweets against the Democratic congresswomen. House Minority Leader Kevin McCarthy said Thursday morning the chant had "no place in our party or our country" but claimed the president "did not join in" on the action. Representative Mark Walker, a Republican who attended the campaign event, wrote on Twitter he "struggled" with the chant.
Omar fired back at Trump after the chant, telling reporters that she believes the president is a "fascist." She also returned home to Minnesota on Thursday evening for a town hall event and was greeted by a cheering crowd at Minneapolis-St. Paul International airport.
"We are going to continue to be a nightmare to this president because his policies are a nightmare to us," she told her supporters. "We are not deterred. We are not frightened."