Donald Trump Set for 'Historic' $1 Billion Fundraising 2020 Re-Election Campaign, Lara Trump Says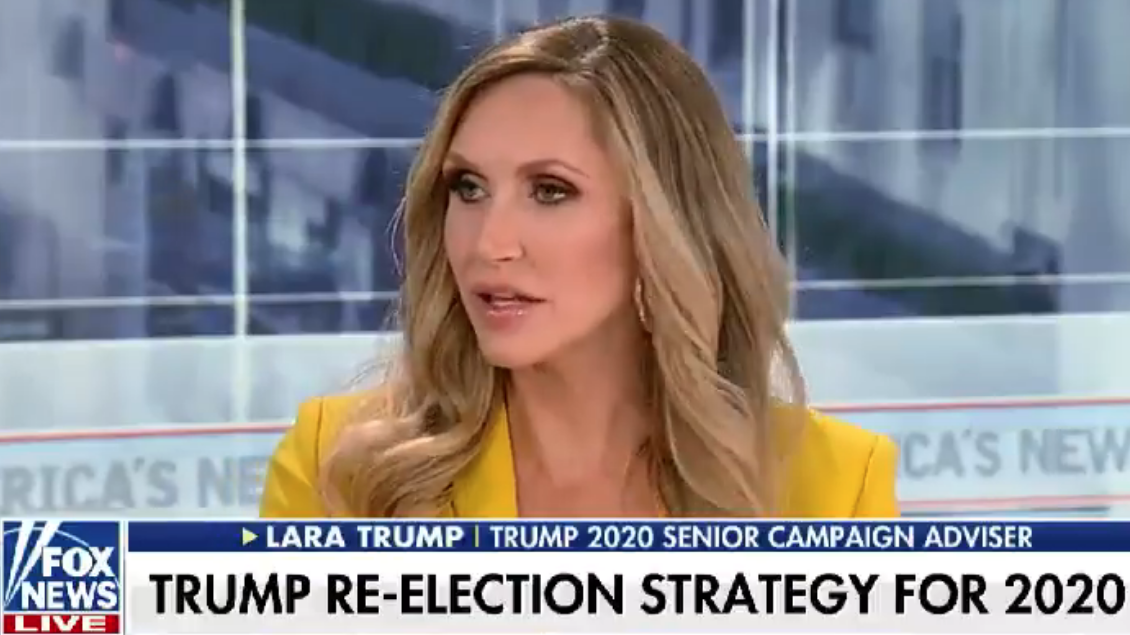 President Donald Trump's 2020 re-election campaign is planning "historic" fundraising of one billion dollars — nearly three times what the Republican candidate spent to defeat Hillary Clinton in 2016 — according to one family member and campaign adviser.
Speaking on Fox & Friends Sunday morning, Lara Trump — the president's daughter-in-law and 2020 senior campaign adviser — reiterated the president's re-election campaign is seeing "historic fundraising" and expects to raise one billion dollars to keep Trump in the White House through 2024.
Democrats have raised far more money than their respective Republican opponents in the last two elections. Former President Barack Obama raised $731 million against Mitt Romney's $474 million in 2012, while Hillary Clinton amassed $623 million compared to Trump's $335 million.
Lara Trump — wife to Eric Trump, the president's second-oldest son — bragged the majority of money already raised has come from low-dollar ($100 or less) donations, declaring "the people are behind us."
When pressed by Fox & Friends host Pete Hegseth about the billion-dollar fundraising plan, Trump reminded him her father-in-law defeated Hillary Clinton despite being outraised two-to-1 in 2016.
"I'm very proud of our fundraising, historic fundraising, and the vast majority of the money we raise comes from low dollar donors, so less than $100, we have the people behind us," Lara Trump said on Fox News Sunday morning. "The president has done everything he promised in 2016, he's delivering results, and they want to see him in there and they want to support him...We like to set very high expectations for ourselves."
"In 2016, we had a fraction of the money Hillary Clinton had but we had the people behind us," she added, despite Clinton having won the popular vote.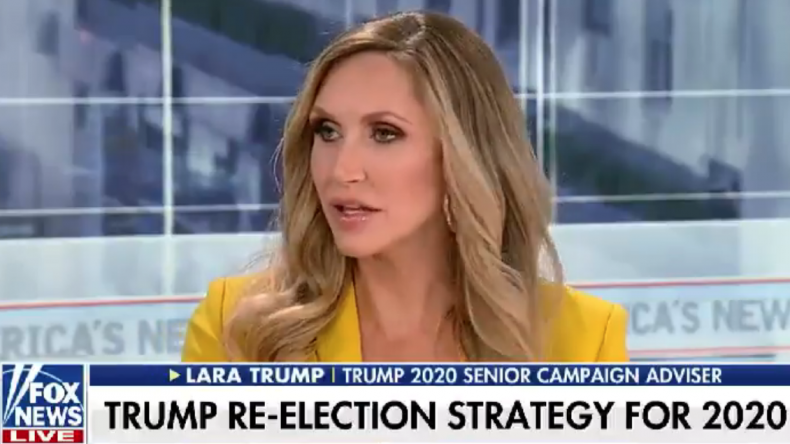 Trump's decision to keep his presidential campaign intact during the first two years of his presidency has allowed for his fundraising efforts to essentially continue uninterrupted since 2015. Additionally, Trump donors such as Dan Eberhart have noted the "vast, vast majority of Republicans are rowing in the same direction" ahead of 2020, compared to the Democrats who are likely to spend all of their current big number fundraising efforts just in the primary.
"Let them spend all that money in the primary, we'll deal with them later," Lara Trump told Fox & Friends Sunday.
On Friday, Lara Trump told Fox News she is not concerned with the current field of Democratic candidates, saying they are all trying to "out-Bernie" one another by embracing ideas such as "socialism." Speaking to Fox & Friends Sunday, Trump said they are not concerned over former Vice President Joe Biden's potential run and she said the Democratic Party establishment should be "very worried" should an Independent candidate such as Howard Schultz run in 2020.
RNC Chairwoman Ronna McDaniel told the Associated Press Friday there have been more than 1.1 million new donors since Election Day, with 100,000 alone in January. She claimed there have been at least seven days with seven-figure, small-dollar intakes since January 1.
Trump campaign manager Brad Parscale first predicted the campaign will spend $1 billion in 2020 last week. On Friday, Lara Trump told Fox News she believes Trump will win re-election "very easily."