Lara Trump Suggests Democrats 'Tried Every Trick in the Book So Now They May Try Cheating' to Defeat President
President Donald Trump's daughter-in-law and Trump campaign senior adviser Lara Trump in a campaign event in Tucson, Arizona, on Thursday claimed that Democrats "may try cheating" to beat the president because they have already "tried every trick in the book."
At the campaign event at Hotel Tucson City Center, the wife of the president's second-eldest son Eric Trump claimed that "the media vilifies us, they call us every name in the book, they make it very hard to outwardly support this president." Lara Trump also urged the president's supporters to vote and encourage others to vote for him in the 2020 election.
"It's more important now than ever that we do it because we have a real race against us going into 2020. We know that they have tried every trick in the book, so now they may try cheating—let's not put it past anybody," she said. "We gotta be prepared for everything and fight every single day until election day."
While Lara Trump did not specify who "they" was, she seemed to be referring to Democrats, either 2020 candidates or lawmakers engaged in ongoing impeachment hearings involving the president.
"So that's why we're here in Arizona," Lara Trump said at the conclusion of that thought.
There is no evidence that any of the top-polling group of Democratic candidates are cheating in their campaigns, despite Lara Trump's allegations.
The president's daughter-in-law spoke as Donald Trump's impeachment hearings entered the fifth day, a day after U.S. ambassador to the European Union Gordon Sondland testified there was a quid pro quo while the president claimed he said, "I want no quid pro quo."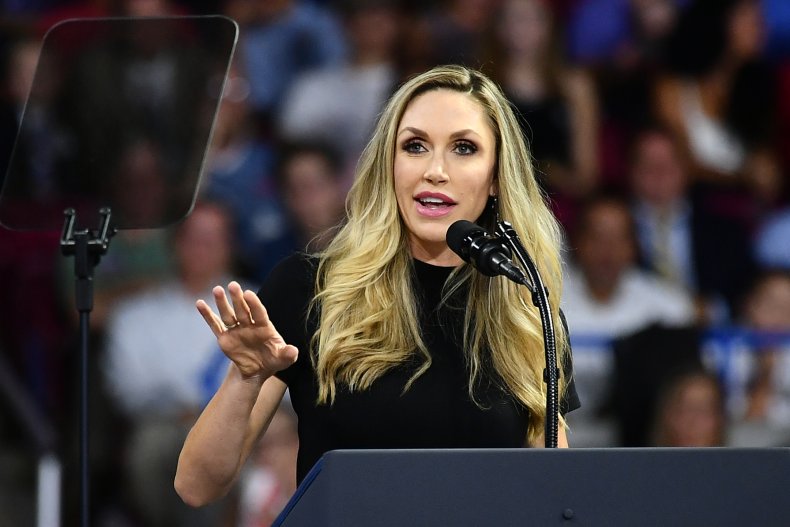 Lara Trump downplayed the impeachment inquiry and claimed her father-in-law is "stronger now" than in 2016. She explained that many people have told her they did not vote in 2016 because "they didn't like Hillary, because who did?" and were unsure what TV personality Donald Trump would do in the White House.
"Now I have people come up to me every day and say, 'I didn't vote for him in 2016, I'll be honest with you, I can't wait to vote for him, I wish the election were held today, I'd go vote for him in a heartbeat,'" Lara Trump said. "That's happening all across the country."
Lara Trump was joined by Trump campaign manager Brad Parscale, whose speech was interrupted by several attendees who broke out in "no border wall" chants until they were escorted out by sheriff's personnel.
"Buh-bye," Parscale said as they exited, and continued his speech.