Lara Trump Explains President's Absence After Biden Win, Will Appear If 'Right Thing' Happens
The Trump campaign adviser Lara Trump explained the president's lack of public appearances in the wake of his election defeat almost two weeks ago, claiming that he would make more in-person appearances once the "right thing" had been done.
Speaking to Newsmax on Thursday night, Trump's daughter-in-law said the commander-in-chief was currently "just sitting back and saying the process has to play out," as his legal team challenge results and election processes in several states.
Lara Trump also indicated that the "right thing" to happen would be to declare her father-in-law the winner of the presidential election, despite Biden already having been declared the winner with 306 electoral college votes.
"I want to make sure that people know that we continue to fight, and that we will until the right thing happens, and that is to confirm that Donald Trump indeed won this election," Trump told Newsmax last night.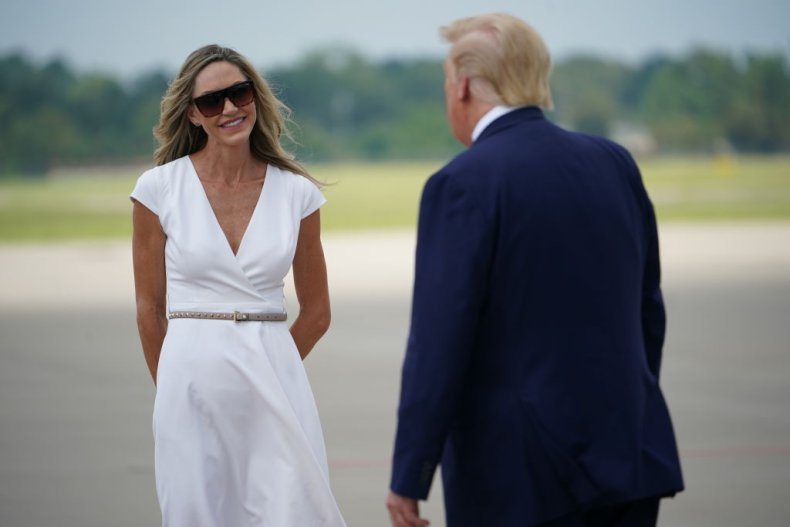 Asked whether the public could expect to see the president make more public appearances following his attendance at a Veterans Day ceremony in Arlington on November 11, his daughter-in-law said he wanted the legal process to play out.
"Right now the president is really kind of just sitting back and saying the process has to play out," Trump said. "He's put the best people on this."
She later added: "So I think at the right time the president will come out, but quite frankly he wants the right thing to happen, and you know as well as I do if he actually infused himself somehow, the mainstream media would go wild and accuse him of infiltrating a process, or whatever it would be.
"They would have some major issue with Donald Trump being part of this process."
Following his remarks at the Veterans Day ceremony in Arlington, Virginia, last week, President Trump's public appearances have been largely limited to press pool events at the White House, such as his update on Operation Warp Speed on November 13.
He also visited the Trump National Golf Club in Potomac Falls, Virginia, last weekend. According to his public schedule, the commander-in-chief will participate in a virtual meeting today and speak about lower prescription drug prices in the Roosevelt Room of the White House this afternoon.
Trump remained hunkered down in the White House on Thursday as his personal lawyer Rudy Giuliani held a press conference laying out allegations of widespread voters fraud and pledged to issue more lawsuits challenging the results of the presidential election.
Reacting to the latest claims from the Trump team, the Republican senator for Utah Mitt Romney tweeted: "Having failed to make even a plausible case of widespread fraud or conspiracy before any court of law, the President has now resorted to overt pressure on state and local officials to subvert the will of the people and overturn the election."