Lara Trump Is Helping The President Secretly Campaign For Roy Moore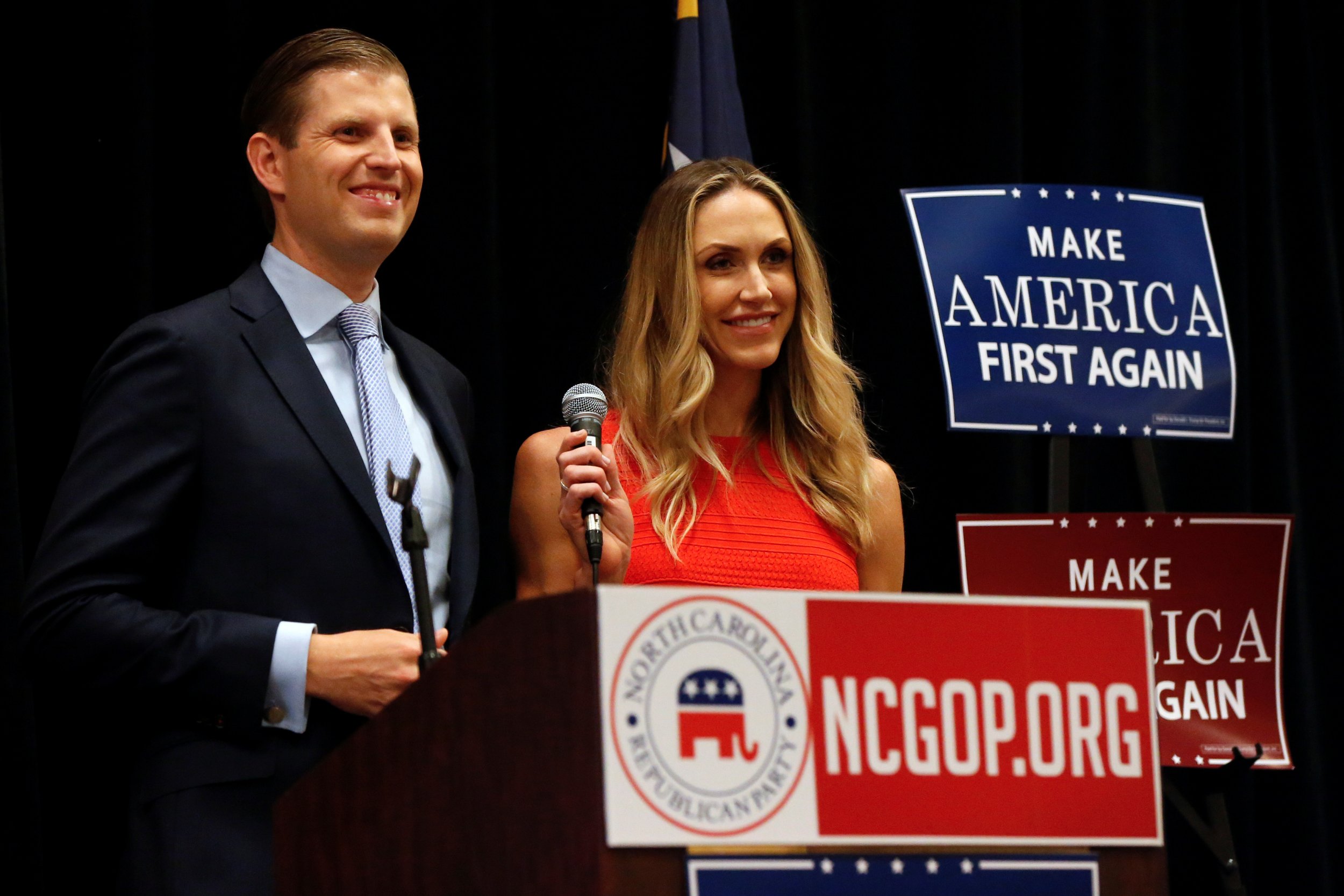 President Donald Trump's daughter-in-law Lara Trump has invited Alabama voters to a Trump rally in Florida via robocall, a move that runs counter to the White House claim that Trump is not campaigning for Roy Moore, the Republican Senate candidate accused of child molestation.
"Hi, this is Lara Trump, calling on behalf of my father-in-law, President Donald Trump," says the recording, as reported by AL.com on Saturday. "I'm incredibly excited to invite you to an event in your area. A special rally event featuring President Donald Trump will take place on Friday, December 8th at the Pensacola Bay Center."
In the call, with instructions on how to score free tickets, Lara Trump—who is married to the president's son Eric and working on his 2020 re-election campaign—neglects to mention Moore or the Alabama Senate special election taking place four days after the rally.
On November 27, a White House official said the president would not travel to Alabama to campaign for Moore, who has repeatedly denied allegations of groping teenage girls when he was in his 30s. For weeks, the president all but endorsed Moore and bashed his Democratic opponent Doug Jones.
But the president caved on Monday, tweeting, "Democrats refusal to give even one vote for massive Tax Cuts is why we need Republican Roy Moore to win in Alabama."
Donald Trump's tweet is an about-face from the message White House press secretary Sarah Huckabee Sanders gave late last month.
"The president believes that these allegations are troubling and should be taken seriously, and he thinks that the people of Alabama should make the decision on who their next senator should be," Sanders said.
Central Alabama voters will have to travel more than three hours to attend the president's rally in Florida.
The president previously visited Alabama to campaign on behalf of Senator Luther Strange, Moore's opponent in a runoff for the Republican nomination in late September.
Moore leads the race among likely voters, according to a CBS News poll published Sunday. Nearly three-fourths, 71 percent, of Alabama Republicans said the allegations against Moore are false, and an overwhelmingly number of them believed that Democrats and the media fabricated the accusations.
Jones told AL.com he was not concerned about Trump swaying undecided voters.
"We're not going to worry about somebody that's campaigning in another state," he said. "We're going to be campaigning in Alabama, all the time, 24/7, between now and December 12."