Lara Trump Leads NC Senate Race as Potential Challenger May Back Off if She Runs
Lara Trump could be the next member of the Trump family whose name appears on an upcoming electoral ballot--this one for the office of U.S. senator representing North Carolina. And if she makes the decision soon, it could lessen her pool of challengers.
The daughter-in-law of former President Donald Trump, Lara Trump, who grew up in North Carolina, hasn't said one way or the other as to whether she'll make a bid for the seat that Republican Senator Richard Burr will leave vacant. Multiple Republicans have announced their intention to run. But if Lara Trump runs, she's expected to mount a significant campaign that could land her in Washington, D.C.
A poll conducted by GOP polling firm Cygnal and obtained by The Hill shows Trump with a double-digit lead over her potential challengers. She had 32.4 percent support in an eight-way primary, more than 12 points higher than any of the other candidates listed.
Representative Ted Budd, who is "leaning toward" a bid for the seat, is having conversations with Trump about her intentions because if she runs, he may not.
"He's been talking to her. He hasn't ceded his decision-making to her, but if she got in, he wouldn't run," Michael Luethy, Budd's campaign consultant, told the News & Observer. "That said, she could get in in October and he could have been running for six months or so."
Luethy added that Budd's trying to "give her some space to make up her mind" while he works through the decision-making process.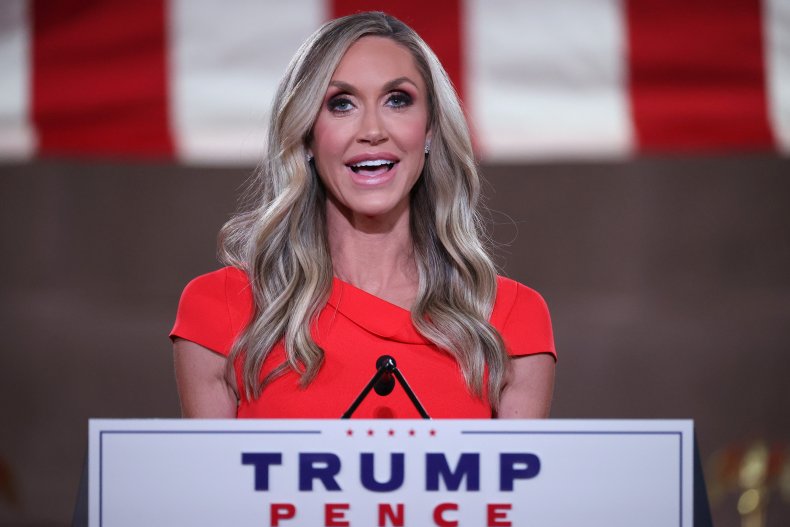 Budd was a staunch supporter of the former president. He was among the first North Carolina legislators to announce he would support challenging election results, and encouraged others to join him. While the January 6 Capitol riot convinced some to back down from their objections, Budd moved forward with his plan.
"I will not let a violent mob stop me from giving voice to the thousands of North Carolinians who demanded a debate on the irregularities & Constitutional violations in the presidential election," Budd wrote on Twitter after debating Pennsylvania's results.
Club for Growth, a financial powerhouse in conservative politics, helped propel Budd to victory in 2016 and was supportive of the former president's policies when he was in the White House. So, having only Budd or Lara Trump in the race would be preferable, according to the News & Observer.
Lara Trump, who recently joined Fox News as a contributor, has fueled rumors about a run by reiterating her love for the state and highlighting the honor it would be to represent it. Some thought her new employer was a sign she wasn't going to enter the race. However, she kept the door open and said if she decides to run, Fox News agreed to "work with me on that front."
She hasn't made a final decision, at least publicly, and if she does make a bid for the open seat, she'll face off against multiple opponents. Lieutenant Governor Mark Robinson, who is reportedly considering a run, received 20.1 percent support in the poll obtained by The Hill. Former Governor Pat McCrory came in third at 14.2 percent.
McCrory announced he was officially entering the race on Wednesday and urged voters to support him because he could fight against Democrats' ability to "radically change America for generations to come."
Despite not being in the race yet, Lara Trump scored highest on favorability rating, with 66.6 percent, and winning an open seat is significantly easier than ousting an incumbent. Former White House counselor to the president, Kellyanne Conway, who ran Donald Trump's first successful presidential campaign, considers her a powerful force.
"A Trump-endorsed candidate for an open Senate seat in a state Trump won is a big advantage. A Trump-endorsed candidate for an open Senate seat in a state Trump won who's also named Trump has a humongous advantage," Conway told the News & Observer.