Lara Trump Downplays Donald's Bad Polls By Saying People Are 'More Afraid' to Support Him Than in 2016
President Donald Trump's daughter-in-law Lara Trump, a senior adviser to his reelection campaign, downplayed dismal polls for the president by arguing that people are "more afraid" to publicly support Donald Trump than they were when he was a political newcomer in the 2016 race.
Lara Trump insisted the Trump campaign was not worried about recent polls when Fox News's America's Newsroom co-host Bill Hemmer asked her to comment on the president coming head-to-head versus three or four of the top five Democratic candidates.
"Yeah, you know what Bill, this is the same thing we saw in 2016," Lara Trump said. "The polls have never accurately reflected how people feel about this president, especially now."
The wife of Eric Trump, the president's second eldest son, continued: "I think people are more afraid now to voice their support for President Trump than they were when he was just a candidate in 2016."
Get your unlimited Newsweek trial >
Lara Trump explained that days before the 2016 presidential election, "Hillary Clinton was supposed to win."
"We don't put a lot of weight in those kind of polls," she concluded.
A Washington Post-ABC News poll released this week indicated that Donald Trump was behind four Democratic candidates in potential 2020 general election matches. They were former Vice President Joe Biden and senators Bernie Sanders, Elizabeth Warren and Kamala Harris. Donald Trump also trailed South Bend Mayor Pete Buttigieg, but the gap fell within the margin of error.
Get your unlimited Newsweek trial >
Biden had the the greatest lead over Donald Trump, 55 percent to 40 percent, according to the poll.
President Trump addressed the poll by claiming on Twitter that the polls were fake and that the media was trying "to build up their Democratic partners."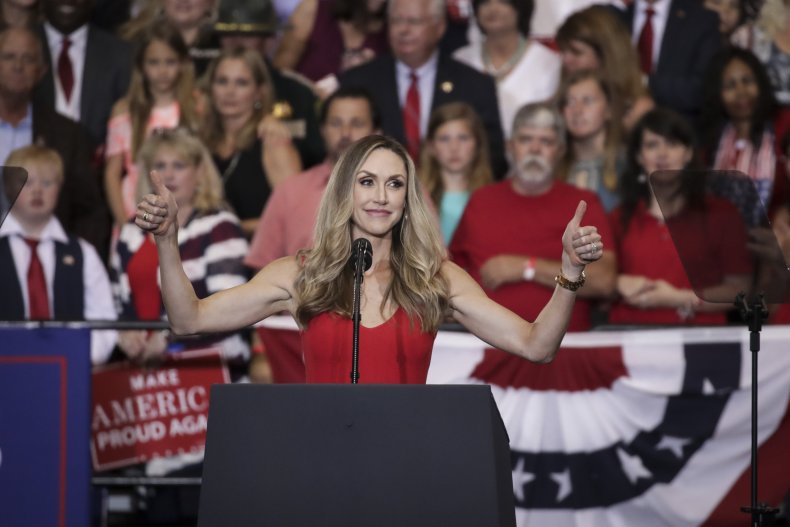 Besides defending the president, Lara Trump bashed the Democratic candidates who participated in the third debate on Thursday night.
"I really didn't see anyone that worries us at the Trump campaign," she said.
Lara Trump added, "all you heard was [Democratic candidates] trying to bash the president, call him a racist, call him a white supremacist, blame him for the shootings in Texas recently, which is disgusting."
She also doubted that the candidates' attacks on the president had any influence on American voters.
"It probably didn't change many people's minds if they liked Donald Trump," Lara Trump said. "Or if they even thought for a second about the fact that this economy and the country is working for them, they're going to want to keep Donald Trump in there."
Lara Trump Downplays Donald's Bad Polls By Saying People Are 'More Afraid' to Support Him Than in 2016 | Politics