Lara Trump Says 74 Million People 'Don't Feel' Election Accurate, Cites Campaign Rally 'Enthusiasm'
Senior 2020 campaign adviser Lara Trump said the feelings and passion of President Donald Trump's nearly 74 million voters is evidence enough to continue bringing voter fraud allegations against states her father-in-law lost.
Trump said Sunday that President-elect Joe Biden's nearly 80 million votes, 6 million more than the president, is too hard to "rationalize" and the Trump campaign is obliged to pursue any and all legal challenges against the election results. Trump defended ongoing legal disputes to Fox News by describing how the president's nearly 74 million supporters across the U.S. "do not feel" like the outcome is even plausible. Trump justified the legal claims by highlighting Biden's comparatively smaller campaign rally attendance numbers prior to Election Day, saying those events were dwarfed by the "enthusiasm" seen at Trump rallies.
Trump rejected the claims by her husband (Eric Trump) and brother-in-law (Donald Trump Jr.) that "feelings" should not cloud Americans' decisions. She said the intense passion of her father-in-law's supporters should make anyone skeptical of the election results, which show Biden won with a record-high number of votes.
"Last time I checked the people were still in charge of the United States of America and there are about 74 million people out there who do not feel like the result of this election that's been presented is accurate," Trump told Fox News on Sunday morning.
"And I think it's very hard for people to rationalize that a guy like Joe Biden who could barely scrape together 12 people to go to a campaign event for him, even a couple of weeks ago, suddenly somehow got around 80 million votes. Donald Trump gained 10 million votes from 2016, we all were out working across the country hard, you saw that tens of thousands of people would come to Trump events and then like 12 to 20 people showing up to a Joe Biden event," she continued.
Trump rejected some Democrats' claims to a mandate after Biden's wide popular vote win and compared the "egregious" election results to a "guy on the street trying to sell you a Gucci wallet" for a cheap price. She made the unfounded claim that "fraud, dead people voting" were rampant even though state after state has rejected the Trump campaign's numerous legal challenges.
"The people out there have been very clear something is wrong. We have been trying to get to the bottom of it from the Trump campaign, and we just want the right thing to happen, all the legitimate votes to be counted," Trump continued.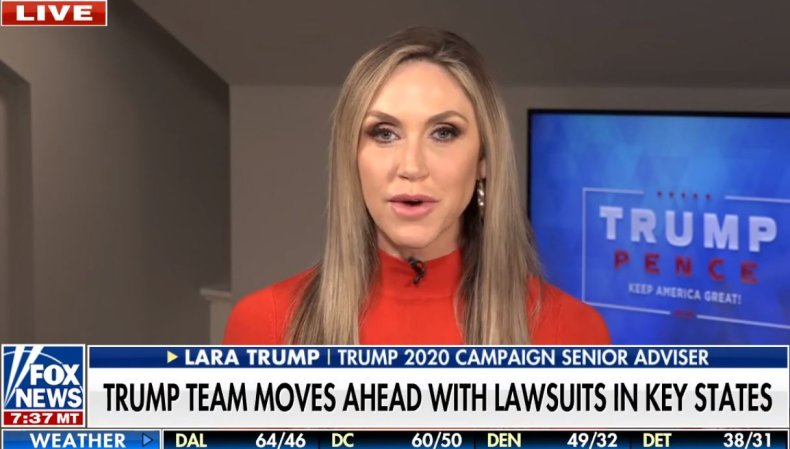 She reiterated Biden could "barely get a dozen rally attendees" just weeks ago and agreed with the Fox News host that the "enthusiasm, number of people, passion out there" from supporters of the president are evidence enough that something was askew in the election results.
Despite state supreme courts continuing to reject and dismiss Trump voter fraud lawsuits, the 2020 senior campaign adviser insisted the legal challenges will continue. "We're open to anything," Trump continued. "So far, you've seen the fraud that has been uncovered, you've seen that dead people have been voting. People have been voting in multiple states."
Newsweek reached out to the Trump campaign for additional remarks Sunday afternoon.