Lara Trump Insists She and President's Children Paid for Their U.K. Trip 'In Case Anyone is Wondering'
Lara Trump, wife of the president's second eldest son Eric Trump and a Trump 2020 senior campaign adviser, stressed on Twitter Monday night that she and all of the president's adult children not serving in the administration paid their own way during the U.K. state visit last week.
"Sad that we have to clarify these things, but, in case anyone is wondering, we all paid for our trip to the U.K. ourselves," Lara Trump tweeted, along with a video clip of an interview on the matter she did with ABC News on Friday.
In the clip, ABC News anchor Lindsey Mastis tells Lara Trump, who had just returned from accompanying President Donald Trump to Europe, that the first family made headlines for a number of reasons, drawing criticism among other reactions.
"One of the questions dominating headlines right now is the Trump family's involvement and whether taxpayers are footing the bill," Mastis said, acknowledging the trip included official business and "also what appears to be some family business."
"So who's paying for what and will there be any reimbursements?" Mastis asked.
"I will confirm for you that all of the president's adult children paid our fair way," Lara Trump replied.
The president's daughter-in-law continued: "My husband and I flew with my brother-in-law Don over on a commercial flight, we paid for that ourselves, we paid for our hotel, all of our food. We were invited by the Queen and the Royal family to come over for a visit so we thought that was an incredible opportunity."
Lara Trump called it a "wonderful trip," said the British royals were "incredibly gracious hosts," and that she and the Trump family were "just blown away by the whole experience."
"But it is frustrating that people can find negative things to say no matter what, but I will confirm for you, we all paid our fair way," Lara Trump reiterated. "The taxpayers did not foot the bill for our trip to London."
Trump critics raised questions and concerns about the president's family attending the U.K. state dinner at Buckingham Palace last Monday, particularly Eric Trump and Donald Trump Jr., who are executive vice presidents of the Trump Organization family business.
Pollster Matt McDermott tweeted a photo of Eric Trump, Lara Trump, Trump Jr., first daughters Tiffany Trump and Ivanka Trump and her husband Jared Kushner. Ivanka Trump and Kushner serve as senior White House advisers.
"4 of 6 people in this photo have no official government position," McDermott tweeted last Wednesday. "They run private businesses, are campaign advisers. Why are they attending an official state dinner on behalf of the United States?"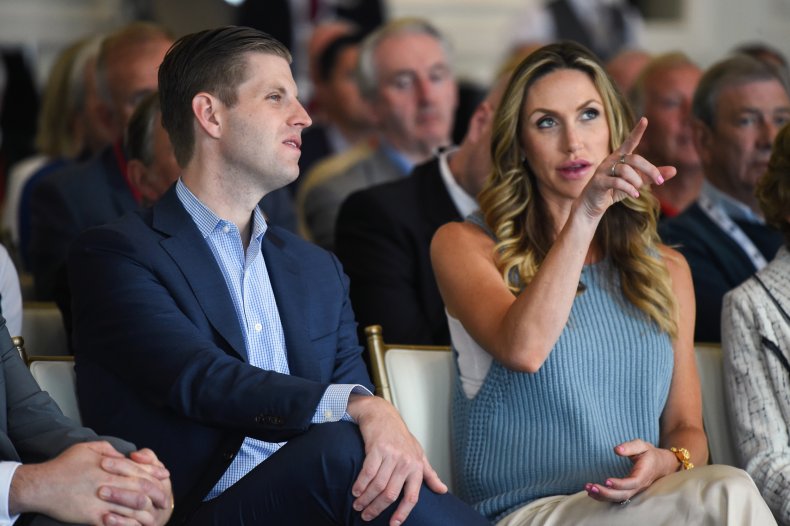 Cornell University historian Lawrence Glickman added: "Who is paying for Trump's relatives to attend an official state dinner on behalf of the United States? Are Don, Eric and his spouse, and Tiffany, none of whom have a government position, funding their trip?"
A White House official told Newsweek last Wednesday that the four non-administration members of the Trump family were personally paying.