Large Great White Shark Circles Boaters in Cape Cod
A great white shark circled boaters who were enjoying the fair weather in Cape Cod for about 15 minutes on Saturday afternoon, according to a local news report.
The sighting happened just off the coast of Sandy Neck Beach and was confirmed by the Atlantic White Shark Conservancy through photos, to be an 8-foot great white shark.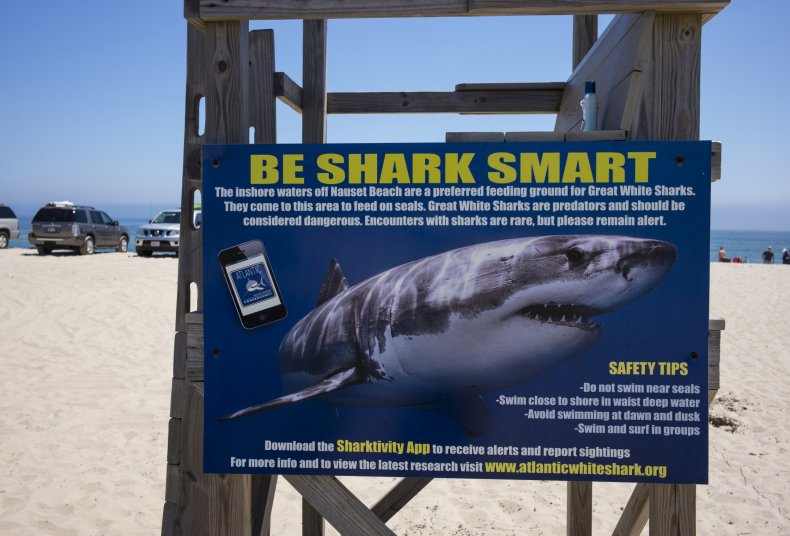 The shark sighting wasn't the first for 2020. Numerous sightings were reported July 5, and resulted in Truro Beach on Cape Cod being closed after a great white was spotted 20 yards off the coast, the Boston Herald reported.
The Cape Cod region has seen a steady increase of great white shark sightings over the last decade, according to the Atlantic White Shark Conservancy's website.
In 2014, the Atlantic White Shark Conservancy partnered with the Massachusetts Division of Marine Fisheries to launch a five-year study on the increasing great white shark population.
During the study, state marine officials cataloged more than 300 great white sharks in Massachusetts waters.
In August 2019, Cape Cod was the site of numerous great white encounters that resulted in beaches being closed along Massachusetts' south shore, according to WBZ-TV.
One family boating near Cape Cod Bay on Aug. 9, 2019, reported seeing a 17-foot great white swimming alongside their boat, the New York Post reported.
Two weeks after the incident, a massive great white shark brushed along a commercial fishing boat as it circled the carcass of a dead humpback whale, Today reported.
Based on tagging data from the Massachusetts Division of Marine Fisheries, shark populations tend to steadily increase along the Massachusetts coastline during the spring and continue through the fall.
Newsweek reached out to the Massachusetts Division of Marine Fisheries for more information but did not hear back before publication.
According to the website, the increase in sightings of great white sharks near Cape Cod is likely linked to the increase in the gray seal population—a favored food source for the apex predator.
Despite humans encountering the sharks, the great white does not generally seek out human prey, and may often misinterpret a person swimming in the ocean as a marine mammal.
Although it happens, the Atlantic White Shark Conservancy states that shark attacks on people are pretty rare.
The most recent fatal attack in Cape Cod occurred in September 2018, when 26-year-old Arthur Medici was attacked by a great white shark while riding a boogie board. That attack was the first resulting in death since 1936.
Last month, a 16-year-old boy was attacked off the coast of Cape Hatteras, North Carolina, but was able to fight the shark off with the help of his father, WGHP-TV reported. The teenager needed stitches in his leg but was released from the hospital the same day.