Large Ice Cream Manufacturer Faces Boycotts for Raising Wage of Vaccinated Workers
Chapman's Ice Cream, Canada's largest ice cream manufacturer, is facing boycotts after the company announced it would raise wages for its vaccinated workers and begin mandatory testing protocols.
The company has become the latest target of several anti-vaccine organizations and activists, who are allegedly threatening members of the family-owned business and calling on the public to boycott its ice cream products.
"The reaction was pretty brutal, actually very, very aggressive. People were calling us, leaving messages after hours. I've been sent—the only thing I can say—is hate packages in the mail," Chapman's Vice President Ashley Chapman told CBC Radio's As It Happens.
"Even my father, my 78-year-old father, got a voicemail on his phone, telling him he was like Hitler, and obviously a Nazi, and we should be convicted of war crimes, essentially," he added.
The company recently announced its new vaccine policy, which requires employees who have not been fully vaccinated against COVID-19 to undergo two rapid tests a week. The company would pay for the testing.
Chapman told CBC that roughly 750 of the company's 850 workers are fully vaccinated, while some have received one dose or are planning to get their shot soon.
Only five employees, who are currently on unpaid leave, have refused to reveal their vaccination status or undergo weekly testing.
Chapman's Ice Cream also announced that it would provide a vaccine incentive, paying workers who get vaccinated by the end of the month $1 more per hour.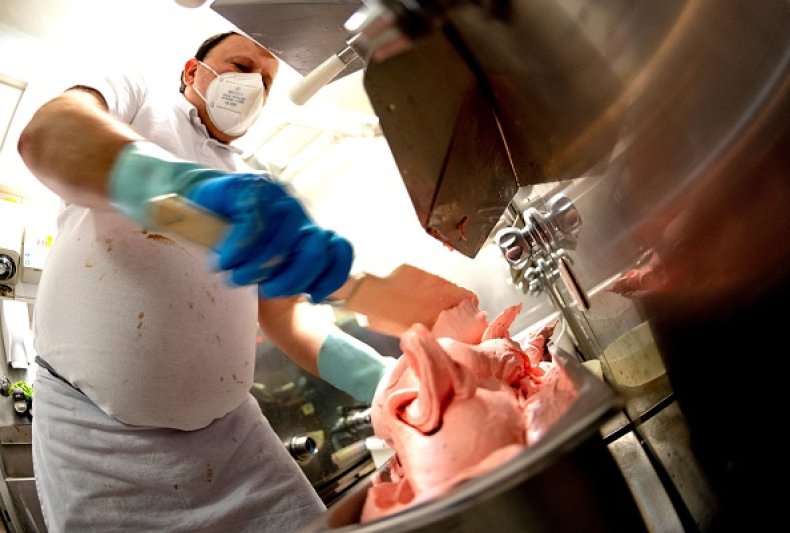 Chapman attributed the decision to the amount of money the company plans to spend on testing for its unvaccinated employees. He said the calculated cost per unvaccinated employee came out to roughly $40 a person.
"As a family, we were chatting and it just seemed wrong we were spending that for the small amount of people who hadn't gotten vaccinated when we feel the people who did the right thing should be rewarded. Because it was also a bit of a slap in the face for them," he told Global News.
"It just felt like we were treating the unvaccinated better than we were the vaccinated," he said.
A picture of the announcement, which is posted in the company's offices, is now circulating in anti-vaccine groups on social media.
The company's Google page has also been flooded by a series of negative online reviews, with one reading, "your ice cream tastes like violations of labour law and discrimination."
Chapman told Global News that the backlash had been unexpected and admitted he found it frustrating that some found the practice unfair.
While some have boycotted the company, supporters have also come out with a campaign called #IStandwithChapmans.
"Chapmans has always been a staple in our home, and given their Covid policies, and stance - I am proud to say that will continue. I support their initiative. It's all about being fair," one Twitter user wrote.
Despite the criticism, Chapman said he is not worried about the new policy impacting the company's sales.
"There's just not enough Canadians that are anti-vax enough to send us hate mail and to affect our sales," he told CBC. "They might think that their boycott could actually do something to us, but we would never notice."
Last year, the company also offered to help store doses of the Pfizer vaccine after it secured additional sub-zero freezers required to keep the vials effective.
As of November 13, more than 85 percent of Canadians 12 years of age and older had been fully vaccinated and nearly 89 percent had received at least one dose.