Largest-Ever Ivory Shipment Seized in Hong Kong Worth $9 Million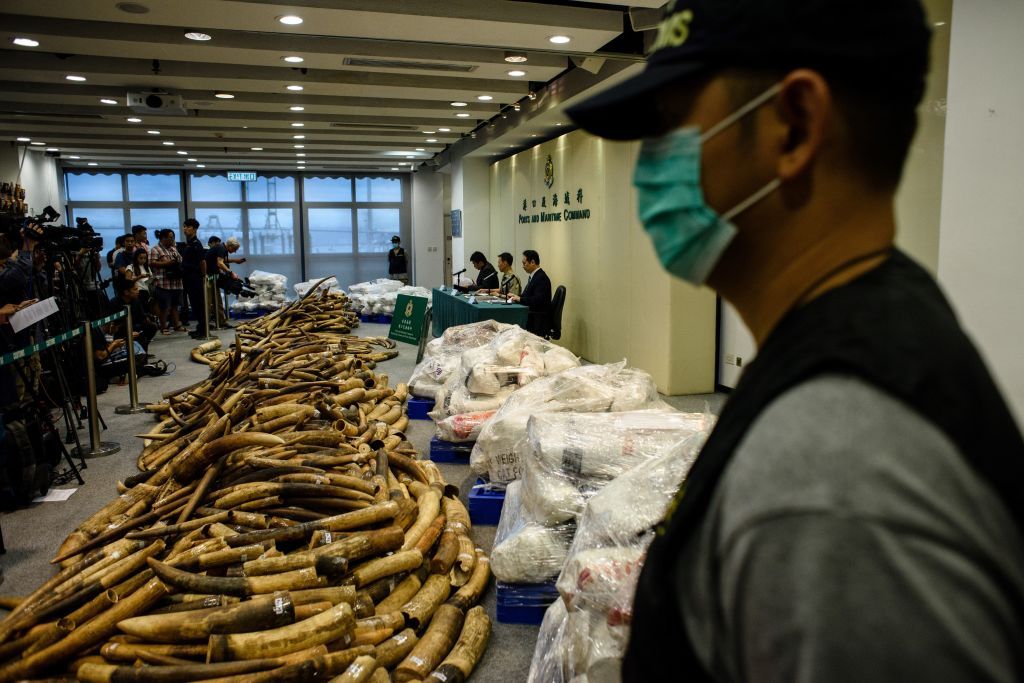 Hong Kong customs officials have announced their largest-ever seizure of ivory, a haul of "about 7,200 kilograms," or 16,000 pounds. The shipment was hidden in a container labeled as fresh fish, but instead contained more than $9 million worth of ivory hidden under the seafood, the Hong Kong government reported.
According to the Elephant Trade Information System, this would be the largest shipment seized. although the amount still needs to be confirmed by outside monitors. The second largest seizure weighed 7.1 tonnes (about 15,653 pounds), and was intercepted in Singapore in 2002. The two ports are both major hubs for wildlife products. The current seizure is 1.5 times more than the total illicit ivory taken by authorities in the past 3.5 years combined, the South China Morning Post notes.
This amount of ivory corresponds to about 800 dead African elephants; Roughly 100 of these majestic animals are killed every day for their ivory, or about eight percent of the total population per year.
It's illegal to ship ivory to Hong Kong without a permit, and doing so can lead to a fine of up to $640,000 and two years in prison. Customs officials arrested the owner of the trading company behind the shipment and two employees, and further investigation is ongoing.
Hong Kohn is a party to the Convention on International Trade in Endangered Species of Wild Fauna and Flora (CITES), which forbids the trafficking of elephant ivory. However, it allows the trade of "worked" ivory, and smugglers have been known to infiltrate this market with newer, illegally procured product.
"Hong Kong Customs are to be warmly congratulated on this important seizure, but it is vital for a full and thorough investigation to take place in the aftermath to find out who was orchestrating this massive movement of contraband," said Dr. Yannick Kuehl, with TRAFFIC, the wildlife trade monitoring network. "No doubt Hong Kong's geographic location coupled with the currently relatively lenient penalties in place for anyone convicted of wildlife crime are reasons behind the shipment coming through the port—the case for increasing penalties has never been stronger."
Hong Kong is home to the largest retail ivory market, but is currently debating a bill that would officially end all domestic ivory trade. China, which historically represented the largest source of ivory demand, says it will make all ivory trading illegal before the end of the year.
Daniela Freyer, of the Pro Wildlife campaign group, told The Guardian the seizure was "an alarm call for the immediate shutdown of Hong Kong's ivory markets once and for all." She added that "further delays of a ban on ivory would be deadly for Africa's elephants."