Largest Nurses Union Criticizes New CDC Mask Guidance: 'Not Based on Science'
The National Nurses United (NNU), America's largest union of registered nurses, has criticized the Centers for Disease Control and Prevention's (CDC) new guidelines on mask use during the pandemic.
On Thursday, the CDC announced that people who are fully vaccinated against COVID-19 can stop wearing masks and social distancing, both indoors and outdoors.
"Fully vaccinated people can resume activities without wearing a mask or physically distancing, except where required by federal, state, local, tribal or territorial laws, rules and regulations, including local business and workplace guidance," according to the CDC's new rules.
In a statement released Saturday, NNU Executive Director Bonnie Castillo said "this newest CDC guidance is not based on science, does not protect public health, and threatens the lives of patients, nurses, and other frontline workers across the country."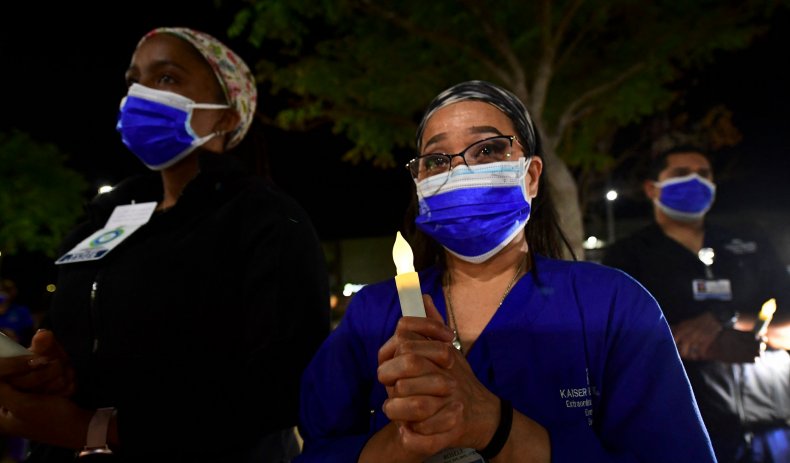 "Now is not the time to relax protective measures, and we are outraged that the CDC has done just that while we are still in the midst of the deadliest pandemic in a century," she continued.
Castillo added: "CDC issued this new guidance even though the Occupational Safety and Health Administration emergency temporary standard mandated by President Biden's Jan. 21 executive order has been delayed for two months. This lack of protection compounds the dangers that nurses and other essential workers continue to face on the job."
The new guidelines constituted a drastic reversal of the agency's earlier guidelines. Since the pandemic started, Republicans have routinely criticized the CDC for issuing guidance that they considered too conservative.
On Friday night, House Minority Leader Kevin McCarthy claimed that the CDC revised their guidance on masks to distract the country from a spike in gas prices. "You know the only reason why they changed not wearing the mask? Because gasoline went to $7. There was gasoline lines. They wanted to change the news," McCarthy said.
The latest change on mask advice has surprised health care workers across the country. In an interview with NPR, Dr. Leana Wen, a George Washington University public health professor, called the move "stunning."
"CDC seems to have gone from one extreme of overcaution to another of basically throwing caution out the window," Wen said.
Despite the NNU's statement, the CDC has maintained that the new mask rules are based on science. "That science, in conjunction with all of the epidemiologic data that we have, really says now is the moment," CDC Director Rochelle Walensky told NPR.
Newsweek reached out to the CDC for comment. This story will be updated with any response.