Largest Spike in Air Travel Since March Reported Day Before Thanksgiving as COVID Hospitalizations Reach All Time High
The Transportation Security Administration (TSA) reported its largest spike in air travel since March 16 on Wednesday as millions of Americans took to the skies the week of Thanksgiving.
The number of air travel passengers reported over the last week is significantly lower than the number reported a year ago, however, as health officials across the U.S. continued to warn Americans to avoid travel and other activities that could lead to further spread of the novel coronavirus.
Despite the warnings, the TSA pointed Newsweek to records that show 1,070,967 individuals passed through agency checkpoints at airports across the U.S. on Wednesday. The last time the TSA's number of reported travelers exceeded that number was on March 16 when 1,257,823 people traveled by air. States began announcing stay-at-home orders in response to the pandemic three days later.
There have been only four days since March 16 when the agency's records show that more than one million people passed through TSA checkpoints on a single day, including Wednesday and two other days in the last week. In contrast, the TSA regularly recorded more than two million people on average travel days last year. The difference in air travel during the week of Thanksgiving between this year and 2019 represents a decline of about 60 percent, according to the Associated Press.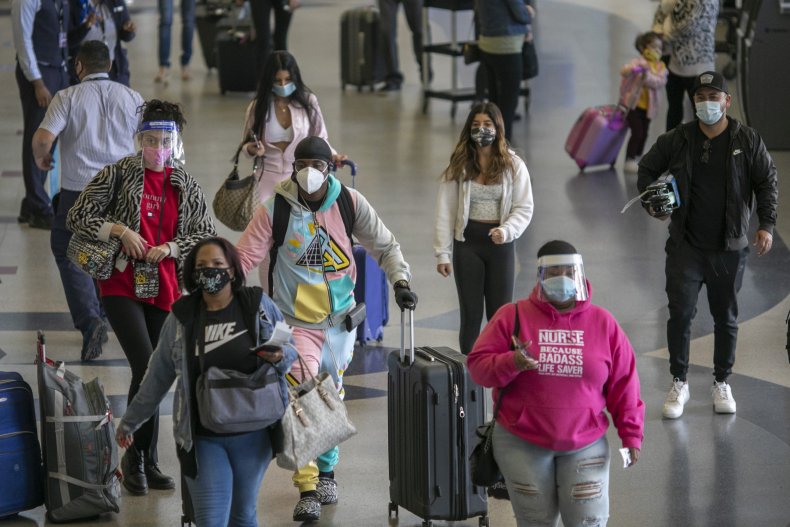 As of Thursday, November 26, more than 12.7 million people across the country had been infected with COVID-19 since the pandemic began and more than 262,000 people died after contracting the virus, according to Johns Hopkins University's data tracker. The number of reported cases in the U.S. has been steadily rising in recent weeks, with the tracker showing more than 1.2 million new cases reported in the last week alone. More Americans were also receiving treatment for COVID-19 in hospitals this week than at any other time since the pandemic began, according to The COVID Tracking Project.
As the number of new infections continued rising, health care professionals throughout the U.S. have been sounding the alarm about what rising numbers of COVID-19-related hospitalizations will mean for hospitals, many of which are already struggling to meet their needs in terms of supplies, staffing and space for patient care.
In anticipation of a post-Thanksgiving surge, government officials at the local and state levels have spent the bulk of this month warning Americans to avoid travel and to limit their exposure to individuals with whom they do not live. The Centers for Disease Control and Prevention (CDC) released a set of guidelines for Thanksgiving celebrations and Thanksgiving travel, which include wearing a mask while around others, practicing social distancing, becoming familiar with local travel restrictions and getting a flu shot.