Largest Teachers Union in Florida Suing DeSantis For Trying to Open Schools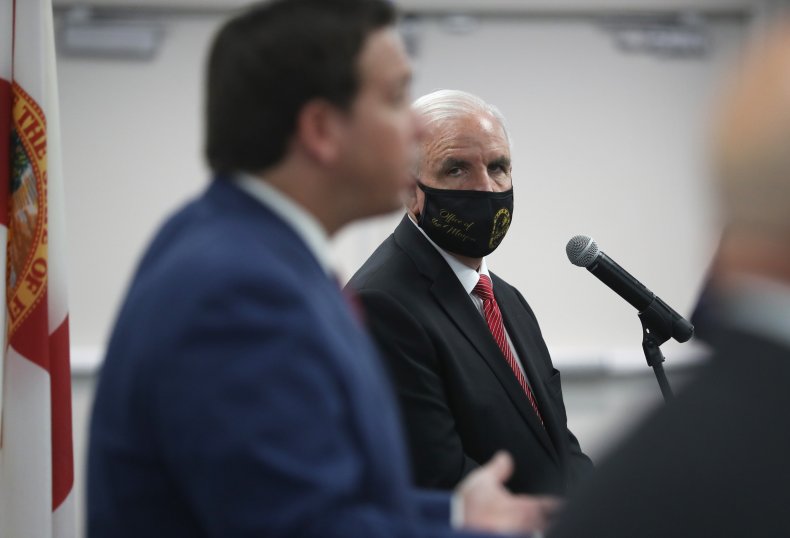 Florida Governor Ron DeSantis and other officials are being sued by the largest teacher's union in Florida over an order forcing schools to reopen as COVID-19 cases quickly multiply.
The lawsuit was filed Monday afternoon by the Florida Education Association (FEA), who were joined by two teachers and the NAACP. The complaint names DeSantis, Education Commissioner Richard Corcoran, the Florida Department of Education, the Florida State Board of Education and Miami-Dade County Mayor Carlos Gimenez.
"Gov. DeSantis needs a reality check, and we are attempting to provide one," FEA President Fedrick Ingram in a statement. "The governor needs to accept the reality of the situation here in Florida, where the virus is surging out of control. He needs to accept the evolving science."
The legal action comes two weeks after Corcoran issued an order mandating that schools reopen in August despite Florida experiencing one of the worst COVID-19 outbreaks in the country. Corcoran responded to the lawsuit with defiance.
"Parents should choose!" Corcoran tweeted Monday. "This lawsuit is frivolous and a complete disregard for everybody's, especially children's, health and welfare."
The FEA are seeking an injunction blocking Corcoran's order and a declaration that reopening amid the surge violates Florida's constitution, due to language that requires schools be "safe" and "secure," as well as a declaration that the defendants are making "arbitrary and capricious demands" by insisting on reopening.
Not long before the order was issued, DeSantis suggested that schools should open "at full capacity." In recent weeks, he has continued to advocate for schools to reopen, echoing the suggestions of President Donald Trump, who has called for schools across the country to open regardless of public health concerns.
DeSantis has also dismissed calls from infectious disease experts to reconsider the reopening plan, including a letter sent from the Florida chapter of the American Academy of Pediatrics last week.
Newsweek reached out to the office of DeSantis for comment.
Cases began to surge in Florida in June, and the situation has continued to deteriorate since then, with an average of more than 10,000 new cases per day over the last week. There are currently over 360,000 confirmed cases, including more than 5,000 deaths.
Those in favor of schools opening regardless of the surge have touted that children are less likely to suffer death or serious illness due to the virus and may be less likely to contract it. However, there is little disagreement from medical experts that COVID-19 poses serious risks to children, even if they are less severe than those seen in more vulnerable populations.
Research on how contagious infected children are is less than conclusive, but results released days ago from a large study in South Korea found that while children under the age of 10 appear to spread the virus less easily, those aged 10-19 are at least as contagious as adults.
"It now appears that kids 10 and older may pass along the coronavirus as easily as adults. Everyone wants schools to reopen, but we don't want to begin in-person teaching, face an explosion of cases and sickness, then be forced to return to distance learning," Ingram said. "Florida's Constitution demands that public schools be safe. Teachers and parents want our schools to meet that basic standard."
When schools do reopen, the lawsuit demands that officials follow Centers for Disease Control and Prevention guidelines, provide personal protective equipment and require classrooms to operate under reduced capacity while maintaining social distancing.