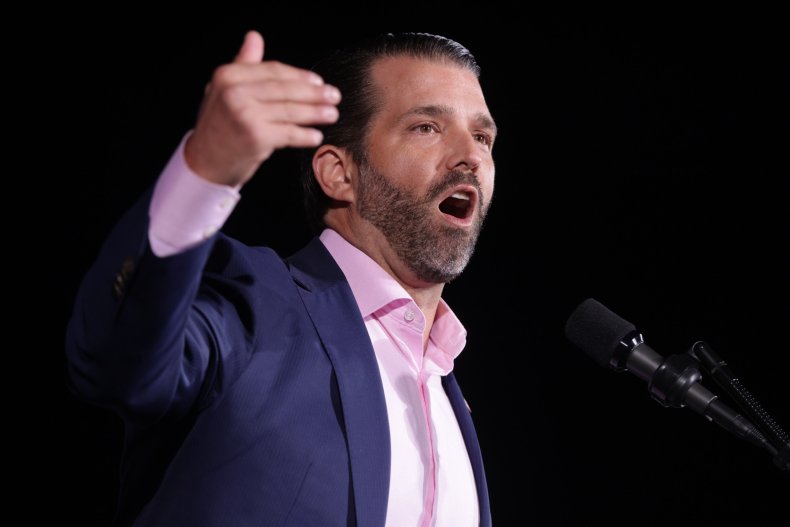 The country's largest bank has cut ties with a Missouri conservative group, forcing an event that had been set to feature Donald Trump Jr. to be immediately canceled.
The December 3 St. Charles, Missouri, event featuring the son of former President Donald Trump was organized by the conservative Defense of Liberty political action committee. WePay, a payment processor owned by JPMorgan Chase, had reportedly been used to handle the event's ticket transactions until the arrangement fell apart.
Defense of Liberty founder Paul Curtman, a former GOP state representative, told the Missouri Independent that WePay informed him in a message that it would no longer do business with his group based on an alleged violation of terms of service and had refunded $30,000 in payments already processed for the event.
"It seems you're using WePay Payments for one or more of the activities prohibited by our terms of service," the message reportedly states. "More specifically: Per our terms of service, we are unable to process for hate, violence, racial intolerance, terrorism, the financial exploitation of a crime, or items or activities that encourage, promote, facilitate, or instruct others regarding the same."
The quoted terms of service appear on the WePay website under the heading "Illegal." Other violations listed under the category include "deceptive, unfair, or predatory practices" and "forced child labor/human trafficking, slavery." The specifics of why the Defense of Liberty PAC was found to be engaging in "illegal" activity is unclear.
"My personal sense of why they did this is kind of along the same lines we have been seeing in our culture in recent years," Curtman told the news outlet. "If someone has a different idea politically, there is an attempt to silence them or shut them down."
"I can't think of a single instance where anything we have done at any one of these events violates one of their terms of service," he added. "They are trying to shut us down because they don't like our politics."
On Thursday, however, JPMorgan Chase reversed its decision.
"After further review, we determined that this organization didn't violate the terms of service, and we are reaching out to the client to discuss reinstating the account. To be clear, we have never and would never close an account due to a client's political affiliation," a JPMorgan Chase spokesperson told Newsweek.
Former Republican state Senator Jim Lembke, who was working with the group on the event, reportedly said that the Trump Jr. appearance was expected to draw an audience of 3,000 people. Tickets were priced between $70 and $250, while guests could participate in a special event with Trump Jr. before the main event for another $500.
Lembke announced that the event had been canceled during a local radio interview on Tuesday. He told the Missouri Independent a day later that the move "directly speaks to a woke corporation that is trying to cancel free speech and specifically the speech of Donald Trump Jr."
Update (11/19/2021, 4 p.m.): This story has been updated to reflect that JPMorgan Chase reversed its decision.