Largest U.S. Nurses Union Slams CDC's Relaxed Mask Guidance as 'Dangerous'
The largest union of registered nurses in the U.S. called upon the Centers for Disease Control and Prevention (CDC) to revise its relaxed mask guidelines for individuals who have been fully vaccinated against COVID-19, just two days after California broke with the federal agency and extended its own mask mandate.
National Nurses United President Jean Ross decried the CDC's updated guidance as "dangerous" and "disappointingly not in the best interest of public health" during a Wednesday news conference.
"We understand everyone's desire to get back to normal. Trust us—we nurses would like nothing better," Ross said. "But we are a profession based upon science, and the science shows this is exactly the wrong time to be relaxing our multi-pronged approach to infection control, that studies show actually work to control the virus."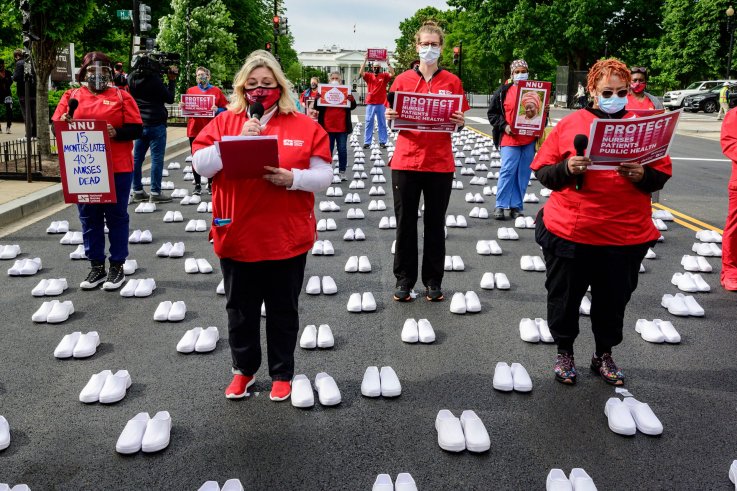 To honor International Nurses Day and Nurses Week, unionists from the National Nurses United place 400 pairs of shoes on Black Lives Matter Plaza to recognize the more than 400 registered nurses who have died from the COVID-19 pandemic on May 12, 2021 in Washington, D.C.
ERIC BARADAT/AFP via Getty Images
The CDC announced last week that those who are protected against the virus "no longer need to wear a mask or physically distance in any setting," but acknowledged exceptions for "federal, state, local, tribal, or territorial laws, rules, and regulations, including local business and workplace guidance."
California public health officials announced on Monday the state will extend its mask mandate until it fully reopens on June 15, at which time California will adopt the CDC's updated mask guidance.
California Health and Human Services Secretary Dr. Mark Ghaly said in a Monday statement the extension "will give Californians time to prepare for this change while we continue our relentless focus on delivering vaccines, particularly in underserved communities."
The California Nurses Association, which is a founding member of the NNU, also condemned the CDC's updated mask guidance, and said in a Monday statement it was "encouraged" that California decided to keep its mask requirements in place.
But the state's decision has emerged for some as a controversial and confusing move, with residents, business owners and local officials uncertain about the rules individuals who have been fully vaccinated must follow.
At a Tuesday meeting of Riverside County's Board of Supervisors in Southern California, County Health Officer Dr. Geoffrey Leung said he told state officials that Riverside County would prefer to align with the CDC's mask guidance, The Press-Enterprise reported. State officials gathered feedback from county health officials before making their final decision, Leung told board members.
Riverside County Supervisor Karen Spiegel expressed frustration during the meeting at the state's decision, but said she would continue to "lead by example" and wear her mask until the state's requirements lift.
"The county is not having anything to do with the masks remaining," Spiegel said. "We in fact have given our recommendation to the state that we want to align with the CDC and not wear masks, but we haven't heard any rescinding on that order from the state, so masks will have to remain until June 15."
The extended mandate was "a little frustrating for all of us," she added.
The extension has also provided a new point of criticism for a handful of politicians who plan to challenge California Governor Gavin Newsom later this year in an expected recall election.
Some critics suggested the Democratic governor's break with federal officials indicated he was diverging from his earlier commitments to follow scientific guidance for California's virus response. Though Newsom emerged last spring as an early leader in the fight against COVID-19 after implementing the country's first statewide shutdown, the lengthy economic and social disruptions triggered by the pandemic have been credited by Recall Gavin Newsom campaign organizers as fueling their efforts. The campaign gathered enough valid signatures by its mid-March deadline to qualify for a recall election, though an election date has not yet been set.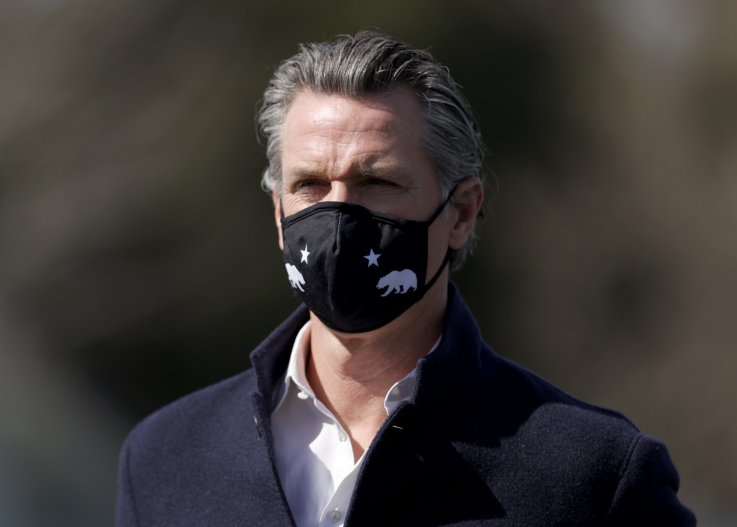 California Gov. Gavin Newsom looks on during a news conference after touring Barron Park Elementary School on March 2, 2021 in Palo Alto, California.
Justin Sullivan/Getty Images
Former San Diego Mayor Kevin Faulconer, a Republican who announced his gubernatorial run in February, pointed to the CDC's updated mask guidance last week and called upon Newsom to revise California's rules. At that time, state health officials had not yet announced the state's mask mandate extension.
"Unfortunately, Gavin Newsom continues to blatantly disregard the CDC's guidance, forcing businesses and schools to close for months while Californians pay the price," Faulconer said in a May 14 statement. "It's time for him to finally follow the science. We shouldn't wait until June 15 while other states are showing they can safely return to normalcy now."
John Cox, a Republican businessman whom Newsom defeated when he won the governor's office in 2018, also called upon Newsom to eliminate California's mask mandate.
"@GavinNewsom says dropping the mask mandate is a complex issue. It's not," Cox tweeted Tuesday. "Follow the science and end the mandate now."
"It's never been about 'science' for @GavinNewsom," tweeted former Olympic athlete and reality TV star Caitlyn Jenner, who announced her intent to challenge Newsom last month. "He shut us down because his special interest friends told him to. Crippling our economy and harming every day Californians."
The state's current mask requirements do allow for fully vaccinated individuals to go mask-free when visiting with others who have been fully vaccinated, as well as while congregating with people who are considered to be at low risk of getting seriously ill from COVID-19.
As Ghaly's Monday statement explained, the extension is not just in place so the state can decide how to navigate mask rules going forward but so a greater number of individuals can get their shots. By May 18, an estimated 47% of the state's population was fully vaccinated against COVID-19 and an estimated 13.7% had received at least one vaccine dose.
All California adults became eligible to receive a COVID-19 vaccine by mid-April, and the state recently extended its eligibility pool to include children ages 12 and older.
Ross said during the NNU's Wednesday news conference that the organization was concerned fully vaccinated people may still be able to pass the virus along to unvaccinated people, of whom children and individuals with medical vulnerabilities remain groups of concern for COVID-19 exposure. Before calling upon the CDC to revise its mask requirements, Ross applauded the states that have thus far decided to keep their own mask mandates in place.
"There are some states, including California, New Jersey and Hawaii, that are holding off on following the CDC guidelines," Ross said. "We must resist the urge to act based on how we wished things were and deal honestly with the situation at hand."