Larry David Alan Dershowitz Rant Sparks 'Curb Your Enthusiasm' Comparisons
A pretty, pretty strange scene from Curb Your Enthusiasm played out in real life when Larry David cussed out Alan Dershowitz over his ties to former President Donald Trump during an encounter in Martha's Vineyard.
As reported by Page Six, and confirmed by Dershowitz himself, the two former friends were spotting coming to blows at grocery store and community hub Chilmark General Store on the island, which is known to be a haunt of Democrat mainstays.
The Harvard Law professor is said to be persona non grata on the island due to his links with former President Donald Trump.
"We can still talk, Larry," Dershowitz reportedly said when he bumped into the comedian who is said to have replied: "No. No. We really can't. I saw you. I saw you with your arm around [Mike] Pompeo. It's disgusting."
Dershowitz went on to tell David that it was because Pompeo, a former CIA director who served in the Trump administration, was one of his former Harvard students in the 1990s.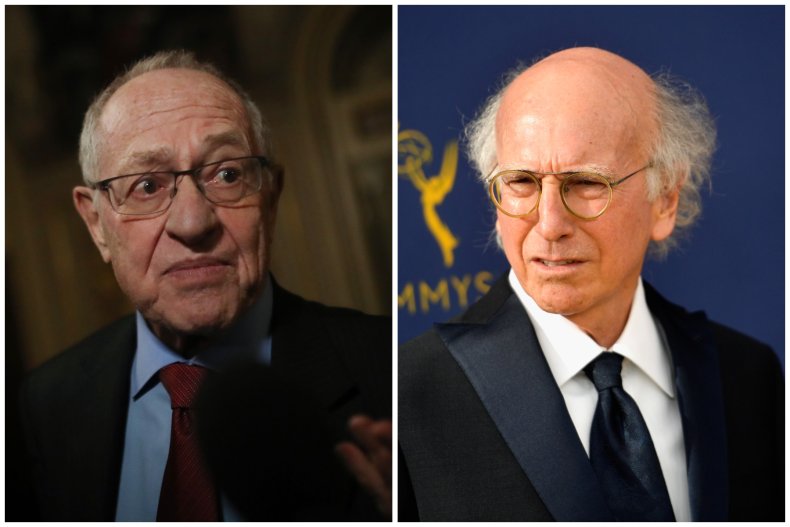 However, David wasn't buying it and reportedly replied: "It's disgusting. Your whole enclave—it's disgusting. You're disgusting."
The exchange has unsurprisingly garnered several Curb Your Enthusiasm comparisons with the Page Six source even suggesting readers imagine the exchange accompanied by the show's theme song.
"Larry David screaming at Alan Dershowitz in a grocery store MUST make it into the new season of Curb Your Enthusiasm," said Twitter user Brooklyn Dad.
While editor Molly Jong Fast similarly tweeted: "I hope that Larry David and Alan Dershowitz Martha's Vineyard grocery store fracas makes it into the next season of curb your enthusiasm."
"Larry David screaming at Alan Dershowitz in the grocery store is just the saving grace that 2021 needed," the Palmer Report tweeted.
However, Dershowitz has not found the encounter as amusing as Curb fans, telling Page Six that "it wasn't funny at all."
"I was worried that he was going to have a stroke," Dershowitz said.
"While he was writing bad jokes, I was helping to bring about peace in the Middle East," Dershowitz told the outlet. "What has he done?"
"Larry is a knee-jerk radical," he added. "He takes his politics from Hollywood. He doesn't read a lot. He doesn't think a lot.
"It's typical of what happens now on the Vineyard. People won't talk to each other if they don't agree with their politics."
Newsweek has reached out to Larry David's representatives for comment.