Larry David Uses MAGA Hat to Repel People in 'Curb Your Enthusiasm' Premiere: 'Worked Like a Charm'
In typical Curb Your Enthusiasm fashion, Larry David used an unconventional method of getting out of a situation he didn't want to be in, this time by wearing one of President Donald Trump's "Make America Great Again" hats.
The 10th season of Curb Your Enthusiasm premiered on Sunday night and tackled some of the biggest news topics within the jocular plot lines. Along with the #MeToo movement and Harvey Weinstein, the first episode included several Trump-centric moments.
After running into Everybody Loves Raymond creator Phil Rosenthal at a dinner party, David looks for a way to get out of meeting with him and finds it in Trump's MAGA hat. Inspired by his friend, Jeff Garlin, saying he didn't want to play golf with someone who wore the hat, David dons one to the restaurant where he's supposed to meet Rosenthal.
The tactic works and Rosenthal quickly excuses himself, claiming he has to pick his son up from the airport. Given its success the first time, David goes on to wear the hat at a sushi bar to deter other customers from sitting down next to him and avoid a confrontation with an angry motorcycle rider.
When Garlin questions David for wearing the hat, he clarifies that he isn't a Trump supporter and that he wore it to get out of the meeting with Rosenthal.
"It worked liked a charm," David tells Garlin. "...It's really coming in handy...It's a great people repellant."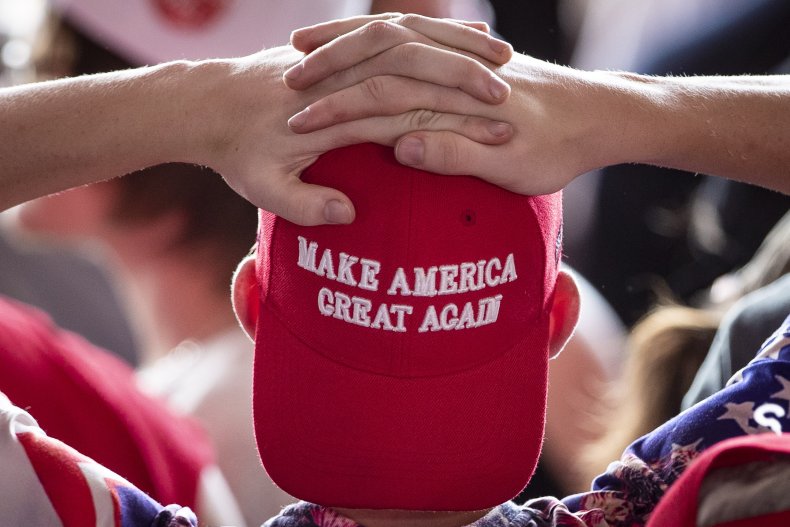 Along with mocking Trump's MAGA hat, David also poked fun at several of the president's comments. During his conversation with Rosenthal, he learned that traveling to Ethiopia for a show, as was previously discussed, was too expensive. David then asks if it's "one of the sh--hole countries," pointing to Trump's reported comment during a closed-door meeting in January 2018. The comment, which was reportedly made with regard to immigration, drew heavy criticism for being racist.
David also tells Garlin, "when you're a celebrity you can do whatever you want, you can grab 'em by the p****," referencing the president's comment during a 2005 Access Hollywood interview. The tape, leaked in October 2016, prompted an apology from then-presidential candidate Trump and a claim that it was just "locker room banter."
While discussing the upcoming premiere date with GQ, David let his thoughts on Trump be known, directing the comment, "stop lying, you a--hole," at the television when the president made a statement. David added that he talks "louder on purpose" when he thinks people who support Trump are nearby.