Larry Elder Leaves Campaign Event at Homeless Encampment After Egg Thrown at Him
Conservative talk show host Larry Elder was confronted by an angry crowd on Wednesday, with an egg thrown towards his head narrowly missing as he campaigned to replace California Governor Gavin Newsom.
Elder, the top Republican candidate in next week's recall election, was greeted by an unfriendly crowd while he toured near a homeless encampment in Los Angeles' Venice neighborhood. The campaign stop had started on a positive note, with Elder being greeted by a group of supporters outside a gym, according to The Los Angeles Times.
However, the situation quickly changed when the Republican turned a corner and walked towards the encampment. An angry crowd followed Elder and shouted at him as he made his way down the street while surrounded by staff. A video posted to social media shows multiple people urging Elder to leave the area, with one man repeatedly calling the candidate a "sorry piece of shit."
Another video shows a member of Elder's team warning him that they are being egged just before a woman wearing a pink gorilla mask, who had been following the group on a bicycle, is seen to throw an egg that just misses Elder's head. The woman appears to strike a different member of Elder's staff during a hostile confrontation a short time later. Elder then makes a hasty escape into a white SUV waiting nearby.
The below video includes language that may offend some readers.
"He has no business down here," Sarah Duke, a homeless pregnant woman who lives in the encampment, told the Times just after Elder left the area. "If you ain't going to help us, move ... on."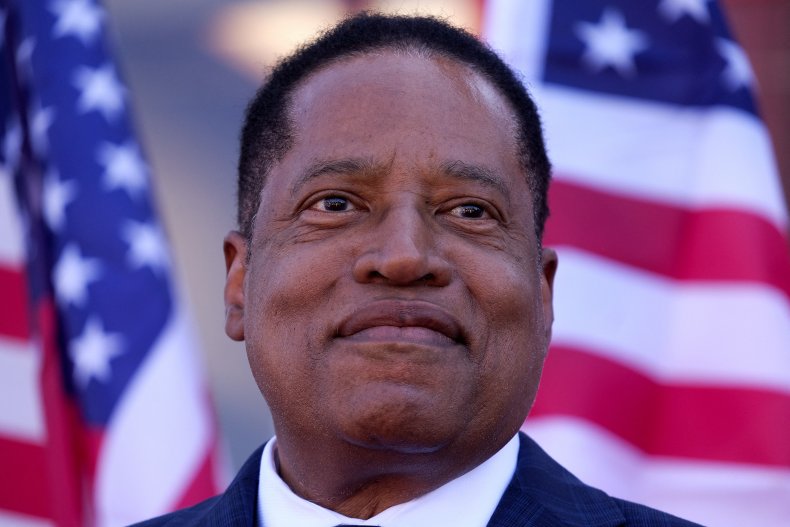 "An egg was thrown at Mr. Elder, and a member of his security detail was assaulted," Ying Ma, the Elder campaign's communications director, said in a statement to Newsweek. "Such violence is completely unacceptable. Will Gavin Newsom condemn it? Most likely not—because rampant crime and rising homelessness are problems of his making."
"Larry Elder is the disruptor to Newsom's status quo and the hope for a brighter future in California," added Ma. "That's precisely why the entrenched political interests will go to any lengths to stop him."
Elder emerged as the leading replacement candidate in California's recall election soon after declaring his candidacy on July 12. The election, which takes place on September 14, asks voters to answer two questions: whether Newsom should be recalled and, if he is recalled, which candidate should replace him.
Although several polls released last month showed that Newsom was in a precarious position, the governor has looked increasingly likely to survive the recall as Election Day approaches. An average of recent polls from polling analysis site FiveThirtyEight showed Newsom leading by 12.3 percent as of Wednesday.
However, Elder will likely replace Newsom if the recall is successful. Elder was the choice of an average of 25.6 percent of poll respondents as of Wednesday, an 18.6 point lead over the next candidate. Although a large majority of voters do not support Elder, the candidate that replaces a recalled governor is only required to have a plurality of votes in California.
A diluted field of over 40 candidates are vying to replace Newsom and, although Elder has become far and away the top Republican choice, Democrats have failed to coalesce around any particular candidate in the event that Newsom is recalled. More than 6 million California voters had already cast their ballots early as of Wednesday.
Update (9/8/2021, 10:46 p.m.): This article has been updated to include a statement from Elder campaign Communications Director Ying Ma.