Larry Elder Pulls Out Of CA Governor Race Against Newsom to Focus On Flipping House, Senate
Conservative talk show host Larry Elder is pulling out of the California Governor's race against incumbent Gavin Newsom to focus his efforts on flipping both congressional chambers for the Republican Party.
In a Tuesday statement, Elder announced that he would no longer be running against Newsom in 2022.
"Instead, Elder has formed the Elder for America PAC, which will focus on helping Republicans take back the House and Senate, in addition to local races that effect public safety and education," the statement read.
"The Elder for America PAC will engage in public education campaigns, direct voter contact, and fundraising to help Republicans win key seats in the House and Senate, and effect public policy on a local level," it continued.
Elder was among 24 Republicans who ran against Newsom in December's special recall election challenging the Democrat's top seat. Newsom survived with 61.9 percent of the vote, or 7.9 million votes.
Elder was the next closest recall challenger with 3.5 million votes. He received more votes than other candidates by a significant margin.
YouTube personality Kevin Paffrath, a Democrat, came second with 9.6 percent of the 7.4 million Californians who voted to recall Newsom, followed by former San Diego Mayor Kevin Faulconer, a Republican, who earned eight percent of those votes.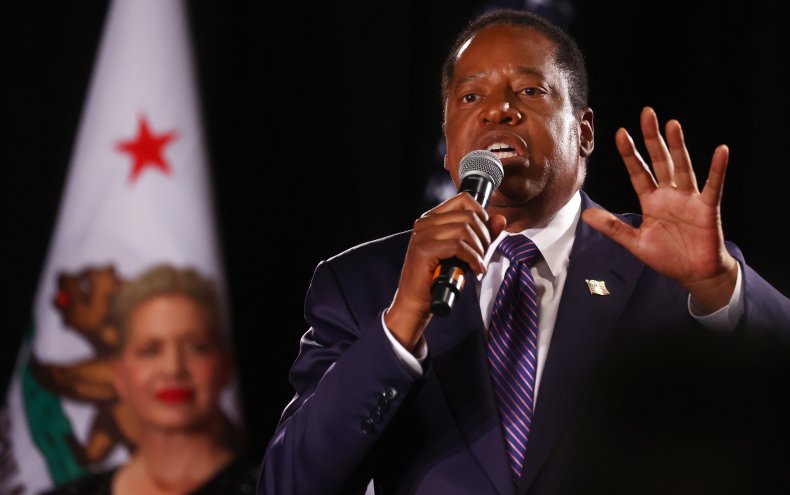 "I ran for Governor because I wanted to make a difference," Elder said on Tuesday. "While I may not know what the future holds for me politically, our campaign's ability to attract millions of votes and millions of dollars in a very short time demonstrates we have a message that resonates with Americans, and I believe we can put that to good use."
Elder for America kicked off its fundraising efforts shortly after the announcement, asking supporters to donate $25 or more.
"We have a country to save – and with patriots like you on my team, I know we can!" the Republican wrote in a fundraising email.
According to his PAC, Elder's recall campaign raised $22.5 million in eight weeks.
The push to remove Newsom from office was launched in response to his administration's handling of the COVID-19 pandemic with critics slamming the restrictions placed on businesses, churches and schools across the state.
Newsom also faced backlash for a rise in crime in California and the state's homelessness crisis.
Only two governors in the U.S. have ever been successfully recalled and only one effort in California has succeeded.
The last time a recall election was held in California was in 2003 when Republican Arnold Schwarzenegger was elected to replace then-Governor Gray Davis.
Newsweek reached out to Newsom's office for comment but did not hear back before publication.