Larry Elder Sees Hope in Long Voter Lines as Gavin Newsom Camp Effectively Declares Victory
Conservative radio talk show host and Republican candidate for California governor Larry Elder said that long voter lines are a good sign for his campaign as Gavin Newsom prepares a victory party.
While the Democratic governor's campaign has said it is certain of his win in Tuesday's recall election, Elder appeared on Fox News' The Sean Hannity Show where he seemed optimistic about the number of in-person voters.
"The lines are long. That's good news for our side," Elder said while speaking to Fox News host Sean Hannity. "The Democrats trust the mail, they vote early. But I'm hearing from people saying 'I've been voting all my life, I've never seen lines like this.'"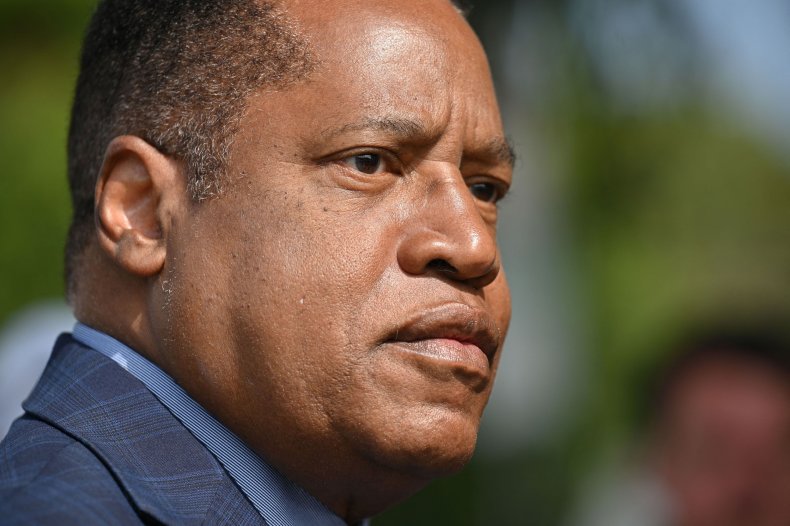 Hannity agreed with Elder that the long lines were "great" news for the Republicans who are hoping California voters choose to recall Newsom.
Prior to Elder's appearance, Hannity showed footage of his crew asking Californians who they voted for in the recall election. While one individual said that governor Newsom was doing a good job and replacing him would be a disaster, the others said they were voting for Elder because of the need for change or because the current governor is a "crook."
Elder said that he wasn't surprised to hear the reasons he's earned voter support, although the vote to keep the governor polls around 57 percent.
"This man's record is indefensible," Elder said. He continued that when it comes to issues like crime, homelessness, and stay-at-home orders, Newsom has failed. "There's no front where this man has done a good job."
Hannity appeared to agree with Elder and said he might have to call Elder "governor-elect" the next time he's on the program.
"I'm hoping... I think long lines work in your favor. It's an uphill battle, always has been," the Fox News host said. "I'm hoping for a political explosion out there, obviously electoral, in terms of an upset here. We're watching closely and everyone has more time to vote so get out there."
However, the Newsom campaign believes his victory is secured.
"I don't see a scenario where we're not talking about a victory for the governor and a complete rejection of this appalling partisan power grab," strategist Sean Clegg told reporters on Monday night. "We see the blue giant waking up. I don't see evidence of a red giant waking up in California."
Elder has not specifically stated if he will accept Tuesday's recall results if he's not the winner, and instead cast doubt on the election's integrity. Elder did say that he's not ready to leave California politics, hinting at a 2022 run.
Newsom has blasted Elder's suggestions of election fraud and said he would accept the will of the voters.
"What that message sends to the United States people all across this country, the vote somehow doesn't matter, that the whole thing is rigged," Newsom said. "They are quite literally trying to dismantle democracy and trust in this country, our very nation."