Larry Elder Under Fire for Resurfaced Comments From 2000 About Women Voters
The leading Republican candidate running to replace California Governor Gavin Newsom in next month's statewide recall election came under fire this week for an article he wrote 21 years ago about women voters.
The article, titled "Democrats and the 'SHE' Vote," was published in May 2000 by Capitalism Magazine. The article assessed the power of "SHE" issues—which Elder identified as Social Security, health care and education—in recent election cycles.
Focusing on issues that are important to women, who at the time accounted for more than half of the electorate, could be part of a winning campaign strategy, Elder argued. "Smart politics, therefore, dictates paying attention to 'women's issues,'" he wrote.
Elder went on to reference a paper published earlier that year by researchers at the University of Pennsylvania's Annenberg Public Policy Center that assessed members of the public's understanding of key voter issues. Elder quoted one of the paper's authors in his article as writing at the time, "The perplexing finding that women do not perform as well as men on political knowledge still persists in the year 2000."
"Women know less than men about political issues, economics, and current events," Elder wrote in his article. "Good news for Democrats, bad news for Republicans. For the less one knows, the easier the manipulation."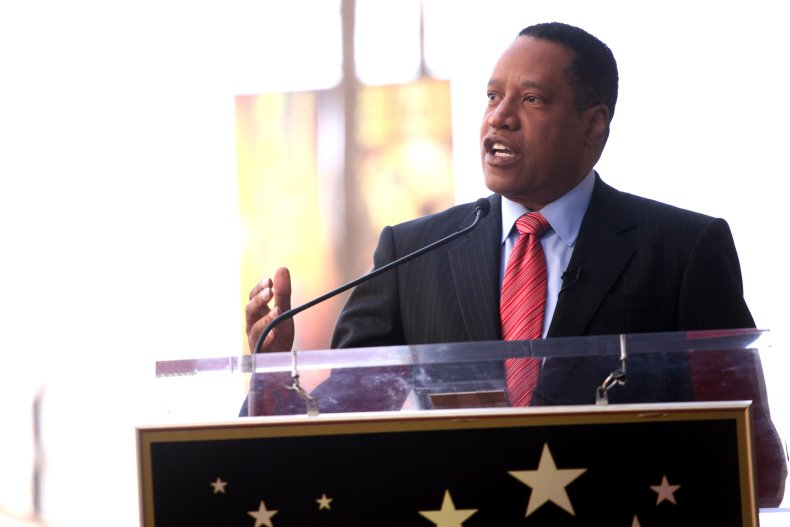 It is his line about women knowing "less than men" that recently generated pushback among voters and Elder's fellow politicians. During a Tuesday evening debate hosted by CapRadio, former San Diego Mayor Kevin Faulconer referenced the line and other resurfaced comments Elder has received criticism for in the last few weeks and said Elder "should be here to defend his positions." Faulconer and two other Republicans, state lawmaker Kevin Kiley and businessman John Cox, were the only recall candidates to attend CapRadio's debate.
Faulconer said he thought the resurfaced comments were "absolutely indefensible."
"That's bulls**t," Faulconer said. "And we ought to call it that."
Faulconer later posted a clip of his comments at the debate on Twitter. "We deserve a governor who doesn't think women aren't equal to men," Faulconer wrote.
On Wednesday afternoon, the California Democratic Party also recirculated the quote from Elder's May 2000 article in a graphic it posted on Twitter. The graphic attributed the quote to Elder and featured a photo of Elder smiling next to the text.
"The likely next Governor of California if we don't #StoptheRepublicanRecall," the state party tweeted.
Elder accused California Democrats of slander and said in a Wednesday afternoon tweet his comments were taken out of context.
"Calif. Dems are desperate & slandering me, distorting what I wrote in a column 21 yrs ago. Here's what I wrote, decide for yourself," he tweeted, providing a link to the original Capitalism Magazine article. "Newsom is afraid of losing power, as he should be. He will say anything to try to avoid the humiliating loss that's coming."
Newsweek reached out to Elder's campaign for further comment but did not hear back in time for publication.
Elder launched his gubernatorial campaign last month after California election officials declared a recall election would take place on September 14. Elder, a conservative radio host, is one of 46 candidates who will appear on the recall ballot. The ballot will ask California voters to decide if they want to remove Newsom, a Democrat, from office before the official end of his term. If more than 50 percent of voters say they do, the recall candidate who receives the greatest number of votes will replace him.
Recent polling has indicated Elder is leading among the Republican recall challengers. Though California voters are divided on whether they want Newsom removed from office, 23 percent of likely voters told YouGov pollsters earlier this month they would pick Elder as Newsom's replacement, a number that was matched in early August polls conducted by SurveyUSA and Emerson College. Most other recall candidates have polled at or below 10 percent among likely voters, with Democrat Kevin Paffrath serving as the only Newsom challenger who has cracked that number.