On August 10, California gubernatorial candidate Larry Elder tweeted that "Clint Eastwood just contacted me with a message of his support. A shout out to Mr. Eastwood. You made my day."
It's not like the legions of celebrity supporters who are throwing their weight (and cash) behind Governor Gavin Newsom in the nail-biter recall election—Steven Spielberg and Netflix founder Reed Hastings among them—but it is an indication of a more nuanced Hollywood movement going on behind the scenes.
In July, thousands of entertainment industry professionals received an email from Lionel Chetwynd, the Oscar- and Emmy-nominated director, producer and writer who is Elder's campaign chairman.
"In the struggle for the soul of our nation—indeed, for Western civilization—a remarkable and superb opportunity has presented itself: Our friend Larry Elder...has taken up the battle to save the soul of California," wrote Chetwynd, whose credits include Hanoi Hilton, Ike: Countdown to D-Day and The Apprenticeship of Duddy Kravitz.
"Imagine what it would mean to freedom-loving Americans across our country if an accomplished, profoundly intelligent conservative could replace a feckless, pseudo-Progressive 'Liberal' governor in the most populous, bluest State in the Union," Chetwynd wrote in his email.
Indeed, Elder, like former President Donald Trump, is one of Hollywood's own. He has not only hosted his own radio show for decades, but also made a few documentary films (Uncle Tom, about Black conservatives, was his latest), and hosted a TV show called Moral Court.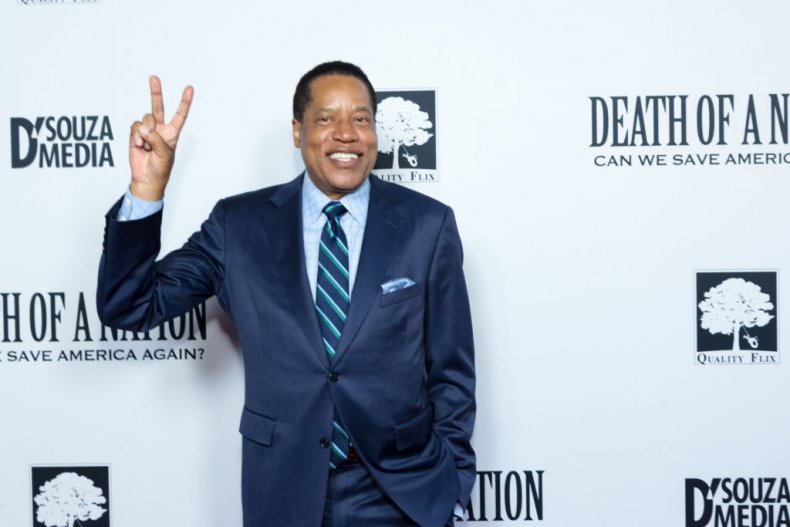 Chetwynd was also a co-founder, along with actors Gary Sinise, Patricia Heaton, Kelsey Grammer and others, of Friends of Abe (FOA), a private organization of entertainment workers whose politics lean right. At its zenith, there were about 2,500 entertainment workers in the group, though it disbanded after the IRS sought personal information from the organization.
After Chetwynd's email, a small gathering of former FOA members met privately at a Southern California restaurant to discuss pro-Elder strategy, a party hosted by a well-known comedian with dozens of appearances on broadcast television under his belt.
The comedian requested Newsweek not name him out of fears his career would suffer if his political leanings were known. Indeed, a TV commercial funded by a $3 million contribution from Hastings claims it's "a matter of life and death" that Newsom retains his governorship because Elder would eliminate coronavirus vaccine mandates. The commercial ends by noting it was partially paid for by Hastings, considered one of the most powerful men in entertainment.
"Larry will kill people? Of course, that's a warning that if you want a relationship with Netflix you'd better toe the line for Newsom," actor Kevin Sorbo told Newsweek, who reached out to Netflix for a response.
Sorbo, best known as the star of the 1990s hit show, Hercules: The Legendary Journeys, lives in Florida but has been promoting Elder on social media—just not on Facebook, which he says "canceled" him for posting studies that doubted the efficacy of masks and for insinuating election fraud by joking that President Joe Biden received 15 million more votes than did Barack Obama "even though Obama filled arenas like Trump did while Biden had like six people at his rallies, and four of them were reporters."
Promoting Elder by way of a few appearances on his popular podcast is comedian/actor Adam Carolla, who told Newsweek, "I support Larry Elder because he's the antithesis of Gavin Newsom: Smart, pragmatic and not owned by the teacher's unions."
Newsweek reached out to Governor Newsom for comment and will update this story with any response.
While Newsweek spoke to dozens of former FOA members who support Elder, few of them would do so on the record, which doesn't surprise Sorbo.
"Larry is a rock star and these labels the left throws at him are ridiculous. They even call him a 'white supremacist.' It's crazy," said Sorbo, who is working on three independent projects, including an updated film based on the Left Behind book series. "Hollywood can't hurt me. They already tried. My agent and manager got rid of me a dozen years ago because I'm a Christian and conservative—a double leper in Hollywood. They scream about tolerance, but it's a one-way street. They jump on the socialist bandwagon but, believe me, none of them live like socialists. Larry will undo a lot of Newsom's policies that have led to people leaving the beautiful state of California for lower taxes and more freedom."
Those who attended the secret gathering of former FOA members tell Newsweek that some there pledged to host further events, though nothing aimed at a wide audience was agreed upon—and that's fine by Chetwynd.
"It was about fellowship," he said. "There's something happening. It's not about this small group and party lines anymore. There's a lot of people in Hollywood who would never have had anything to do with FOA but they're upset about what's happened to California. Hollywood is a tough place to work and these are tough times."
Chetwynd said many in the entertainment industry who'd normally vote Democrat apparently turned on Newsom last year when he signed Assembly Bill 5, forcing employers to treat many freelancers as traditional employees subject to benefits, allegedly decreasing the number of entertainment jobs available due to increased costs. Last year, the Los Angeles Times profiled 120 "arts" workers in TV, film and music who were impacted by the law and concluded that "the overwhelming majority said AB5 is hurting their careers."
"If you're a freelancer, you'd be pretty unhappy with Newsom, regardless of party affiliation," said Chetwynd. (Newsom has since signed AB2257, exempting some musicians, photographers and writers from AB5 rules).
Of the anti-Elder commercial funded by Hastings, Chetwynd said, "I'm sure people will make the Netflix connection, because that's the way you survive in Hollywood, by noticing those connections. But there's something more important going on—the homelessness, the crime—if we get past the first question on the ballot asking if Newsom should be recalled, Larry will be the next governor."
Also willing to go on record as an Elder supporter is Scott Baio, the former Happy Days heartthrob who spoke five years ago at the Republican National Convention that nominated Trump. Baio told Newsweek that he attended a fundraiser for Elder and he plans to introduce the candidate at a Labor Day rally in Southern California.
"I'm campaigning for him, trying to raise money, speaking to people in Hollywood. It's very difficult. If you're a Democrat, liberal, progressive, or whatever the hell they call themselves nowadays, and your options are the guillotine or a Republican, you'll vote for the guillotine. I'm not joking!" Baio said.
"The media has been bashing conservatives for as long as I can remember, and it's sticking," he claimed. "We're called 'homophobic,' 'xenophobic' and 'racist.' It's astonishing the conversations I'm having, and I'm sick of it. I don't put people in boxes. If you're competent, I'm going to hire you, and that's how I live my life."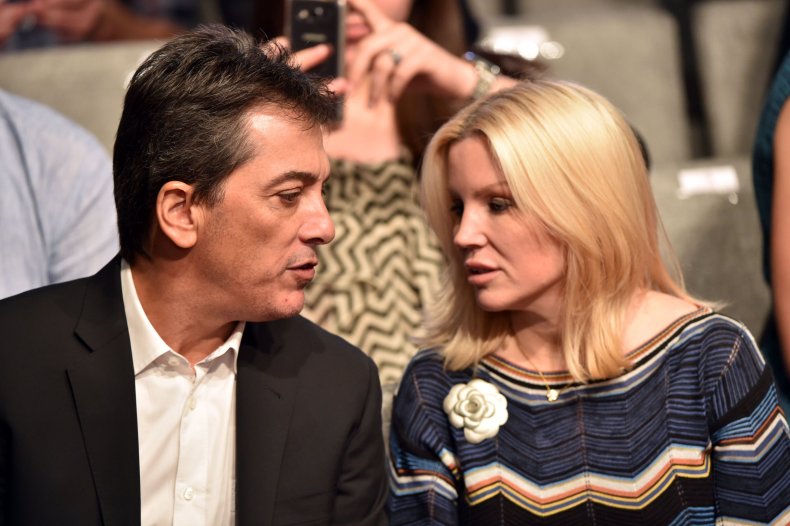 Dean Cain, the actor best known for his lead role in the TV series Lois & Clark: The New Adventures of Superman, is also supporting Elder, whom he considers a friend, on social media. "We need to get rid of Newsom and get a governor with common sense who is not a career politician," Cain told Newsweek.
Cain, who makes his directorial debut in the upcoming film Little Angels, said that "it's easy jumping on a bandwagon, but people tend to get brainwashed in Hollywood. For all the talk of diversity, there's no diversity of thought. You're not one of the cool kids if you have a different opinion. There are people who support Larry who will keep their mouths shut. It's a legitimate fear that they won't get work. I'm sure it's happened to me, but they're too cowardly to say it to my face. I'd hire someone I disagreed with in a heartbeat if they were right for the job. That's because I'm tolerant."
The actor said that he's supporting Elder in the race because he's "sick of politicians and the elitist class. Our country wasn't set up that way. Larry didn't want to be a politician; it's a terrible job. Look at the way they're trashing him. They're scared of Larry Elder."
Californians have been voting by mail for several weeks and go to polling locations on September 14. Most polls show Elder with a big lead among the dozens vying for Newsom's job, though more than 50 percent first need to vote "yes" on the question of whether or not Newsom should be recalled in the first place. For weeks, polls indicated nearly a tie on that query, though the Public Policy Institute of California said this week that about 58 percent are expected to vote in favor of Newsom maintaining his governorship.
Eric Matthews, a money manager whom Sinise hired to run FOA in its earliest years, says his clients in the entertainment industry are largely—albeit silently—voting for Elder. "Californians have quite the dichotomy: a choice between an elitist who sees an entire state to control and manipulate, and a kid from the ghetto who rises against all odds to sit in the seat of power and liberate his people," Matthews said.
Elder has faced controversy during his campaign, including accusations of sexism due to past remarks about women, and a claim that he allegedly waved a gun during a fight with his ex-fiancée in 2015. (L.A. County prosecutors said this week they would not be pursuing the claim).
"You'd have to be an idiot to believe that stuff," said Nick Searcy, known for his role on the TV series, Justified, and whose documentary, America, America, God Shed His Grace on Thee is streaming on-demand.
"California is on the brink of collapse, and Larry has a 30-year record of articulating what he believes. He's a national figure and what's happening in California is a national issue, and a Black conservative is like kryptonite to liberals. They can't compute. It's like anti-matter, so they've got to destroy him through spurious innuendo," Searcy told Newsweek.
"Hollywood is run by bullies. People who want to be actors are so desperate that they're afraid to swim against the tide," he continued. "Hollywood's philosophy is, 'Agree with us, or you'll be canceled.' My philosophy is that the only way to deal with a bully is to show you're not afraid of them. The biggest problem with FOA is that we kept it a secret as if we had something to be ashamed of. We let the bullies define us.
"But if this isn't the time to stand up for what you believe, then when is that time? Larry's been putting up with this garbage for 30 years, and he's shown he has the humor and fearlessness to confront it and laugh at it," Searcy said. "That's why Larry is the man right now. He won't be deterred. He has the track record. He won't be bullied."
Update, 9/3/21 at 6:20 p.m. ET: This article was updated to edit details of Chetwynd's background.