Larry Hogan Bets the GOP Will Sour on Trump—And He'll Refresh the Republican Party
Larry Hogan is taking a gamble: He's betting that the transformation President Donald Trump has brought to the Republican Party will vanish once he's out of office—re-elected or not—and the GOP will need a new kind of leader to refresh the party.
But will Trumpism, the brash nature by which the president presents himself as a populist outsider, truly end in a post-Trump world? Will Republicans come to appreciate one of their own for standing up to the president? And will Hogan, a Republican governor in the deep blue state of Maryland, convince his GOP peers that he's what the Grand Old Party's future needs?
Hogan admits he does not know the answers to those questions. But he feels that Trump's bungled response to the coronavirus pandemic, in which he's frequently downplayed the disease's severity and contradicted his own health officials, is not only helping other Republicans split with Trump's views, it's also proving why the country needs Hogan's own pragmatic and moderate voice leading the way.
"To think some of the folks who were highly critical when [Trump] was running in the last election and those campaigning against him and now they seem to be 100 percent in lockstep. Occasionally, people will stand up and say things," Hogan said during a phone interview with Newsweek.
Republicans are starting to break ranks because of the federal government's coronavirus response, he contended. Without naming names, he highlighted that a growing number of GOP lawmakers are contradicting the president on the need to increase testing, provide more local and state relief, and are rejecting Trump's desired payroll tax cuts.
"I think we're starting to see some healthy debate in the party and people exercising free will—once in a while," Hogan said.
Does that sound like someone gearing up for a White House bid? It could be. Hogan is serving in his second and final stint as governor because he is term-limited. His run ends in January 2023, around the time 2024 candidates will be making their announcements.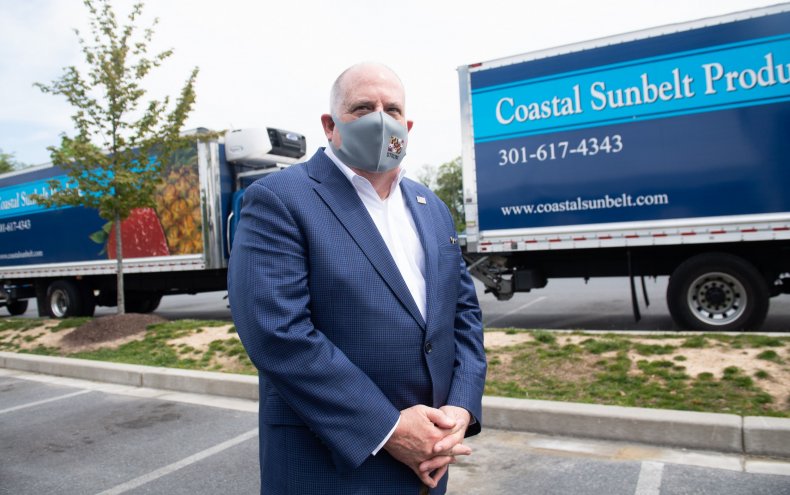 Hogan, after all, is on a media blitz promoting his new book, Still Standing, in which he discusses how he contemplated primarying President Donald Trump; he credits his ability to govern a state dominated by Democrats to what he describes as his pragmatic voice amid a polarizing political climate; and he considers his frequent critique of Trump and others in the party as having a realistic outlook on a less-than-ideal state of the GOP.
Even his book, the cover of which describes as being about "surviving cancer, riots, a global pandemic, and the toxic politics that divide America," appears to foreshadow a presidential campaign.
"Still Standing reveals how an unlikely governor is sparking a whole new kind of politics—and introduces the exciting possibilities that lie ahead," the book's online description reads.
Hogan, however, played coy. "That's the one part I didn't write," he said, emitting a laugh. "I think it sounds pretty exciting."
But it's still far too early to say, he added, although he "certainly wouldn't rule out" the notion.
Hogan is adamant that Republicans need to become a "big-tent party"—a term regularly used by Democrats to justify when they have internal divisions and a message that some fellow Republicans said in the wake of Mitt Romney's loss to President Barack Obama.
The White House has taken notice to Hogan's harsh criticism of the administration's pandemic response, particularly when he penned a recent Washington Post op-ed labeling the president's early reaction as "hopeless." White House Press Secretary Kayleigh McEnany accused Hogan of having "revisionist history" and was contradictory of past praise.
Hogan, who has been able to so far avoid being the direct subject of a Twitter tirade from the president, told Newsweek he is clearly not someone who sugarcoats things. As leader of the National Governors Association, he's pleaded with the Trump administration for more federal aid, such as personal protective equipment, and offered criticism when a state more friendly to the White House receives a more robust response.
"I think maybe the president bristles sometimes when there's a Republican willing to speak his mind, but I'm not one who just attacks him," Hogan said. "I just speak up when something needs to be said, and I'm a pretty direct person."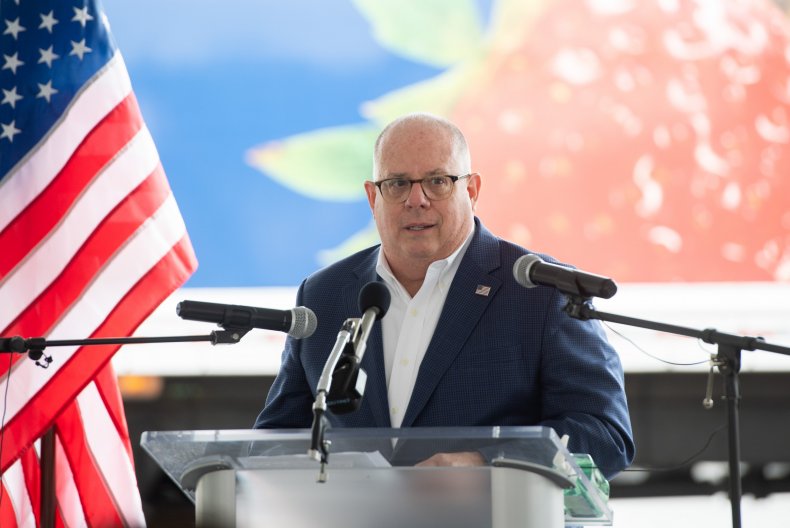 Part of what's impacted the way he governs, including his quick, direct responses that come with little-to-no hesitation, was his battle with cancer, Hogan said. After just a few months on the job as governor in 2015, Hogan was diagnosed with non-Hodgkin's lymphoma. But five years later in June of this year, Hogan declared that he was cancer-free.
"It's made me realize what's really important in life. Maybe it's why I'm not afraid to stand up and say exactly what I think," Hogan said. "I'm not afraid about getting tweeted about [by Trump]. It can't be as bad as cancer or chemo therapy."
To be sure, Hogan has his fair share of critics on both sides of the aisle, which can offer a preview of the mudslinging that could ensue with a presidential campaign.
Among the critiques of Hogan's tenure was his decision in 2015 to nix a major light rail project that advocates of the transit plan say would have better connected Baltimore and its immediate suburbs that would have served as a much-needed lifeline for the city's Black residents.
During the same year, just months into his first term, Hogan also faced the Baltimore riots over the death of Freddie Gray, a 25-year-old black man. Gray suffered injuries while being transported in police custody and later died, sparking racial unrest. Hogan deployed the Maryland National Guard in an attempt to quell the protests, prompting criticism for his more hardline approach. In his memoir, he details how then-President Barack Obama, much to Hogan's displeasure, told him that his actions were only inflaming the violent behavior.
Still, Hogan feels his ability to make Maryland Democrats and Republicans not once, but twice coalesce around him is proof enough that he's got what it takes to lead the GOP into a new era of more bipartisan politics.
"I think we need different voices who are willing to speak out," Hogan said. "It's not ever helpful when you don't have independent voices speaking out and say exactly what you think."